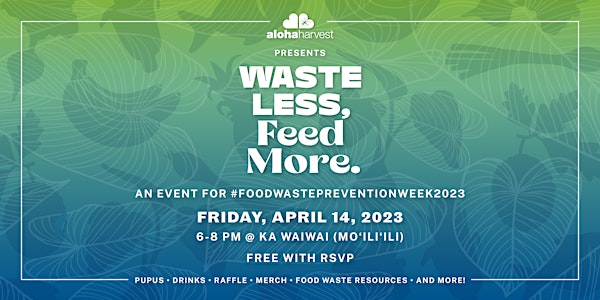 Aloha Harvest Presents: Waste Less, Feed More
Join us on Aloha Friday for a pau hana event, where you come to learn about food waste and leave inspired to waste less food!
Date and time
Friday, April 14 · 6 - 8pm HST
Location
Ka Waiwai 1110 University Avenue Honolulu, HI 96826
About this event
"Waste Less, Feed More" is a free-of-charge event on April 14 from 6 pm to 8 pm, hosted by Aloha Harvest during Food Waste Prevention Week (10-16). The event features local farms and food vendors serving pupus, beer, wine, educational booths, music, games, limited edition Aloha Harvest merch, a food drive, and a raffle with prizes. We hope to inspire individuals to work with us in improving our community by learning about the effects of food waste and ways to prevent it.
We welcome guests to donate nonperishable food items during the event's food drive. Fresh fruits and vegetables may also be donated. With each food item donated, you can receive a raffle ticket with a chance to win gifts and prizes!
About the space:
We are excited to have our event at Waiwai Collectiveʻs beautiful circular space in Moʻiliʻili. Waiwai Collective is a group of Native Hawaiian entrepreneurs who share kuleana and a passion for uplifting the lāhui. Through their work, they have seen the extraordinary power of physical community when people come together with purpose and aloha. Ka Waiwai is a call to action for the lāhui kanaka to come together and dream up ideas of exchange and abundance that prioritize the quality of relationships and the balance between people and the ʻāina. Among their spaces' practices, they divert all their food waste to compost &/or feeding pigs, have a zero plastic & styrofoam waste policy, prioritize reusables, and recycle!
In an effort to reduce waste, we ask all guests to please bring a water bottle.
Parking:
Ka Waiwai Parking is located on the makai side of the Varsity Building. The entrance to the lot is located off Coyne Street. Parking in this lot is free after 5 pm.
Please note if you park in any of the lots located on the mauka side of the building, you will need to self-pay at the self-pay station. They will ticket/tow in these lots if you do not pay.
The event is free and open to the public, but you must RSVP on Eventbrite to attend the event.
All the proceeds from this event will support Aloha Harvest and its mission to rescue quality food to nourish and strengthen our community. For more information about Aloha Harvest, visit www.alohaharvest.org
About the organizer
In Hawaiʻi, about 1 in 5 people rely on food pantries for assistance. Yet 237,000 tons of food - or 26% of the available food supply - is wasted annually.
Aloha Harvest is the largest food rescue and redistribution organization in Hawaiʻi, getting quality excess food into stomachs instead of landfills. Free of charge and free of liability, we pick up quality excess food from donors (ex: wholesale distributors, grocery stores, restaurants, hotels) and redistribute it to recipient agencies feeding the hungry (ex: homeless shelters, social services, food pantries).