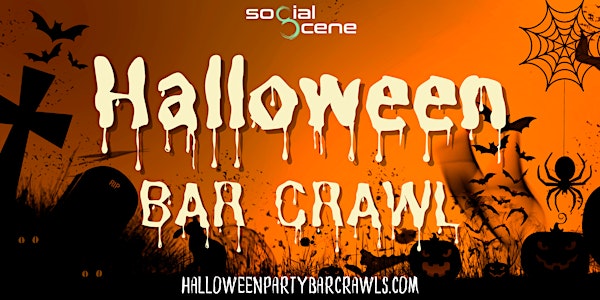 (Almost Sold Out) 2022 Indianapolis Halloween Bar Crawl (Saturday)
Calling all costume wearers, pop culture icons and doppelgangers...join our Halloween Bar Crawl @ top bars.
When and where
Location
Burnside Inn & Landsharks 314 Massachusetts Ave Indianapolis, IN 46225
About this event
**On A Busy Night, We Have Limited Tickets We Can Sell, We Are Almost Sold Out - Get Your Tickets Now
ALL ACCESS - BAR CRAWL MAPS + VENUES + SPECIALS + SCAVENGER HUNT + CONTEST LISTED BELOW (SCROLL DOWN) - YOU GET ACCESS TO ALL!
Calling all Halloween lovers, costume wearers, and party animals…. Are you ready to join an unforgettable Halloween Bar Crawl experience that will leave you wanting more?
Are You Ready To Paint The Town Red This Halloween?
Take your friends & spooky creatures alike on the Halloween Bar Crawl of the year! From dance parties, DJs, live bands, to costume contests… your costume-sporting crew will be in heaven... or bloody hell as you venture to a variety of amazing venues this Halloween.
Here's what you can expect:
🕞 6 hour bar crawl with access to a variety of venues
❌ No additional fees to access venues
💰 $10 in promo cards to be used at the venues
💵 Food and drink specials
🦹 $1,000 Halloween contest (see below for ways to enter)
🧩 Scavenger hunt for prizes
🎶 Music to get your groove on
🤝 Meet and mingle with other bar crawl lovers
🥳 Saturday night filled with fun and smiles
📍Participating Neighborhoods and Venues - (Additional Venues Will be Added Soon and Are Subject To Change)
Check-in Venues:
Burnside Inn (314 Massachusetts Ave)
Landsharks (808 Broad Ripple Ave)
🍻Bar Crawl Venues
BROAD RIPPLE :
Landshark (808 Broad Ripple Ave) (Check-in)
Cholita Tacos (1001 Broad Ripple Ave)
Union Jack (921 Broad Ripple Ave)
DOWNTOWN :
Burnside Inn (314 Massachusetts Ave) (Check-in)
Wild Beaver Saloon (20 E Maryland S)
16 Bit Bar + Arcade (110 E New York St)
Goodwood Indy (140 Illinois Street)
Tiki Bobs Cantina ( 231 S Meridian St)
Whistlestop Inn (375 Illinois St)
🎟️Ticket Options:
Lock in your tickets ASAP as this event will SELL OUT! Connect with us on Facebook to receive 30% off. Prices will increase as the event gets closer.
Early Admission (Check-In 8PM - 9PM)
40% discount from general admission price
Arrive early and save money
Beat the lines and start the party early
Check-in must happen by 9PM or a $6 surcharge will be applied
General Admission (Check-In 9PM - 10PM)
Arrive late and in style
Check-in must happen by 10PM
Group Tickets Saving (Check-In 9PM -10PM)
20% discount on each ticket
4 ticket minimum to receive discount
Discount automatically taken when 4 tickets minimum is purchased in one order
Check-in must happen by 10PM
🤑$1,000 Halloween Contest Details
Enter here: https://bit.ly/22HalloweenContest
4 Ways To Earn Entries - Most Entries Wins
Tag 2 friends on the most recent post - 1 Entry
Purchase a ticket for the Halloween Bar Crawl - 1 Entry Per Ticket
Complete Scavenger Hunt Tasks During Event - 1 Entry Per Task
**Winner Will Be Contacted Via FB or Instagram 3 Business Days After The Bar Crawl**
Now the real question is… which bar and spooky cocktail treat will give you the mouth feels and leave your crew thirsty for more?
Social Scene's Mission
Social Scene's mission is community - to connect people, build relationships, and create memories with Bar Crawls!
Check out who is going on Facebook https://fb.me/e/26HYZICjG or reach out for any questions you have regarding the event.
FAQ
Covid 19 Questions:
We are not medical professionals, so we follow the laws and their suggestions. We will have updates 24 hours before our events and have masks on-hand for those in need.
Event Guarantee:
***We stand by all of our events. If you did not have a positive experience or are unable to attend, we will provide a credit to a future event for a one year through Eventbrite***
I saw a cheaper price the other day, will you price match?
Unfortunately, Social Scene does not price match, refund, or offer credits. Prices might go up or down as different promotions are offered. We encourage you to purchase your ticket ASAP to avoid this issue as we increase ticket prices closer to the event date.
What do I need to check in?
Please be prepared to show your Eventbrite ticket with QR code on a mobile device or a printed ticket.
Do you provide transportation?
We do not provide transportation for this event.
Unable to attend?
Unfortunately, there are no refunds, but we do allow tickets to be transferred to a friend. Simply login to your Eventbrite account, select transfer and edit the attendee info.
My voucher code will not work
If you have a voucher code, please type it into the discount code section above the ticket type and click apply, then select the ticket type and quantity you would like to order. Please email connect@besocialscene.com or reach out via Social Media @besocialscene if you get a message that your code is invalid, AND share the city and event name you are having issues with.
Are designated drivers able to access the event?
Yes, the venue will be open to the public, capacity permitting, there should not be an issue for a designated driver to attend the event with you. We provide a free ticket to DDs that allow you to access the event at the same time as the ticket purchaser is attending the event. Free tickets for DDs do not include food, drinks, promo cards, or gift bags.
Any additional questions, media or brand partnerships, feel free connect:
Facebook - #BeSocialScene
Instagram - @BeSocialScene
Tiktok- @socialscenebarcrawls
Email - connect@besocialscene.com
Watch Our Be Social Movement Video #BeSocialMovement!
William Social Scene President - Side Tangent - Why Our Events
Any additional questions feel free to email us connect@besocialscene.com.