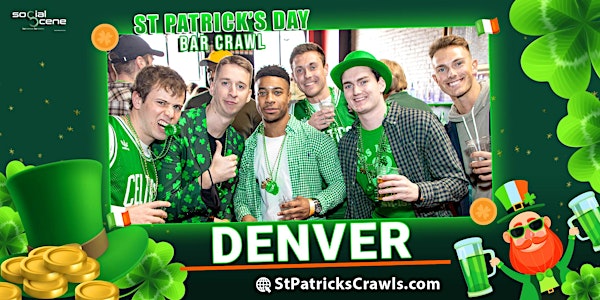 (ALMOST SOLD OUT) 2022 Denver St Patrick's Day Bar Crawl
Calling all Irish jig leprechauns, four-leaf clover wearers, Irish lovers, those with green clothes and who love green beers ...
When and where
Location
Nola Jane Restaurant and Bar 1435 Market St Denver, CO 80202
About this event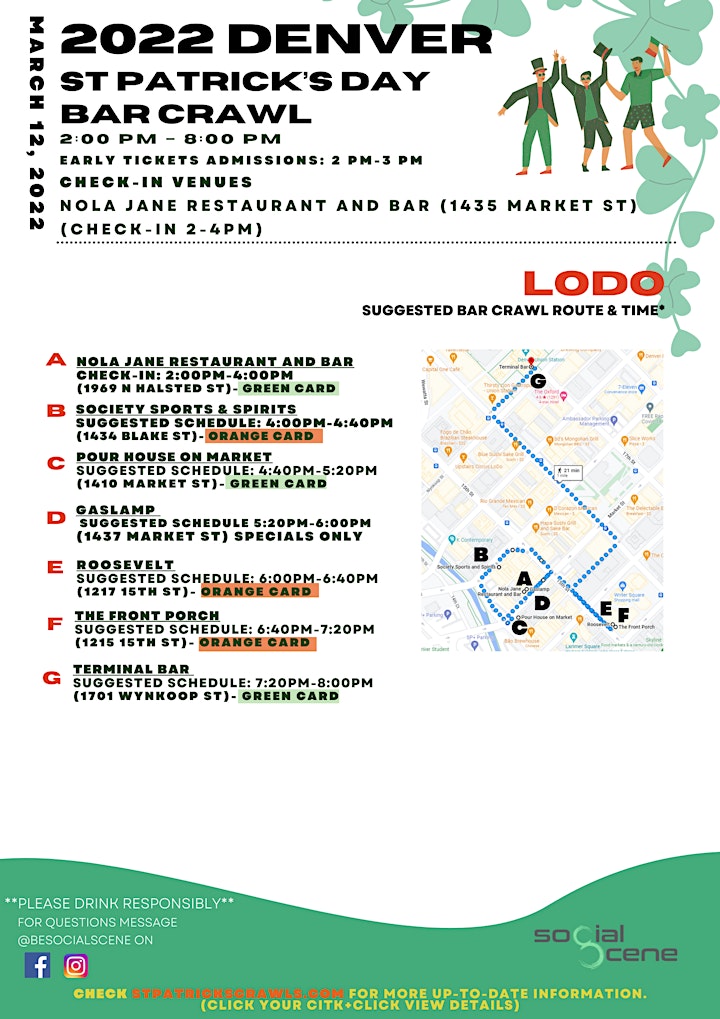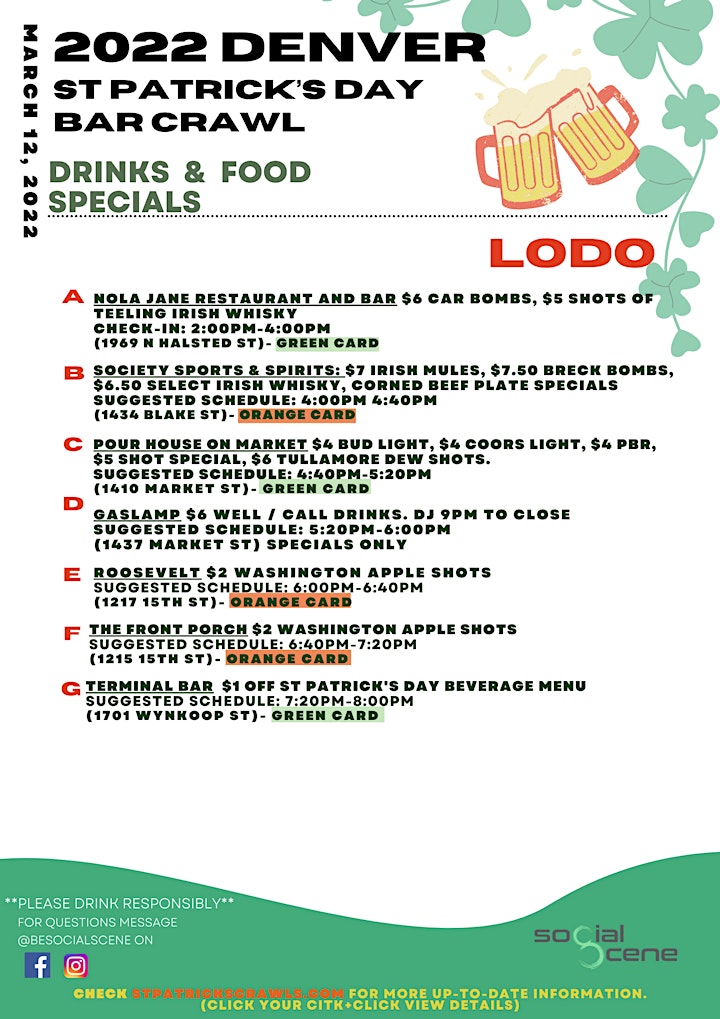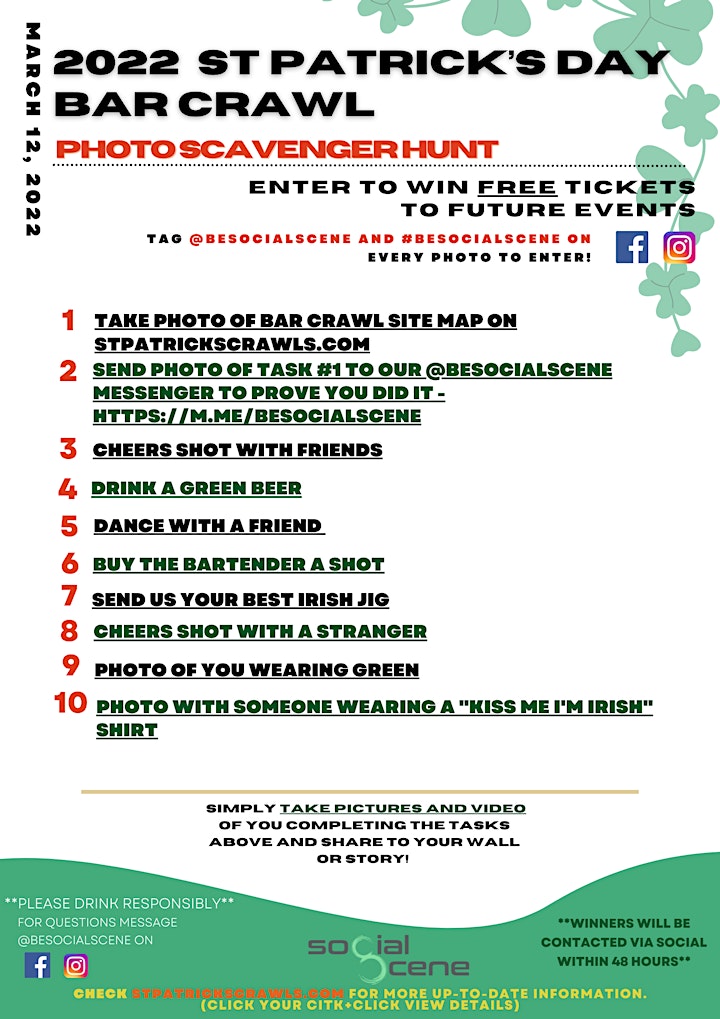 Enjoy a special Halloween discount code (Halloween30) for a limited time here: https://bit.ly/3Dh36Km
"Luck Of The Irish Is With You This St Patrick's Day"
**Due to Covid and other events on the day we will be selling this event out to leave plenty of capacity, purchase soon.**
Take your tribe of hooligans on a St Patrick's Day adventure at the 2022 St Patrick's Day Bar Crawl taking place Saturday, March 12, 2022 at several locations presented by Social Scene.
From Irish jigs, DJs, live bands & the must-have green drink cheers… the St Patrick's Day Bar Crawl is the perfect place to celebrate this green-filled Irish holiday with those you care for the most.
Lock in your tickets ASAP! This event has a limited number of tickets available and will SELL-OUT…
Enjoy additional savings of 10% when you connect with us. Also the best way to ask is any questions before, during and post event! Savings of 10%
Checkin Locations: Nola Jane Restaurant and Bar (1435 Market St)
Participating Venues (Venues Subject To Change Based On Availability)
What: St Patrick's Day Bar Crawl
When: Saturday, March 12, 2-8PM
Why: Because everyone is Irish on St Paddy's
What You Get:
*Specials
*No Cover
*$10 In Promo Cards (2 - $5 Green & Orange Cards)
*Scavenger Hunt For Free Tickets
*St Paddy's Gift
Lodo
Nola Jane Restaurant and Bar - Check-In: 2:00PM-4:00PM (1969 N Halsted St)- Green Card - Specials: $6 Car Bombs, $5 Shots of Teeling Irish Whisky
Society Sports & Spirits - Suggested Schedule: 4:00PM 4:40PM (1434 Blake St)- Orange Card - Specials: $7 Irish Mules, $7.50 Breck Bombs, $6.50 Select Irish Whisky, Corned Beef Plate Specials
Pour House On Market - Suggested Schedule: 4:40PM-5:20PM (1410 Market St)- Green Card - Specials: $4 Bud Light, $4 Coors Light, $4 PBR, $5 Shot Special, $6 Tullamore Dew Shots.
Gaslamp - Suggested Schedule: 5:20PM-6:00PM (1437 Market St) Specials Only: $6 Well / Call Drinks. DJ 9PM to Close
Roosevelt - Suggested Schedule: 6:00PM-6:40PM (1217 15th St)- Orange Card - Specials: $2 Washington Apple Shots
The Front Porch - Suggested Schedule: 6:40PM-7:20PM (1215 15th St)- Orange Card - Specials: $2 Washington Apple Shots
Terminal Bar- Suggested Schedule: 7:20PM-8:00PM (1701 Wynkoop St)- Green Card - Specials: $1 off St Patrick's Day Beverage Menu
Who is going? Check Out & Invite People On Facebook!
https://www.facebook.com/events/608815666777994
FAQ:
Event Guarantee:
***All of our events we stand by, if you did not have a positive experience or are unable to attend, we will provide a credit to a future event for a whole year. Email connect@besocialscene.com***
I saw a cheaper price the other day, will you price match?
Unfortunately, Social Scene does not price match, refund, or offer credits. Prices might go up or down as different promotions are offered. We encourage you to purchase your ticket ASAP to avoid this issue.
What do I need to check in?
Please be prepared to show your Eventbrite ticket with QR code on a mobile device or a printed ticket.
Do you provide transportation?
For some events, we have transportation via shuttle service, see ticket option above (it is an extra fee).
Unable to attend?
Unfortunately, there are no refunds, but we do allow tickets to be transferred to a friend. Simply login to your Eventbrite account, select transfer and edit the attendee info.
My voucher code will not work
If you have a voucher code, please type it into the discount code section above the ticket types and click apply, then select the ticket type and quantity you would like to order. Please contact connect@besocialscene.com if you get a message that your code is invalid
Age requirement
Must be 21+ yrs. old with valid ID.
Are designated drivers able to access the event?
Yes the venue will be open to the public, capacity permitting, there should not be an issue for a designated driver to attend the event with you
Any additional questions feel free to email us connect@besocialscene.com.