(Almost Sold Out) 2020 St. Louis Winter Whiskey Tasting Festival (Jan 25th)
About this Event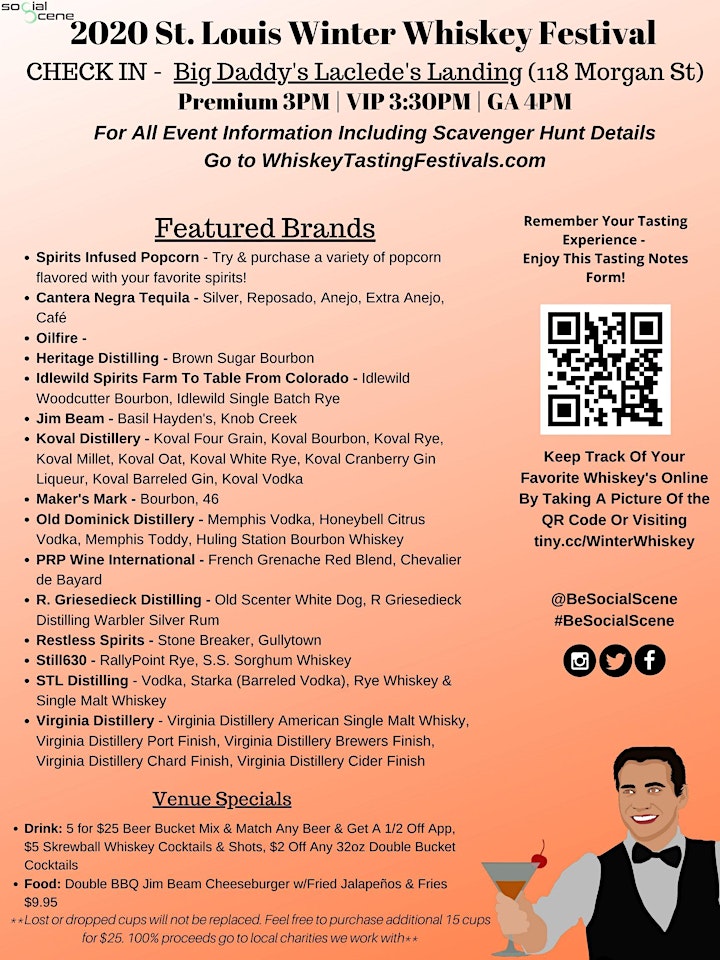 "Test Your Taste Buds"
Calling all whiskey lovers and connoisseurs...
Take your taste buds on a flavor adventure at The St. Louis Winter Whiskey Tasting Festival taking place Saturday January 25, 2020!
From Scotch, Irish, Single Malt and Blend to Bourbon and Rye… your taste buds will be in heaven as you sample dozens of amazing whiskey varieties.
Now the real question is… which brand and variety will give you the mouth feels and leave your taste buds asking for more?
Lock in your tickets ASAP! This event has a limited number of tickets available and will SELL-OUT…
Signup for future promotions today and SAVE $5 on your Winter Whiskey Whiskey Tasting Festival ticket.
Scavenger Hunt Details (Win Tickets To Future Events):
1. Fill in tasting notes on the event @ tiny.cc/winterwhiskey
2. Share on Facebook or Instgram (@besocialscene or #besocialscene) your favorite sample & tag us and the brand
3. Find a new whiskey friend, take a picture & share (@besocialscene or #besocialscene)
4. Order food or drink from bar and tag the hosting venue in a photo & @besocialscene or #besocialscene
**Bonus** Take a "VLOG" video log of your feedback on the event, "what you liked", "what whiskey you liked" and "any other feedback" and share with us @besocialscene or #besocialscene"
Check In Location: Big Daddy's Laclede's Landing (118 Morgan St)
Drink: 5 for $25 Beer Bucket Mix & Match Any Beer & Get A 1/2 Off App, $5 Skrewball Whiskey Cocktails & Shots, $2 Off Any 32oz Double Bucket Cocktails
Food: Double BBQ Jim Beam Cheeseburger w/Fried Jalapeños & Fries $9.95
Featured Brands (More To Come! List May Change Due To Brands Availability):
Spirits Infused Popcorn - Test & Purchase a variety of popcorn infused with your favorite spirits!
Cantera Negra Tequila - Silver, Reposado, Anejo, Extra Anejo, Café
Oilfire -
Heritage Distilling - Brown Sugar Bourbon
Idlewild Spirits Farm To Table Spirits from Colorado - Idlewild Woodcutter Bourbon, Idlewild Single Batch Rye
Jim Beam - Basil Hayden's, Knob Creek
Koval Distillery - Koval Four Grain, Koval Bourbon, Koval Rye, Koval Millet, Koval Oat, Koval White Rye, Koval Cranberry Gin Liqueur, Koval Barreled Gin, Koval Vodka
Maker's Mark - Bourbon, 46
Old Dominick Distillery - Memphis Vodka, Honeybell Citrus Vodka, Memphis Toddy, Huling Station Bourbon Whiskey
PRP Wine International - French Grenache Red Blend, Chevalier de Bayard
R. Griesedieck Distilling - Old Scenter White Dog, R Griesedieck Distilling Warbler Silver Rum
Restless Spirits - Stone Breaker, Gullytown
Still630 - RallyPoint Rye, S.S. Sorghum Whiskey
STL Distilling - Vodka, Starka (Barreled Vodka), Rye Whiskey & Single Malt Whiskey
Virginia Distillery - Virginia Distillery American Single Malt Whisky, Virginia Distillery Port Finish, Virginia Distillery Brewers Finish, Virginia Distillery Chard Finish, Virginia Distillery Cider Finish
Join our larger group during our afternoon whiskey tasting experience with our Premium, VIP and GA tickets options:
Premium Ticket (3:00PM to 6PM)
3 hour whiskey tasting
20 tasting cups
.25 oz pour per cup
More available for purchase - 100% to charity
Small bites from 3-4PM
Additional food and drink specials
Beat the crowds and lines, 30 person limit
Additional 1 hour to taste and meet the brands
Free whiskey gift
VIP Tickets (3:30-6:00PM)
Two and a half [2.5] hour whiskey tasting
15 tasting tickets
.25 oz pour per ticket
More available for purchase - 100% to charity
Small bites 3:30-4:00PM
Additional food and drink specials
Enter early, beat the crowds and lines
Additional 30 minutes to taste and meet the brands, compared to GA tickets
Free Whiskey Gift
General Admission (4:00-6:00PM)
Two [2] hour whiskey tasting
15 tasting tickets
.25 oz pour per ticket
More available for purchase - 100% to charity
Additional food and drink specials
Discount for groups with 4 or more
Join The Be Social Movement & Earn $$ & Perks For Sharing With Friends:
https://www.eventbrite.com/affiliate-register?eid=75021712963&affid=320585147
Check out who is going on Facebook.
https://www.facebook.com/events/2366850166921850
FAQ:
Event Guarantee:
***All of our events we stand by, if you did not have a positive experience or are unable to attend, we will provide a credit to a future event for a whole year***
I saw a cheaper price the other day, will you price match?
Unfortunately, Social Scene does not price match, refund, or offer credits. Prices might go up or down as different promotions are offered. We encourage you to purchase your ticket ASAP to avoid this issue.
What do I need to check in?
Please be prepared to show your Eventbrite ticket with QR code on a mobile device or a printed ticket.
Do you provide transportation?
We do not provide transportation however, we have partnered with Lyft. New users will receive $5 off their first ride using promo code "BeSocial"
Unable to attend?
Unfortunately, there are no refunds, but we do allow tickets to be transferred to a friend. Simply login to your Eventbrite account, select transfer and edit the attendee info.
Any additional questions feel free to email us connect@besocialscene.com.