Description
**Halloween is a busy night for all venues and they give us limited space, once we are sold out, we will not issue any additional tickets.**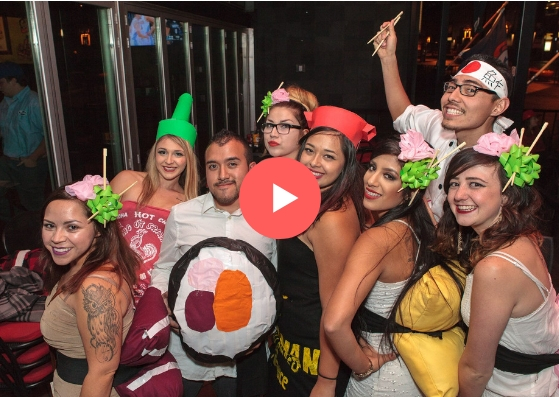 It's Time To Get Spooky!
Party with Minneapolis Bars for our Halloween Bar Crawl!

Dress up, dress down, be a pal, or be a clown - It's Halloween In YOUR Town!
The spookiness of the night is upon us all - crawl your night away to new bars, filled with plenty of people and booze.
If you are into dressing to impress for Halloween - make sure to enter the Best Halloween Contest for a chance to win $1000 and infamous bragging rights!
Our why, to connect people, build relationships and create memories.
Enter at HalloweenCrawlContest.com to Win $1000 Cash for Halloween
Check out who is signed up to go on
https://www.facebook.com/events/432256110630280
Have a large group or a ton of friends!?
https://www.eventbrite.com/affiliate-register?eid=49055623691&affid=227272273
Save $3 On Each Full Price Ticket When You Sign Up HERE.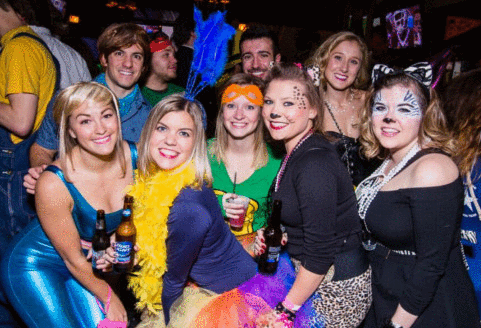 CHECK IN OCTOBER 27TH 8-10PM (YOU MUST CHECK IN FOR EVENT MATERIALS)
Participating venues: Prime 6 Check In 8-10PM (You Must Check In To Get Event Materials)
*Depot Tavern (17 N 7th St) - $3 Bud light bottles and $3 Citrus Kami's
*Prime 6 (609 Hennepin Ave) - CHECK IN LOCATION - $10.00: 2 Beef Sliders with Fries, Sirloin Beef Tips on mashed potatoes, Pepperoni Flat Bread, Cheese Flat Bread, Chicken BBQ Flat Bread, Prime 6 Wings, $5.00 Drink Special: Zombie Punch, Witches Brew, Brain Eraser, $4.00 House Wine, $3.00 Blue Moon or Sam Adams
*Kieran's (85 N 6th St) - $3: Chilled shots Jack Daniel's Fire Spooky Blue Lemonade (cocktail), $4: Miller Lite Draft pints, Lift Bridge Farm Girl Hop Dish pints (while supplies last!) and house wines, $5: BIG Gingers (our delicious signature cocktail), WEE Ginger (a mini Big Ginger, served as a shot!), Pints of Draft Finnegans, Summit and Strongbow Dry Cider Cans, $2 off appetizers - Promo cards
*Gluek's Restaurant & Bar (16 N 6th St) - Specials ONLY - Grave Digger $5, Witches Brew $4, Mystery Beer (12oz cans) $3
*Maruso Street Food & Cocktails (715 Hennepin Ave) - $3 Mystery Beers, $4 Witches Brew & $5 Grave Diggers, $5.00 The Black Cat , Promo Card Towards Wings.
*O'Donovan's (700 N 1st Ave) -

$4 Miller Lite Tallboys, $3 Shot Special and $10 off food purchase of $25 or more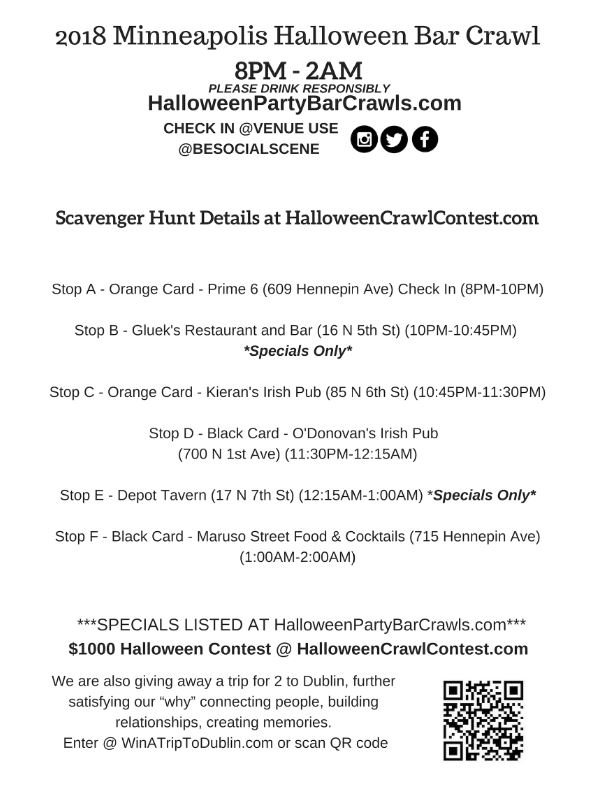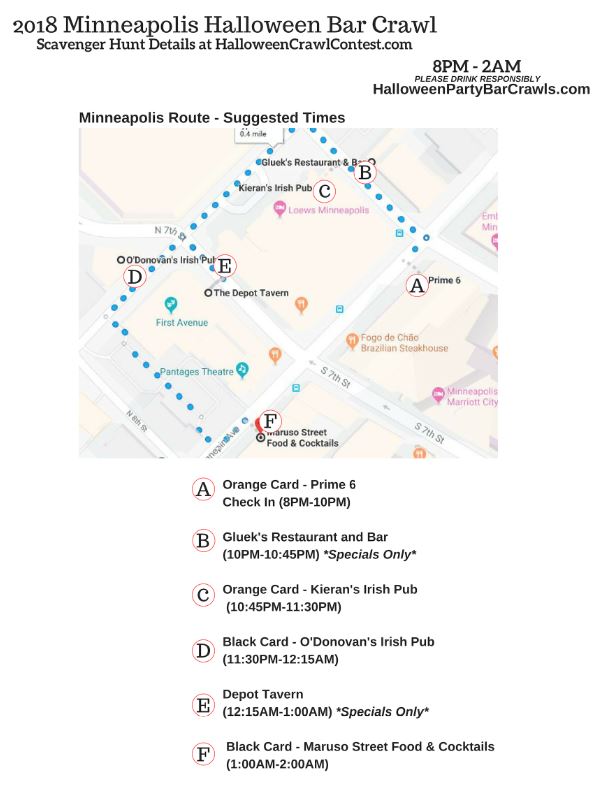 Package Includes *Additional Venues and Information will be added*:
(2) $5 Promo Cards (Food or Drink)

Drink Specials ($3, $4 & $5 Specials)

No Cover (You may still have to wait in line)

Venues Will Have DJs

Costume Contest $1000 Grand Prize! See details at HalloweenCrawlContest.com

Registration 8-10pm (Please do not be late!)

First Time Lyft users, use code BeSocial for $5 in rides!

Portion of proceeds benefits local charity
We are also giving away a trip for 2 to Dublin, further satisfying our "why" connecting people, building relationships, creating memories. Enter @ WinATripToDublin.com
We stay compliant with all state liquor laws
Must be 21+ w/ State Issued ID
No Refunds
Please contact organizer directly with any questions.
*We Do Not Price Match, Credits or Refunds (prices go up and down based on capacity and promotional offers, Social Scene does not match a past or future price). We Do Not Match Alternative Discounts Or Pricing**