Description
**Halloween is a busy night for all venues and they give us limited space, once we are sold out, we will not issue any additional tickets.**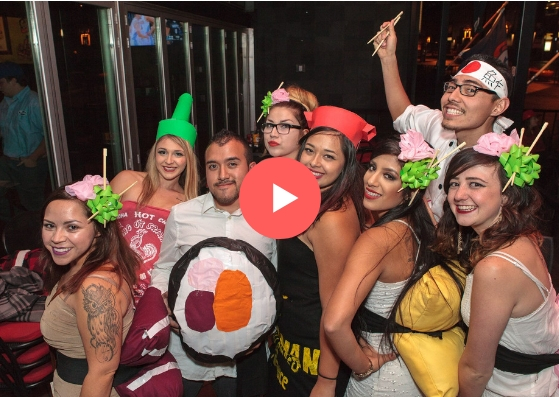 It's Time To Get Spooky!
Party with Indy Bars for our Halloween Bar Crawl!
Dress up, dress down, be a pal, or be a clown - It's Halloween In YOUR Town!
The spookiness of the night is upon us all - crawl your night away to new bars, filled with plenty of people and booze.
If you are into dressing to impress for Halloween - make sure to enter the Best Halloween Contest for a chance to win $1000 and infamous bragging rights!
Our why, to connect people, build relationships and create memories.
Enter at HalloweenCrawlContest.com to Win $1000 Cash for Halloween
Check out who is going on Facebook.
https://www.facebook.com/events/584279378677977
Get Paid For Bringing Your Friends
https://www.eventbrite.com/affiliate-register?eid=51672297232&affid=238571332
Save $3 On Each Full Price Ticket When You Sign Up HERE.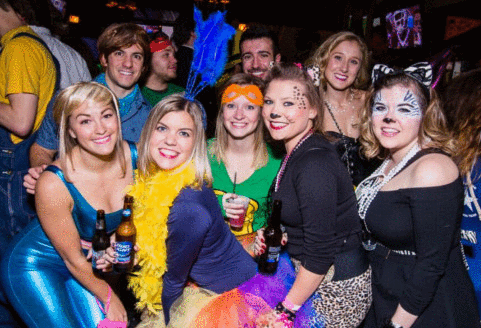 Participating venues:
PRE-CHECK IN October 25th, Thursday at Howl at the Moon (20 E Georgia St) - 6PM-9PM - Check in for your friends, and at the day of the event start at any bar and at any time (8pm to 2am) ! - Pre Check In Specials: $1 Miller & Miller Lite Coors Light Bottles, $3 Fireball, $3 Deep Eddy Lemon Drop, $3 Jim Beam Washington Apple & $10 32oz Long Islands
October 27 Check In Locations (8-10PM) (You Must Check In To Get Event Materials)

Downtown: Taps & Dolls - Howl At The Moon - Tiki Bob's

Broad Ripple: Landsharks


Broken English Taco Pub (141 S Meridian St) - $4 Coors Light Draft (16oz) and $5 Jager Bombs
Howl At The Moon (20 E Georgia St) - CHECK IN LOCATION - OCT 27th - With the purchase of an import bucket, Modelo and Corona mix and match is $25 for 5 bottles
Ike & Jonesys (17 W Jackson Pl) - $3 Candy Shot, Jolly Ranchers, $4 Gummy Bears, $5 Fireball Ciders
Taps & Dolls ( 247 S Meridian St) - CHECK IN LOCATION - OCT 27th - $3 Dr. McGillicuddy's, $4 Jager, $5 Jim Beam Family
Blu Indy (240 S Meridian St) - $3 Wells & $5 Jack Fire

Patron Saint formerly Subterra (250 S. Meridian St) - $5 Import Beers
The Pub (30 E Georgia St) - $4 Deep Eddy's and Flavors, $5 Import Draft Beers, $4 Fireball, $3 Canadian Club Apple
Tiki Bobs (231 S Meridian St) - CHECK IN LOCATION - OCT 27th - $4 Domestics, $5 Wells, Fireball, Jager & Rumpy, $6 Bombs, Jack & Jameson, $7 Titos, Ciroc & Crown, $8 Patron & Goose and $10 32oz Long Islands
Broad Ripple
Brick House Dueling Pianos (6235 Guilford Ave) - $3 Zombie Shot, $3 domestic drafts, $4 wells, $5 Smirnoff bombs
Landsharks (810 Broad Ripple Ave) - CHECK IN LOCATION - OCT 27th - $2.50 Hamm's, $3.00 Well Cocktails, $4.00 Long Islands, $5.00 3 Olives Vodka, $5.00 Vegas Bombs, $5.00 Syringe Jell-O shots, $15.00 Domestic Buttons
The Vanguard (6319 Guillford Ave) - $5 "Sexy Maid" Cosmo *CLOSES 12AM*
The Ambassador Lounge (6319 Guliford Ave) - $5 Shot and a Beer
Alley Cat Lounge (6267 Carrolton Ave) - High Life Draft $3.75, Captain Morgan $4, Hellcat Maggie Irish Whiskey $4, Rancho Allegre Tequila $4
The Red Room (6335 Guilford Ave) - $2 Vampire Kiss Shots, $3 Domestic Beer & Green Demon Jell-o Shots, $4 Bacardi, Wells & Sexton Skeleton Whisky, $5 Soul Taker & Grim Reaper Drinks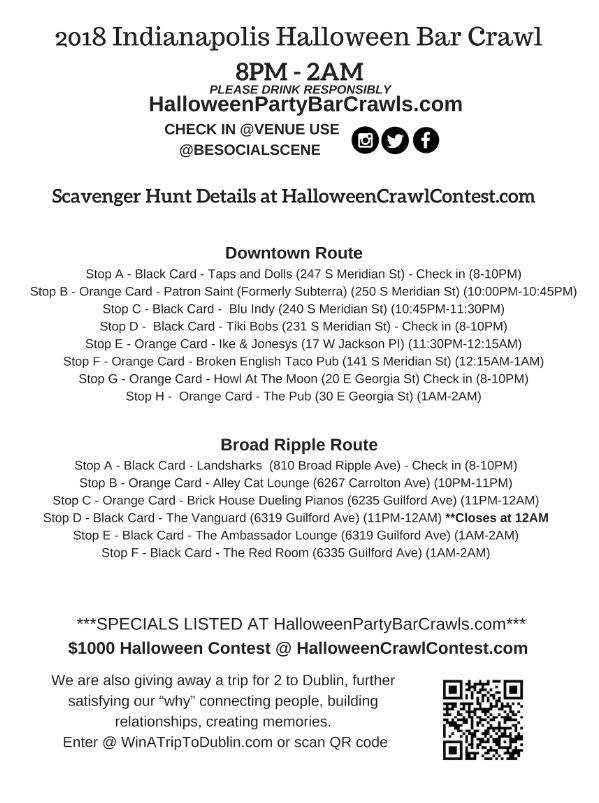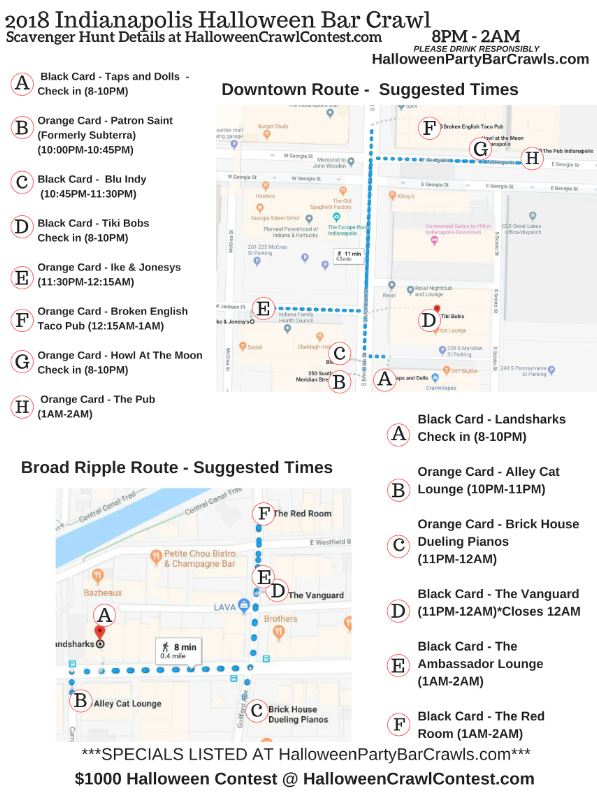 ***THIS EVENT IS ALL ACCESS!***
Q. What does that mean!?
A. We will work with several bar neighborhoods in your city and you can access them all (apologies transportation not incld.)!
Venues (More to be announced and subject to change!):
Package Includes *Additional Venues and Information will be added*:
(2) $5 Promo Cards (Food or Drink)

Drink Specials ($3, $4 & $5 Specials)

No Cover (You may still have to wait in line)

Costume Contest $1000 Grand Prize through Social Media! See details at HalloweenCrawlContest.com

Venues will have DJs!

Registration 8-10pm (Please do not be late!)

First Time Lyft users, use code BeSocial for $5 in rides!

Portion of net proceeds benefits local charity
We are also giving away a trip for 2 to Dublin, further satisfying our "why" connecting people, building relationships, creating memories. Enter @ WinATripToDublin.com
We stay compliant with all state liquor laws
Must be 21+ w/ State Issued ID
No Refunds
Please contact organizer directly with any questions.
*We Do Not Price Match, Credits or Refunds (prices go up and down based on capacity and promotional offers, Social Scene does not match a past or future price). We Do Not Match Alternative Discounts Or Pricing**