Description
**Halloween is a busy night for all venues and they give us limited space, once we are sold out, we will not issue any additional tickets.**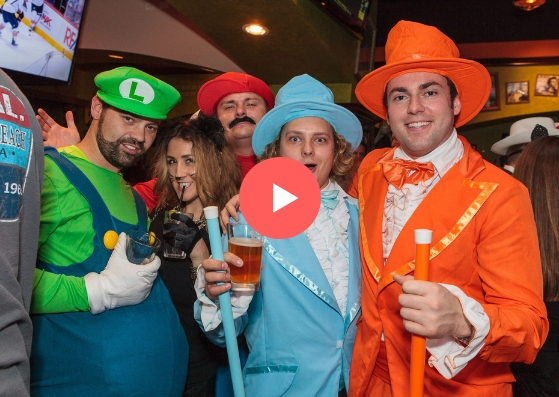 It's Time To Get Spooky!
Party with Chicago Bars for our Halloween Bar Crawl!
Dress up, dress down, be a pal, or be a clown - It's Halloween In YOUR Town!
The spookiness of the night is upon us all - crawl your night away to new bars, filled with plenty of people and booze.
If you are into dressing to impress for Halloween - make sure to enter the Best Halloween Contest for a chance to win $1000 and infamous bragging rights!
Our why, to connect people, build relationships and create memories.
Enter at HalloweenCrawlContest.com to Win $1000 Cash for Halloween
Check out who is signed up to go on
https://www.facebook.com/events/967737593433027
Have a large group or a ton of friends!?
https://www.eventbrite.com/affiliate-register?eid=49913119484&affid=230769954
Save $3 On Each Full Price Ticket When You Sign Up HERE.
Participating Venues:
PRE-CHECK IN October 25th, Thursday at Trophy Room (170 W Ontario St) - 6PM-9PM - Check in for your friends, and at the day of the event start at any bar and at any time (8pm to 2am) !
Check In Day Of October 27th 8-10PM (YOU MUST CHECK IN TO GET EVENT MATERIALS)

River North: Trophy Room
Lincoln Park: Tobacco Road Taproom
Wicker Park: The Flat Iron

River North:
Trophy Room (170 W Ontario St) - $5 Bud Light and Green Line Drafts and $7 Absolute Cocktails + DJ - CHECK IN LOCATION - OCT 27th
Ironside Bar & Galley (546 N Wells St) - $4 Coors Light & Miller Lite Bottles, $5 Don Julio Blanco Tequila Shots & $6 Titos Cocktails
Fado Irish Pub (100 W Grand Ave) - $5 Carlsberg, $5 Chicken Tender
Concrete Cowboy (646 N Franklin St) - $3 beer, $4 shots and $5 wells cocktails, $10 apps
Lincoln Park:
Tobacco Road Taproom (2249 N Lincoln Ave) - $5 Miller Lite Pints and $9 Mozzarella Sticks - CHECK IN LOCATION - OCT 27th
Four Farthings (2060 N Cleveland Ave) - $3 Shot, $4 Domestic & $5 Select Pints
Lion Head Pub (2251 N Lincoln Ave) - $3 Domestic Drafts
Kelsey's Bar (2265 N Lincoln Ave) - $3 Domestic Bottles, $5 Craft Drafts, $6 Titos & $4 Fireball Shots.
LA Social (2263 N. Lincoln Ave) - $3 Miller Drafts, $5 Well Vodka
Happy's Bamboo Bar and Lounge (2247 N Lincoln Ave) - $3 Bud Light Bottle, $5 Well Vodka
Old Grounds Social (950 W Wrightwood Ave) - $3 Bud Light Bottle, $5 Well Vodka
Wicker Park:
The Flat Iron (1565 N Milwaukee Ave) - CHECK IN LOCATION - OCT 27th - $2.50 PBR cans, $4 domestic bottles and $5 "Satan's Syrup" (Absolut Elyx with Sprite & grenadine)
Swig (1469 Milwaukee Ave) - $3 PBR Cans, $5 Jameson Shots, $5 Fireball Shots & $5 Malort Shots
Debonair (1575 N Milwaukee Ave) - $3 Bacardi flavored shots, $4 PBR or Miller lite beers, $5 Halloween Special Cocktail (tba)
Nick's Beer Garden (1516 N Milwaukee Ave) - $2.50 PBR cans, $4 domestic bottles and $5 "Deadman's Casket" (Jameson caskmate with gingerale)
The Tankard ( 1635 N Milwaukee Ave) - $4 Domestics, $5 Pumpkin Spice Latte Shots, $8 Bombs *Specials ONLY*
Little Olive Lounge ( 1540 N Milwaukee Ave) - $3 312, $5 Vodka, Cocktails, and $6 Jim Beam Shots - Gift card will go towards 1/2 off wings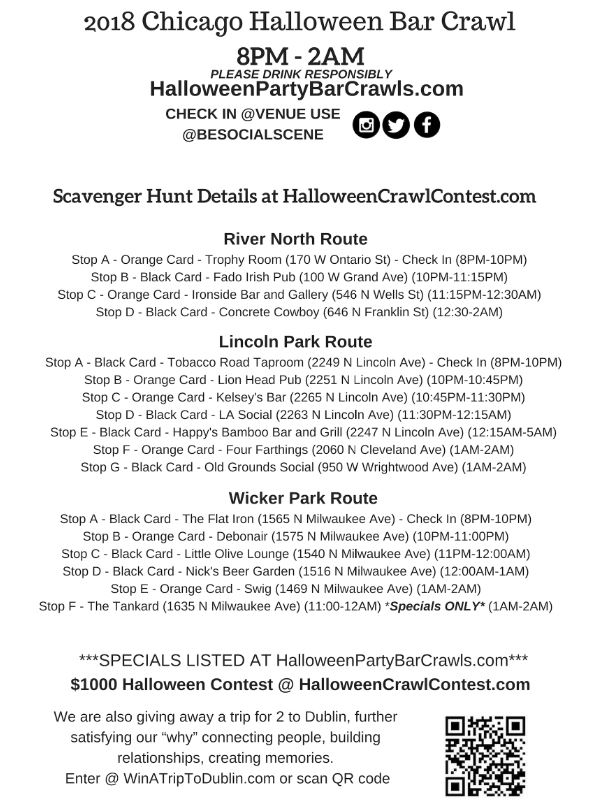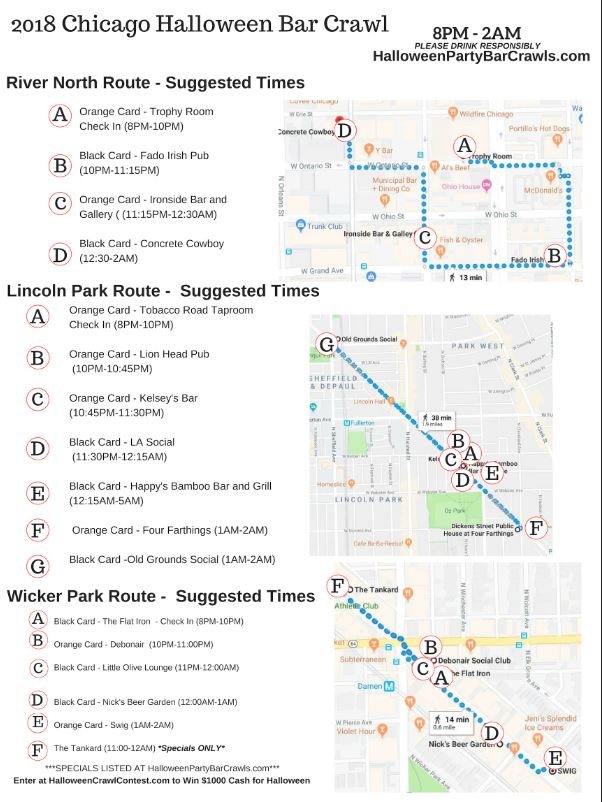 ***THIS EVENT IS ALL ACCESS!***

Q. What does that mean!?

A. We will work with several bar neighborhoods in your city and you can access them all (apologies transportation not incld.)!
Venues (More to be announced and subject to change!):

Package Includes *Additional Venues and Information will be added*:
(2) $5 Promo Cards (Food or Drink)

Drink Specials ($3, $4 & $5 Specials)

No Cover (You may still have to wait in line)

Costume Contest $1000 Grand Prize! See details at HalloweenCrawlContest.com

Venues Will Have DJs!

Registration 8-10pm (Please do not be late!)

First Time Lyft users, use code BeSocial for $5 in rides!

Portion of net proceeds benefits local charity
We are also giving away a trip for 2 to Dublin, further satisfying our "why" connecting people, building relationships, creating memories. Enter @ WinATripToDublin.com
We stay compliant with all state liquor laws
Must be 21+ w/ State Issued ID
No Refunds
Please contact organizer directly with any questions.
*We Do Not Price Match, Credits or Refunds (prices go up and down based on capacity and promotional offers, Social Scene does not match a past or future price). We Do Not Match Alternative Discounts Or Pricing**