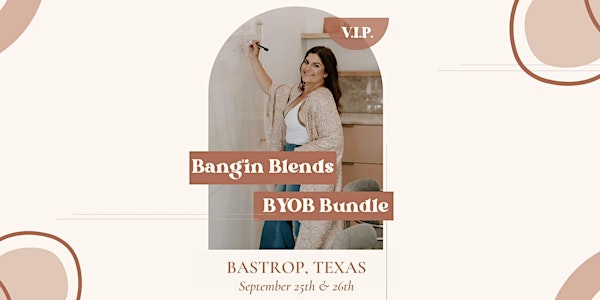 [ALMOST GONE!] VIP Bundle - Bastrop, Texas
Enjoy front row seating plus all of the benefits & education from each class while saving $100 when purchasing this VIP bundle!
When and where
Location
Lumiere House 1011 Main St. Bastrop, TX 78602
About this event
Who is ready to join me and enjoy TWO days of amazing education including a VIP experience that leaves you inspired and ready to jump back behind the chair? [It's you.. I know it's you!]
And it's a $100 savings?... I'm sorry... what?!
Not to mention front row seats, catered lunch on day 1, a certificate of completion and so much more!
Sunday 9am-12:30pm - Demo only
[VIP only catered lunch break]
Sunday 1pm-4pm Hands On VIP
Monday 9am-12pm Business Class
Bang'in Blends Demo Sunday 9am-12:30pm:
You are ready to learn techniques that:
Are realistic to do behind the chair multiple times a day
Simplify your applications
Save time so you can make more money
Included in this class:
1 Balayage/Foilayage/Or Combo Technique from start to finish
Light Morning Refreshments [who doesn't need a little extra coffee?]
Notebook with Keynotes & Head Sheets [IG aesthetic worthy for all the story shares]
Lumiere Inner Circle Online Community
Bang'in Blends also teaches a special bonus:
Raising Your Value Through Videography - A videography class that will teach you how to capture and create scroll stopping content that brings more dreamy clients into your chair without being a total time suck.
Bang'in Blends Hands On Sunday 1pm-4pm:
This course is held after the demo portion stated above, but will also include:
Notebook with Keynotes & Head Sheets [IG aesthetic worthy for all the story shares]
Intimate 3 Hour Hands On Instruction [1:12 teacher student ratio]
What To Bring:
Your favorite pen [we all have our faves, am I right?!]
Mannequin Head with medium length hair
Tripod Stand
Cutting comb
Extra long rat-tail comb
Foils
Balayage Paddle
Color brush
Color bowl
6 Clips
3D Balayage Comb [optional but recommended]
Build Your Own Business Monday 9am-12pm:
Director Of Marketing (DOM)
Marketing is the most important piece to your business because without it, you ain't seeing clients. No clients = no $$$.
You can build a dreamy clientele without:
Getting frustrated because you don't know where to start
Spending hours on social media
Feeling let down when you work so hard and don't see any results
In BYOB you will walk away with all the strategies you need to implement in your business to start seeing a steady stream of new clients each week. Raising your demand, and in turn, raising those prices [in the future] so you can:
And live your life on your terms
That's not all, you will also have access to some seriously incredible bonuses:
List Of Offer Ideas - There needs to be a reason a client will book with you, and you have to show them that reason. Just utilizing social media isn't unique enough to snag their attention. Offering them a $0 cost [aka freebie] that helps squash their scheduling objections will help you stick out of the crowd.
Warm-Up Welcome Email Sequence - Once you collect your dream client's email, this is a proven sequence that will warm them up to booking a service with you. Increasing the likelihood of them booking by 73%!
Lumiere Inner Circle - The truth is, a rising tide lifts all boats. And when you surround yourself with other stylists who truly get it, it becomes your judgment-free and safe space to ask questions and build the right momentum for your growth. You'll join a perfectly curated group of entrepreneurs who value community over competition and who you can tap into for inspiration, accountability, reassurance, and business connections.