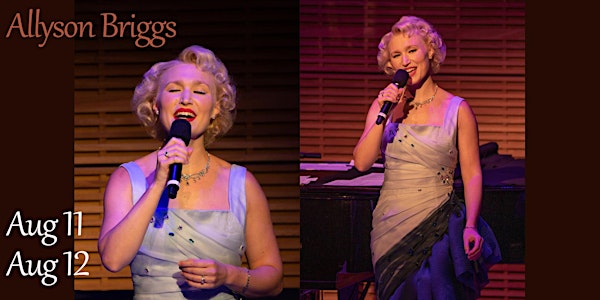 ALLYSON BRIGGS: CELEBRATING BURT BACHARACH
Location
Feinstein's at Vitello's
4349 Tujunga Ave
Studio City, CA 91604
When purchasing tickets - Please use the "BUY ON MAP" option to select your desired seats.
About this event
PLEASE NOTE, $25 MINIMUM ON FOOD OR BEVERAGES
Doors: 5:30pm //Show: 7:00pm
ALLYSON BRIGGS: CELEBRATING BURT BACHARACH
Allyson Briggs has created an eclectic cocktail of high-class music, topped with the glamour of a bygone era. From Carnegie Hall and Jazz at Lincoln Center, to the Rainbow Room and Birdland Jazz Club, her incredible voice has delighted audiences around the world. Her New York based creation, Fleur Seule, is a retro jazz band with 7 languages of repertoire and many classic styles of music, that transports audiences to their favorite musical memories. The Fleur Seule experience is a mixture of the most beloved music, with sounds of soothing Karen Carpenter and vibrant Ella Fitzgerald, to the infectious Peggy Lee and diverse Linda Ronstadt. They have been the house band of Tavern on the Green for 8 years, bringing Old Hollywood glamour to a modern day audience. Allyson's range is unmatched, and the joy she brings is contagious. With over 300 performances per year, she is one of New York's most in demand vocalists, and has shared the stage with Michael Feinstein, Ciara Renée, Catherine Russell, Jeremy Jordan, and Luba Mason.
Don't miss this chance to see her live!
See who Michael Feinstein calls "One of the most incredible talents out there today!"
"One of our all-time favorites." - The Rainbow Room
"...a female Frank Sinatra with the looks of Marilyn Monroe," - Times Square Chronicles
"We loved having you at our event! Perfection, as always." - Tom Postilio and Mickey Conlon
"It doesn't matter what music they choose to record or perform live, Fleur Seule is going to do it up right, so a trip to any one of their shows is going to pay off - make the investment." - Broadwayworld
"Hors d'oeurves, drinks, and a stunning rooftop view created a relaxing atmosphere that was complemented by the enchanting voice of singer Allyson Briggs and her band Fleur Seule." – BOLD
"For many, Karen Carpenter is the only person ever to be heard singing these songs, and that's a bar quite high for any singer to attempt; fortunately, Allyson Briggs is more than equal to the task…Briggs' vocal instrument is beautiful beyond compare, and her artistic skill led, often, to almost imperceptible changes in the rhythms with which she presented these legendary pop tunes..." - Broadwayworld
"Yes, Fleur Seule does great covers, leaving enough of the original recording intact to honor it, and straying from the path just enough to make it, quite enjoyably, their own, but on the CD Vaya Con Dios, Fleur Seule has debuted a handful of original songs written by Briggs herself, and the songs are good - good enough to make other singers want to sing them, which is something Allyson should look forward to." – Broadwayworld
Allyson Briggs: Celebrating Burt Bacharach
What do Dionne Warwick, Karen Carpenter, and Peggy Lee all have in common?
Burt Bacharach.
Join Allyson Briggs, of Fleur Seule, from NYC to explore and indulge in some of music's warmest memories. She will take you back and share her insight as a vocalist and songwriter who is rooted in the classics, to appreciate the artistry of some the greatest singers and composers ever to collaborate. Come ready to sing along to your favorite hits, and to be surprised by a few you aren't expecting!
Fun facts and links:
After performing with Michael Feinstein at Carnegie Hall and with the Pasadena Pops, Allyson is thrilled to make her solo debut at his club!
Allyson leads her jazz band, Fleur Seule, with songs in 7 languages!
Allyson not only covers classic music, but she has written and recorded over 20 original songs herself!
In addition to being a full time vocalist, Allyson works regularly as a VoiceOver. You may have heard her on the Blue Air commercials of late!
--
A minimum of $25.00 is required per person while inside the showroom. Dining in the restaurant or any of our bars does not apply to the showroom minimum. Service fees apply to all tickets purchased via Eventbrite, at the door, and/or at the Box Office.
Guests requiring accessible seating should book directly by calling 818-769-0905