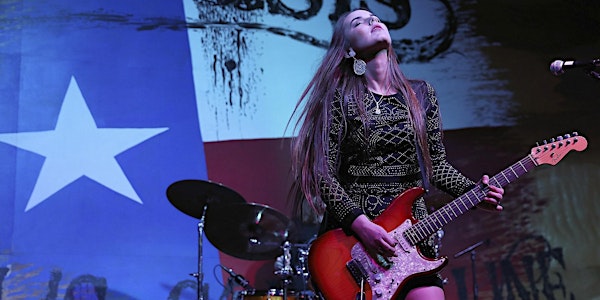 Ally Venable Band
When and where
Location
Lucy's Lounge - Bar & Kitchen 446 Bedford Road Pleasantville, NY 10570
Description
Ally Venable Band -
There's something about Texas. Open up the history books and you'll find the Lone Star State at the eye of every rock 'n' roll storm. Pull up a stool in any bar-room and you'll still hear Southern gentlemen spin stories of ZZ Top, Johnny Winter and Stevie Ray Vaughan. Now tip a ten-gallon hat to the bandleader writing her own name onto the state's famed back pages, as Ally Venable releases breakout third album, - Texas Honey Debuted as #2 on the Billboard Blues Charts featuring Eric Gales and Mike Zito.

A Power house from the Lone Star State, the Ally Venable Band has ignited excitement in the modern blues scene. Lead guitarist and vocalist, Ally Venable, started singing at an early age in church and at 12, picking up a guitar and finding her passion, established herself as a Texas Blues Guitar Slinger. Guitar Player Magazine stated that " Venable pulls off a stunner of gritty and/or sultry blues rock tunes embellished with lots of tasty guitar solos."

She has received many awards including the East Texas Music Award in 2014 and 2015 for "Female Guitarist of the Year" , three time winner of the "Blues Band of the Year," "Album of the Year," and "Entertainer of the Year," in 2018. 2nd Place - Dallas International Guitar Show 10 Under 20 Contest 2015.
Ally's 2018 release 'Puppet Show' debuted at #7 on the Billboard Blues Charts, featuring Gary Hoey & Lance Lopez.

Each of Ally's band mates are versatile on multiple instruments. As bassist, Bobby Wallace is a master of his craft and years of experience enhance the band. Drummer, Elijah Owings brings a steady, but dynamic sound to the band. Keyboardist, Fernando De Los Santos from Seville, Spain, brings a classic and energetic style when performing with Ally. They are the backbone of the band's Rockin' Blues sound, and they continue to represent the future of the blues.
Record Label: Ruf Records