AllStar Round-Up 4

Saturday, November 14, 2015 at 7:00 AM

-

Sunday, November 15, 2015 at 5:30 PM (HST)
Event Details
 Workout Events SEE BELOW
AllStar Round-Up 4
The purpose of the AllStar Round-Up is to come together in a community to be something greater than you can be alone. We provide an inclusive fitness experience that showcases the talent we have here in Hawaii, including kids, kupuna, and people with physical and sometimes mental disabilities. We provide an optimal, competiative fitness experience so that everyone leaves feeling like a winner!
Please click HERE and take a moment to watch a video about the purpose of this event!
Cowboy Up!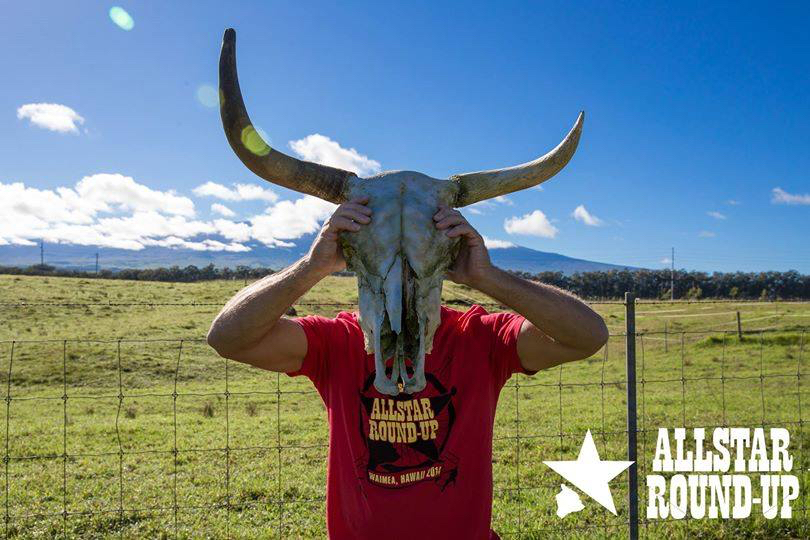 You'll need a bunkhouse, event is 2 days!
Sat. Nov. 14, 6:30am(athlete check-in)-6pm
and
Sun. Nov. 15, 7:00am-5:30pm
Schedule of Events DAY 1
Satruday Nov. 14
6:30am- 7:30am Athlete Check-In at CFAS
7:30am-7:40am Group Picture (Athletes/Volunteers)
7:40am-8:10am Opening Ceremony
8:10am-8:25am WOD#1 'Return of the Dragon' Workout Description and Movement Standards
8:30am Return of the Dragon START....(11:20am FINISH)
9am - 12:00 noon Pohaku Ho'oikaika outside gym
9am - 2:00pm One Chance Doubleunders
11:30am Kupuna CrossFit Honorary Ceremony...(12:00noon FINISH) (30:00 total)
12:00noon WOD#2 'Snatch or Bust' workout description and movement standards
12:15pm 'Snatch or Bust' START...(2:15pm Finish)
2:45pm High Roller workout description and movement standards
3:00pm High Roller START...(5:00pm FINISH)
5:15pm Mystery WOD Announcement ALL ATHLETES REQUIRED TO BE PRESENT TO HEAR ANNOUNCEMENT. WORKOUT WILL NOT BE POSTED BEFORE THIS ANNOUNCEMENT.
Schedule of Events DAY 2,
Sunday Nov. 15th
7:00am Athletes required to be at box for Mystery WOD events 
10:00am KIDS Check in , turn in donations, receive shirt, be well fed & rest till 11am when we call kids onto the athlete floor for their event
10:45 Kids staged in Warm up area
11:00am KIDS intro & event
11:30am 'Running of the Bulls' workout description and movement standards
11:45am 'Running of the Bulls' START...(1:45pm FINISH)
2:10 Special Olympic CrossFit Event...(2:40 FINISH)
Approx 2:45pm Final WOD for top 4 competitors announced
3:00-3:15 Aerial Performance before finals
Approx 3:15pm Finals START...(4:15pm Approx FINISH)
Approx 5pm Medals Ceremony and closing blessing
5:00pm PAU! 
For SCORECARDS click here to review.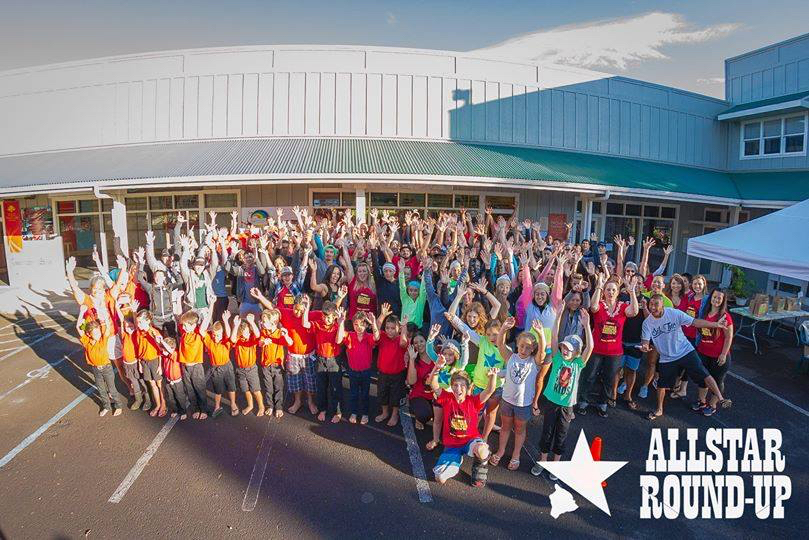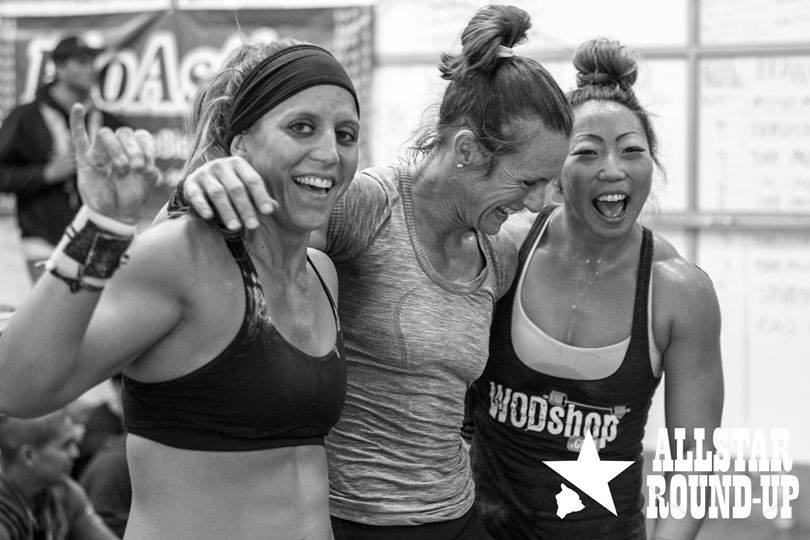 The Lowdown:
Our goal is to showcase ALL athletes including adults, kids, kupuna, and people with disabilities. We will provide an optimal competitive fitness experience so that everyone leaves feeling like a winner! 

8 Divisions include: 

Open Men/Women

Scaled Men/Women

Masters Men/Women

(40+ yrs.)

Teens (13-16yrs. /17+yrs encouraged to enter scaled) Teens will be run in a mixed gender heat, but awards will be given based on top finishers in each gender

WE WILL HAVE 7 SPOTS AVAILABLE FOR TEAMS 'MIXED OPEN PARTNER PAIRS' (1MALE/1FEMALE) THIS YEAR, THE TICKETS WILL ONLY BE AVAILABLE FROM NOV. 3RD-11TH. THE DIVISION WILL ONLY USE THE OPEN WEIGHTS AND STANDARDS. IF YOU ALREADY SIGNED UP AS INDIVIDUAL, BUT YOU WANT TO ENTER AS A 'MIXED OPEN PARTNER PAIR' PLEASE EMAIL KC@CROSSFITALLSTAR.COM TO REQUEST A CHANGE. We will not be issuing refunds but we will change your division if a spot is available. If only 1 partner has pre-paid, we'll need to ask the other partner to make up the difference of the $120 Team Ticket. SEE PURPLE PORTIONS OF THE WORKOUT DESCRITIONS FOR PARTNER STANDARDS.

We have based ticket availability on last years participation.

Ticket availability will reflect

 the increased size of our gym, therefore we can now accomodate more participation. Yeehaw! 
We reserve the right to sell more, or less tickets of certain divisions based on need and interest. Registration is limited, please reserve your spot before it sells out if you want to compete. We cannot accomodate last minute entries. No refunds, no transfers.


If you wait, there is a chance we might move tickets from some divisions and place them available in other divisions that need tickets. We will do our best to spread the tickets out between all the various divisions. If you want to compete, purchase a ticket early so we can be sure to provide enough for all.

Event will be 2 days long! Scores from Days 1 & 2 will be compiled. 

Entry fee includes event shirt if you register by the Nov. 1st deadline. Be sure to specify Mens/Womens & size when you register online.

If you register after Nov. 1 you will not be guaranteed an event shirt! We are not ordering extra this year!

WODs to be announced. Expect 3 events on Day 1. Expect 1+ event for everyone on Day 2, with a final event for top 4 competitors in each division. Skills tests will be given throughout the weekend for everyone. More info to come about this! 

Anyone can enter, even if unaffiliated with a CrossFit box!

FREE spectator admission.

FREE ENTERTAINMENT!

Chuck Wagon will be on site for food purchase around lunch time

Confident volunteers, equipment organizers & Judges needed (FREE T-Shirt included!) Volunteers MUST get a free ticket and complete the online questionsaire after ticket purchase. Volunteers should register by Nov. 1 to guarantee a shirt gets ordered for you!


Early registration will be from Sep. 25-Oct. 31, 2014

Late registration will be from Nov. 1- Nov. 11 (not guaranteed a shirt!)

Registration will CLOSE Wednesday, Nov. 11th, midnight

KIDS EVENT Sunday Nov 15th 10am! ALL Kids invited to participate but MUST pre register by Nov. 1 to guarantee a medal and shirt!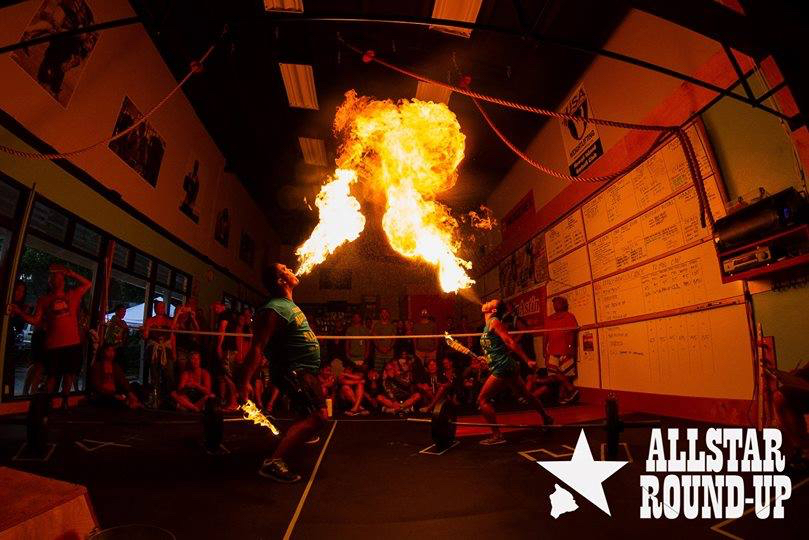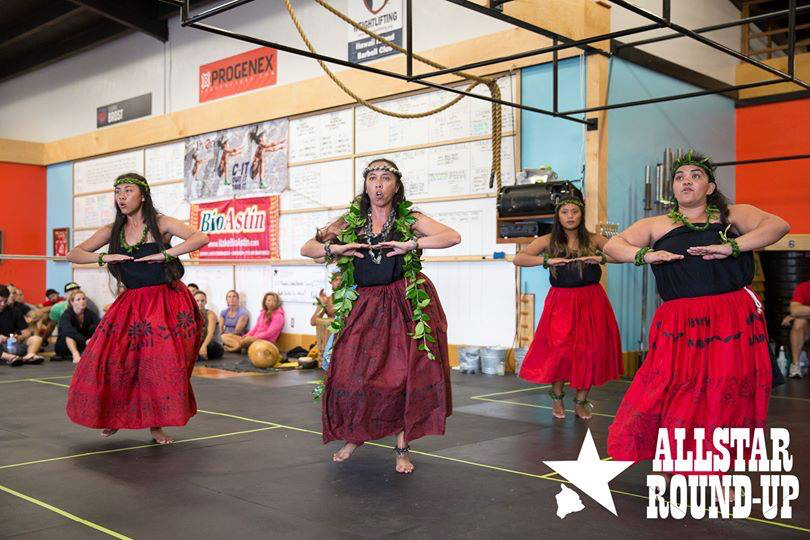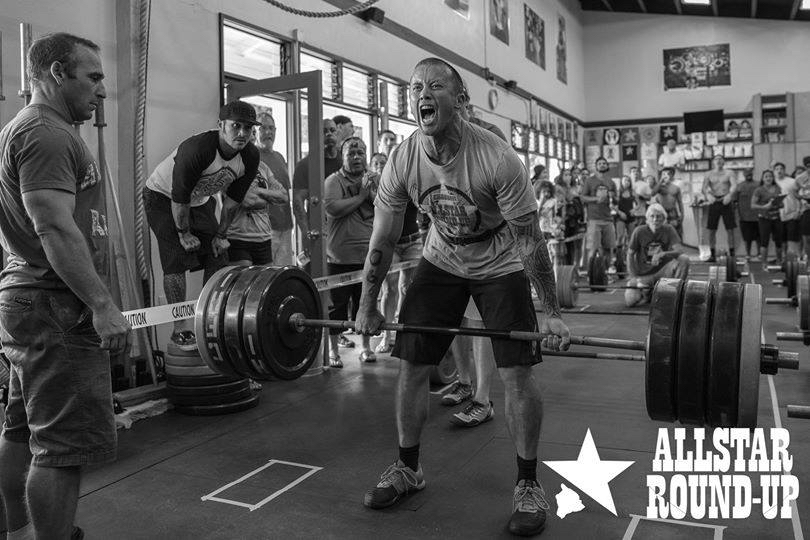 Frequently Asked Questions:
Q. I want to enter Open Men's Division but it's all full? What can I do?

A. Simply purchase a FREE waitlist ticket to be put on the waitlist. It is VERY likely that we will release more tickets, and remove tickets from other divisions that are not selling out. 
Q. I was wondering if its going to be for Big Island only or if I could make it there from O'ahu would I be able to enter?

A.

We would love people from neighbor islands to enter!!!

 
Q. how do you determine what division to register for?

 

 

A.You will know to register for Open if you do regular CrossFit mainsite wods as perscribed. Register for scaled if you REGULARLY NEED TO SCALE workouts or are a novice.

 We want everyone to be included, but not take advantage of scaling just to win of course! If an un-assited pull up is not available to you, then you should sign up for scaled division.

Q. 

Will the wods be released before the event ?

A. 

YUP! Most of the WODS will be released before the event, with the exception of a mystery event and the final event for the top 4 competitors. You can expect that at least 3 of the workouts will be released so the athletes know what to expect and are able to practice for peak performance.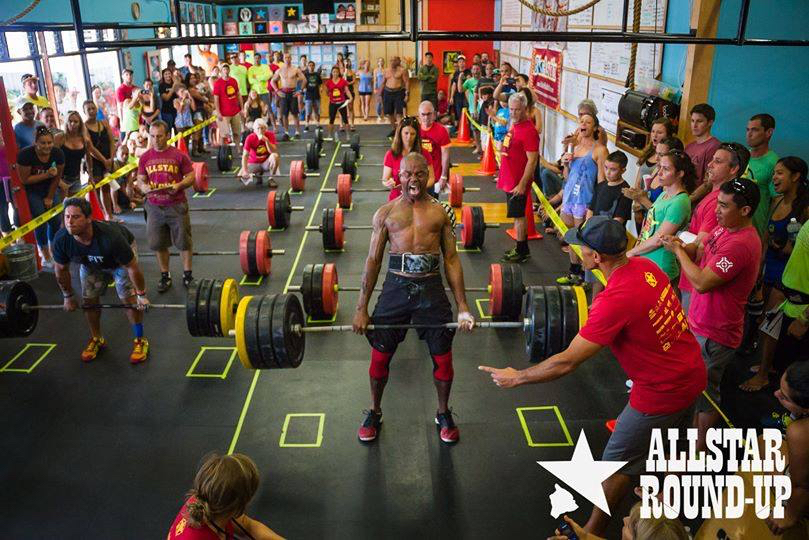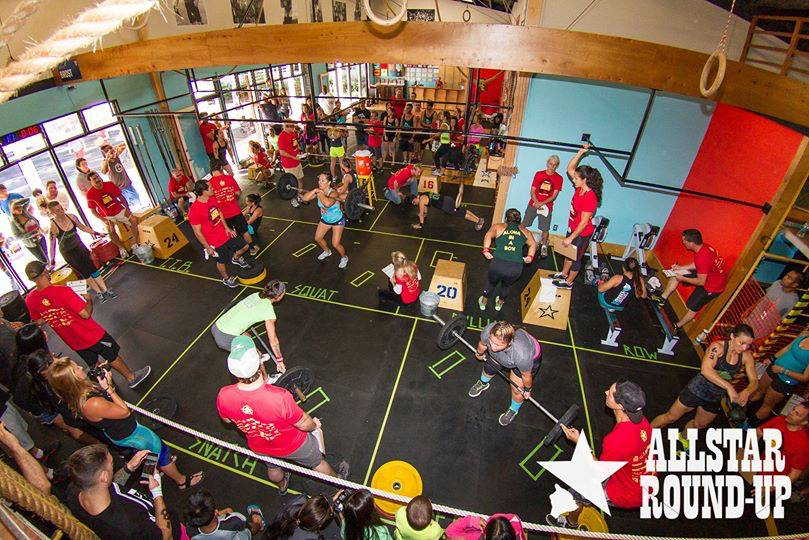 KIDS EVENT Sunday, Nov. 15 approx. 10:30am
A TEAM EFFORT TO PROVIDE PHILANTHROPY FROM OUR CROSSFIT KIDS FOR A CAUSE THEY BELIEVE IN
This year's event will help beneift Voyage Ministries in Waimea!
The CROSSFIT KIDS EVENT begins on Sunday morning around 10am, kids need to pre-register online. Check in time for kids will be around 9am Sunday morning Nov. 15.
The kids workout will be a partner style workout and will include Jumprope and Running! Workout details will be revealed the day of the event!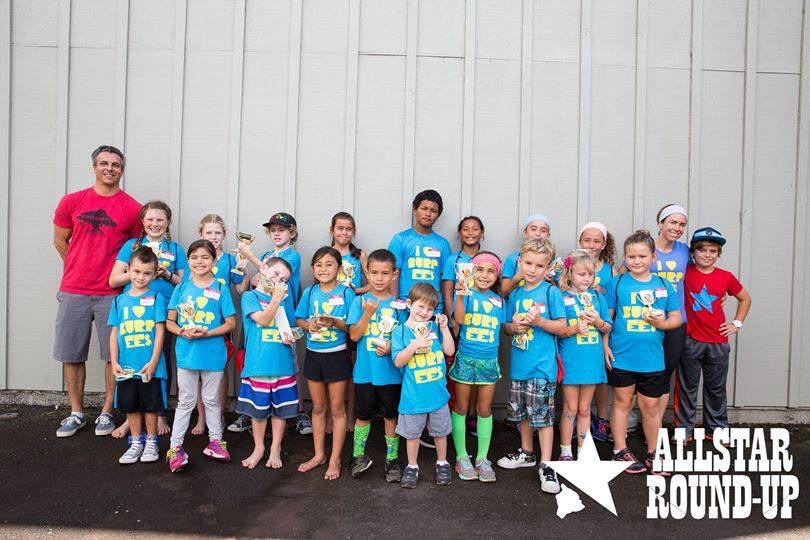 THINGS TO BRING if you're a competing athelte in any division other than KIDS:
Lifting Belt

Wrist protection

Lifting shoes

Running shoes

Swim Suit

Swim Cap

Goggles

Water Bottle

Sunscreen

Personal cooler with food/snacks (will have lunch wagons on site at the gym)

BE READY FOR ANYTHING!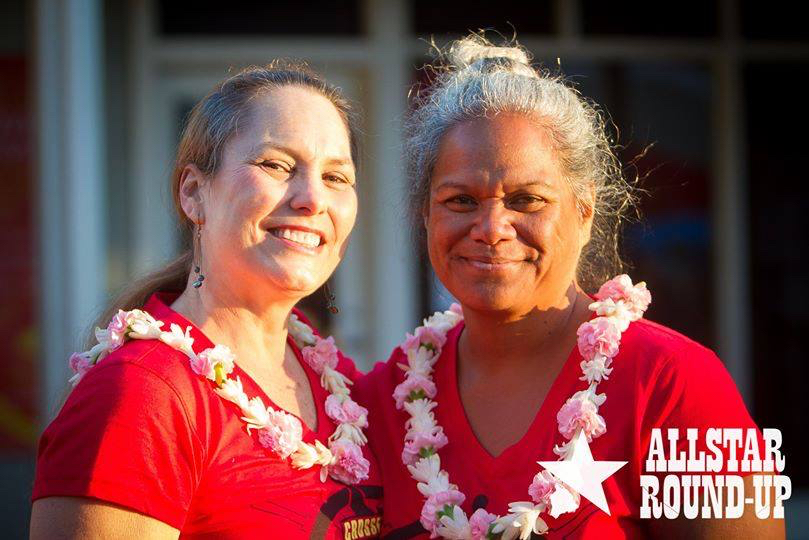 SATURDAY NOV. 14
WOD #1
"Dragon Duet"
Athletes enter a 4 station circuit (The Dragon), conga-line style. Amass as many repetitions as possible in each couplet (AMRAP at each station). Score will be total repetitions added together of all 4 stations combined. 90 seconds of work, with 30 seconds of rest/transition time to the next couplet. Athletes enter and exit through the same athlete chute (PR Portal).
The couplets will be as follows:
Station 1
10 Wall Balls 
10 Box Jumps Overs
Station 2
8 Kettle Bell Swings
8 Lateral Burpee Over A Sandbag
Station 3
6 Pull Ups
6 Snatches
Station 4
4 Deadlifts
4 Hand Release Push Ups
Equipment Standards are as follows: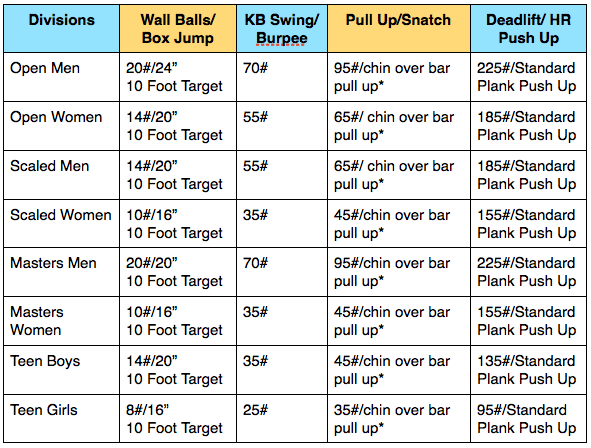 TEAMS: Will use Open weights, boxes, and standards. Partners will complete whole rounds, to collect as many rounds and reps as possible per station. Open standards apply. TEAMS will work for 2:30 minutes and rest for 30 sec between stations.
*Note the Pull Up is a standard chin over bar pull up for all divisions BUT you may scale to a ring row at any time.  If you choose to do so, you will be scored below any athletes who does chin over bar Pull Ups.
*Note the Wall Ball Shot is a 10 foot target for all divisions. The weight of the ball is scaled for individual divisions.
*Note the Hand Release Push up may be scaled to a KNEE push up at any time, but those doing knee push ups will not score higher than an athlete performing plank push ups.
Movement Standards Written Description:
Station 1
Wall Ball: At the start, athlete must stand, then upon 3-2-1 GO, athlete may bend at the hips and begin their Wall Ball Shots. The athlete must clearly show their hip crease below the level of the knee in the bottom position of every rep. The ball must clearly hit the target, a wooden beam will act as a clear indicator. 
Box Jump Overs: The athlete will face the box, athlete will use a two foot take off to jump on top of box. Lateral jumps OK. Athlete will jump either on top of the box and over, or jump all the way over the box. Hips do NOT need to be fully extended on top of the box. Rebounding Box Jumps OK & performed at your own risk. Only the feet touch the box, at NO time may the hands touch the box not even on the decent. Both of athlete's feet must clearly jump over the box. A good rep will be when the athlete has jumped from one side of the box over to the other. Then they will repeat in the opposite direction to execute another rep.
Station 2
Kettlebell Swing:  Athlete must remain standing, hands off bell until 3,2,1 GO. The swing starts at the bottom with the flat side of the kettlebell bottom  facing down and arms extended. The kettlebell swing is complete when the bell is overhead and the ears are clearly in front of the arms. Bottom of bell should be as flush to the ceiling as possible, arms as locked out as possible, but a slight amount of forward lean will be permitted as long as the other standard is met (ears in front of arms). If the bottom of the bell is facing forward in the top position, that will be considered a 'no rep'.
Lateral Burpee Over a Sandbag: Athlete must stay within their lane. Athlete will bring chest and thighs to the ground at the bottom of each Burpee (top of chest, not lower abdomen). Athlete must then rise in any method available and come to their feet and clearly jump over the sandbag provided. Athlete does NOT need to fully open up hips at the top of jump. If athlete performs a 'Good Rep' Burpee at the bottom, but doesn't make the jump over the sandbag, they may re-perform the jump, without having to re-do the entire Burpee. We will use the same sangbag for all athletes, height is to be determined.
Station 3
Pull Ups: Athlete must not touch the bar, then upon 3-2-1 GO, athlete begins the Pull Up with arms fully extended and feet unsupported while griping the bar using any preferred grip (overhand, underhand, alternate grip). Athlete will rise to bring chin & plane of face above the plane of the bar. Boxes will be available if athlete needs assistance reaching bar, but athlete must not use the box to assist the pull up. Scaled Ring Row (will not score higher than pull ups): Athlete will stand at undesignated point and lean back till arms are extended. Athlete will pull rings to touch chest for the rep to be complete.
Snatch: Bar must travel from the floor to overhead in one motion, without any pause. Press outs ok here. Athlete will be permitted to do ANY kind of Snatch here (Power, Squat, or Muscle Snatch all OK). Athlete must finish movement with elbows, hips and knees fully extended and locked out when the bar is overhead. Plates must touch floor to begin next rep.
Station 4
Deadlift: Athlete must remain standing, hands off bar until 3,2,1 GO. Movement begins with plates on the ground, Deadlift ends with athletes hips, knees, elbows fully extended and shoulders behind the bar. Plates must touch ground in between each rep. No intentional "bouncing" the bar and catching it on the bounce. 
Hand Release Push-Up: The movement begins with the athlete in a plank position, arms extended with the body horizontal and flat like a board.  Athlete must lower body to a prone position on the floor with the chest, hips, top of thighs clearly on the deck. Hands must release and show separation from ground prior to pressing up. On the press up, Body must elevate in a straight line from ankles to shoulders for a rep to count. The hips must come off the floor at the same time or before the chest, otherwise it will be deemed a 'no rep' if the hips are sagging. Both arms must come to complete elbow extension (locked out) in the top position for the rep to count. Scaled Knee Push Up (will not score higher than plank push up): Athlete performs push up same as standard but may lower knees to assist the push up. Chest must touch ground at the bottom and arms fully extended at the top for the rep to count.
Judging Goals:
Lots of action will be going on continuously in this workout. Our goal is to make the judges job as easy as possible...that starts with the athlete executing reps above and beyond the standards so the judge doesn't need to question it. 

Judges will NOT move through with the athlete. Judges will STAY at their respective stations and judge that one respective movement. Judges will be rotated during the 2:00 transition between divisions.

Athletes are responsible for possession of their score card at the start. Athletes MUST hand their scorecard to the judge at each station during the 15 second transition. Judges will stay at each respective station. If athlete does not hand the judge their scorecard BEFORE the start of that station, athlete will receive a 'zero' for that station. Athletes will NOT be allowed to retrieve a forgotten scorecard during work intervals. Athletes MAY retrieve a forgotten scorecard during the 30 second transition time.

We will be running ALL athletes through The Dragon, every 2 minutes, without stopping. You will be assigned a start time and MUST be at your spot in the conga-line in order to enter the 'Dragon Duet'. Any athlete not in line will miss their turn, forfeit their score and receive a zero for this event. No exceptions.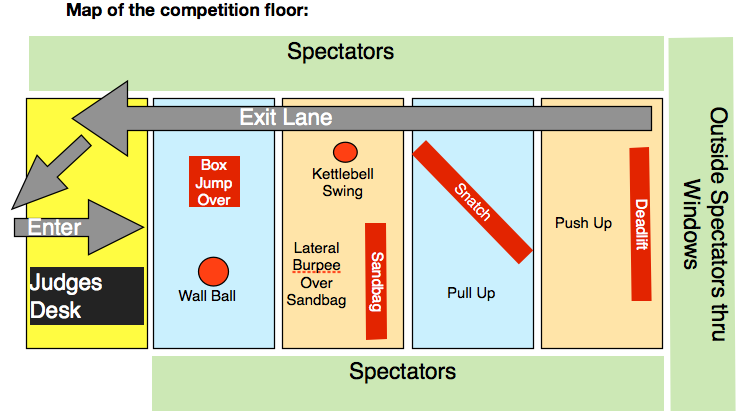 WOD #2 
"SNATCH OR BUST" 
Take 4:00 to find your 1RM Snatch
You must perform a Snatch. The Snatch may be performed with an unloaded barbell, and the weight of the barbell will count towards your score. If you need lighter bars let us know ahead!

For the Snatch, there will be no de-loading, so if you miss your Snatch attempt you may not go down in weight.

Athletes will load their own bar for the Snatch, with collars we provide.
  TEAMS: Partners will have 4:00 to find their combined total 1RM Snatch. Only 1 bar will be in the lane, partners will need to share/alternate their lifts. NO DELOADING.
Barbells
A 45# Barbell will be used by all Men's Divisions
A 35# Barbell will be used by all Women's Divisions 
*If you need a lighter barbell please notify us at least 2 days prior to the event.
Weight
Each lane will be provided with a set of 45, 25, 15, 10, 5, 2.5lbs plates.
Lock Jaw collars will be provided and required. 
Lane Set Up : The gym will be divided into 4 quadrants, you will have a large area for safety. You MUST stay in your lane.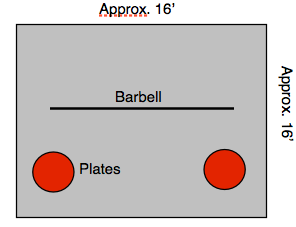 Movement Standards
1 RM Snatch: Once the clock starts, the athlete may begin to load their bar.  
Multiple attempts may be made. 

Weight can be added, but not removed. 

The final score is in pounds, highest completed snatch weight from greatest single successful attempt will be counted.

Athlete must load their own bar, clips required. 

The barbell goes directly from the ground to overhead in one motion WITHOUT a pause at the hip or hang position. 

Only the bottoms of the feet may touch the ground during the Snatch.

This may be a Power Snatch, Squat Snatch or Split Snatch.

Arms must lock out on the Snatch, press outs will not be permitted. An imperceptible amount of press out is allowed...any press out that is seen by the judge will be deemed a 'No Rep'.

Bar may not rest on the body at any point during the Snatch, and bar may not touch the head.

Movement is complete when the athlete is standing with the load overhead and the knees, hips, and elbows are fully extended. Feet need to come back together if the Split Snatch is executed.

Nothing, including the barbell goes outside of the taped area of the athlete's lane...especially when lowering. 
Judging goals:
Present workouts that are a valid test of fitness with equal judging for all participants.

Judges will be randomly placed with athletes for each event. You will not have the same judge all day.

Keep audience engagement with judging positive by making the movements transparent and straight forward.
WOD #3.1, 3.2, 3.3
High Roller
With a 7:00 running clock, perform the following:
Run 400m for time....
Then immediately begin for time:
3 Rope Climbs
21 Alternating Single Arm Dumbell Snatch
2 Rope Climbs
15 Alternating Single Arm Dumbell Snatch
1 Rope Climn 
9 Alternating Single Arm Dumbell Snatch
Then with remaining time perform as many Toes to Bar as possible.
There will be 3 scores for this event:
Score 1 (WOD 3.1): Time it takes to compete 400m run. (2 laps around upper parking lot)
Score 2 (WOD 3.2): Rope climb/ Alt. DB Snatch portion of the WOD, This time will include time elapsed from the run.
Score 3 (WOD 3.3): Amount of Toes to Bar with remaining time. If you do not get to the 'toes to bar' portion, you score will be the amount of reps completed during WOD 3.2. You will then receive a zero for WOD 3.3
TEAM: Partners will perform the 400m run together, time will be taken when BOTH partners cross the finish line. They will then perform WOD 3.2 as a team and divide up the work as needed. Toes to Bar may be performed by either team member. Open standards apply.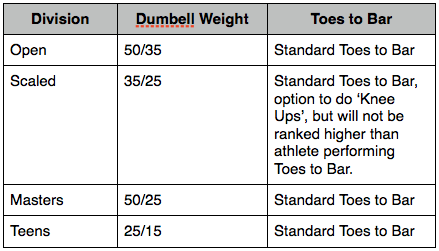 Movement Standards:
400m Run: Runners must start behind the starting line until they hear 3,2,1 GO! Any early starters will be considered a 'false start' and will earn a zero for this workout. The run will be 2 laps around the upper parking lot which will be coned off  and clear of traffic. Runners must clearly pass the finish line before time is taken.
Rope Climb Heights & Standards: All Divisions: 15 foot rope climb(for scaled, if the rope climb is not available we are allowing 'Up/Downs' which begin in the laying down position and you pull yourself to standing then lay yourself back down again. Any scaled athlete who chooses "Up/Downs" will not score higher than a scaled athlete that climbs.) Athletes climb to reach the 15 foot mark(orange cone), athletes must touch the 15 foot mark with any hand. You are allowed to jump up on the rope to begin your climb, running will probably not be necessary and you will likely not have very much room to run in your lane, but you may get to the rope as fast as you can. You may not drop from the top as this would be dangerous and likely result in injury. You will need to keep your feet on the rope until you are at the bottom 4 feet of the rope and show control before letting go at the bottom of the descent. Safety mats will NOT be provided this year, please use caution. Be mindful of the tail of the rope laying on the ground in order to protect your ankle from rolling when you step off of the rope.
Alternating Dumbell Snatch: Athletes must begin with the weight on the ground. Using one arm they must get the weight up over head with the arm locked out. The lift must be one continuous movement, the weight will not be allowed to stop or pause during execution. NO PRESS OUTS ALLOWED. The free, non working arm may touch the body. You must ALTERNATE ARMS.
Toes to Bar: Athlete will go immediately into the Toes to Bar portion after finishing their final 'Alternating Dumbell Snatch', athlete begins Toes to Bar with arms fully extended and feet unsupported and behind the bar, while griping the bar using any preferred grip (overhand, underhand, alternate grip). Athlete will raise feet to the bar and BOTH feet or toes must touch the bar at the same time between the hands for the rep to count. Feet must go behind the bar at the bottom of each rep. Scaled Knee Ups: Athlete must begin with hips fully extended and hanging from the bar. Athlete will hang from the bar and bring knees ABOVE the crease of the hip for the rep to count. 
2 DIFFERENT SKILLS TESTS WILL BE PERFORMED ON SATURDAY NOV. 14  these will be referred to as WODs #4 (One Chance Double or Single Unders) and WOD#5 Pohaku Ho'oikaika (Stone Toss)
WOD #4
will be available in front of the gym on the window side from 9am -2pm
Neurological Skill Test: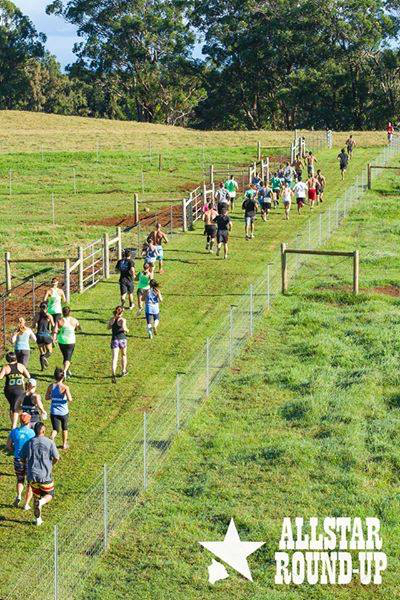 ONE CHANCE Unbroken Doubleunders or Singleunders
(This event will be performed outside, Starting at 9am till around 12noon, final times TBA)
Doubleunders: Athlete must stand (with rope in hand OK) then upon 3-2-1 GO athlete may perform Doubleunders, the rope must pass under the body two times per jump. 
Singleunders: Athlete must stand (with rope in hand OK) then upon 3-2-1 GO athlete may perform Single jumps, the rope must pass under the body one time per jump. 
NOTES
ATHLETES WILL  BE PERMITTED TO USE THEIR PERSONAL ROPES. ROPES WILL NOT BE PROVIDED.
ATHLETES MAY ONLY GET ONE ATTEMPT. ONLY ONE ATTEMPT. I REPEAT ONLY ONE ATTEMPT MAY BE PERFORMED.

If an athlete needs to begin their attempts with any single unders before they start their double unders, this will be allowed. But once an athelte has started their double unders they may not perform single unders again or this will be a issed attempt.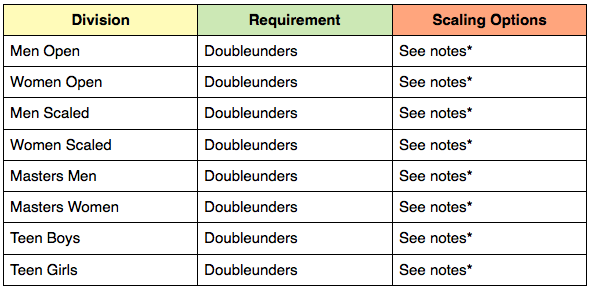 TEAMS: Each partner will perform a 'One Chance' Double Under attempt. Your team score will be the combined number of DUs. Open standards apply.
*Singleunders may be performed at anytime but will not score higher than Doubleunders. If you perform Singleunders, you will still be competing with others in your division who choose to perform the Singleunder. If you start with Doubleunders, you may NOT switch over to single unders in the middle of your attempts. You MUST tell he judge if you are doing singles or doubles, then you'll be judged on that. If you are performing Doubleunders, and you do a single under in between doubles, that will be considered a missed attempt and will end your attempt.
Judging Goals: To count accurately the amount of Doubleunders or Singleunders each athlete performs and record results.
WOD #5
Will be available on the grassy side of the building from 9am-12noon
Organic Skill Test: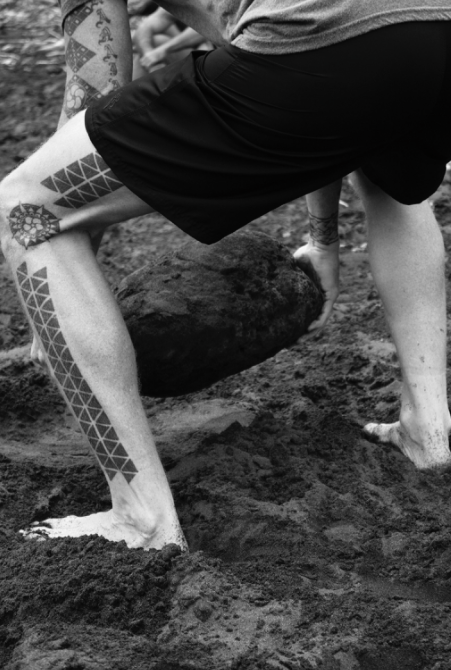 Pohaku Ho'oikaika 
(Stone Toss)
In this event, athletes must throw a stone for maximum distance. (athletes will be given a choice of stone to toss, but they will all weigh relatively the same for each division)
TEAMS: Each partner will perform the stone toss. Score will be the combined distance between the 2 partners. Open standards apply.
Open approx. 30/20 pound stone
Scaled approx. 20/15 pound stone
Masters approx.. 30/15 pound stone
Teens approx. 20/15 pound stone
Any type of throw with the hands will be acceptable.

Athlete's feet must not go over the starting line, even after the stone has been tossed and left the hands.

Athlete will have two attempts, and two attempts only. No exceptions.

This event will be held outdoors.
Judging Goals: To measure accurately the distance of each athlete's stone toss and record results.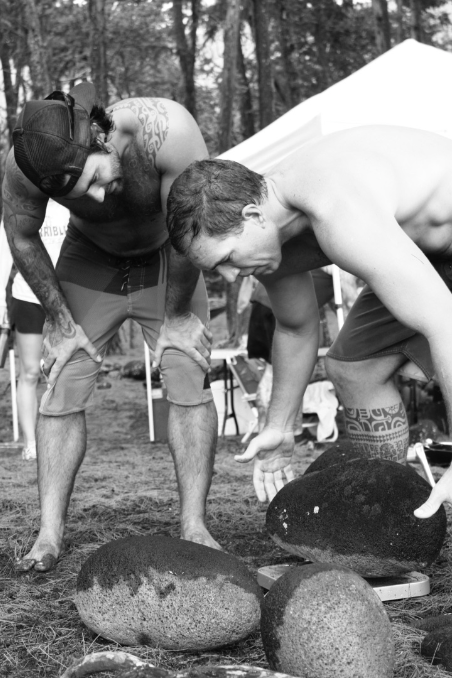 All athletes MUST STAY FOR THE MYSTERY WOD ANNOUNCEMENT AT THE END OF DAY 1. THIS COULD BE AS LATE AT 5PM.
SUNDAY NOV. 15TH
WOD #6 MYSTERY WOD
ATHLETES MUST BE PRESENT SATURDAY NIGHT AROUND 4:30PM OR WHEN SATURDAY EVENTS FINISH, TO LISTEN TO THE ANNOUCEMENT OF THE MYSTERY WOD, WHICH WILL BE THE FIRST EVENT ON SUNDAY. TEAMS: will be expected to attend the WOD announcement on Saturday night. Partners will complete the mystery WOD together.
WOD #7
'Pick Ur Bull & Pull'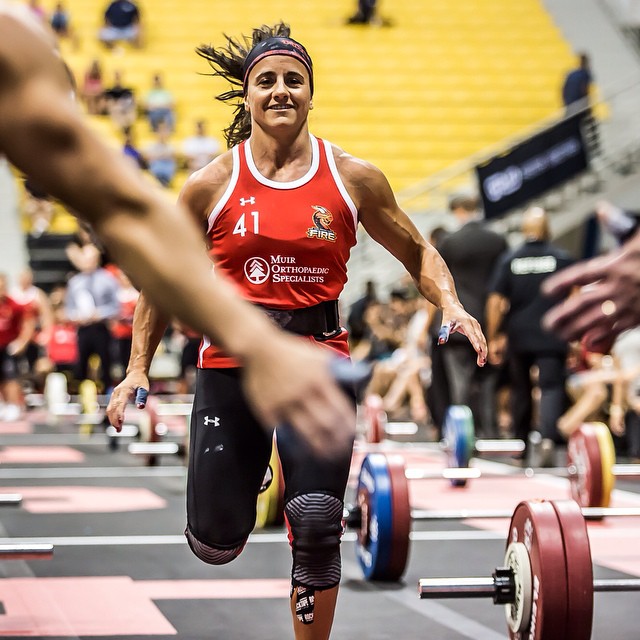 Cleans for Max Total Load in 60 seconds 
Score is total combined weight
TEAMS: Will go down the chute with Female Open standard bars on one side and Mens Open standard bars on the other side. They will perform the workout together for total combined weight. Both partners MUST be on the finish podium by the 60 second finish time or the team receives a ZERO.
Goal:
Test athletes capacity for strength and decision making under a perscribed time domain. This workout is directly influenced from GRID and our very own Cheryl Brost!
Workout Description
Athletes will be given 60 seconds, to complete as many reps as possible on the Clean Ladder, 'Cleaning of the Bulls'. The score will be for TOTAL WEIGHT. The ladder will have 2 lanes and 2 Athletes will begin at the same time. Progression up the ladder will require athletes to move forward over their barbell, not step around. Athletes may complete as many reps as they would like to at each bar, however they may not skip bars and must perform at least one rep at each bar before moving on to a heavier bar. Once an athlete has moved up the ladder to a heavier bar, they will not be allowed to go back to a lighter bar and must keep moving forward. Only successful lifts will count towards total score (weight).
On 3,2,1 Go, athletes will travel from starting box to the first bar and must complete at least one Clean before moving on to the next bar in front of them.They may also perform many reps if they choose to do so, all lifts will be added together for total combined weight. Athletes will move up the ladder if they choose, but must be on the finish box to complete the workout within 60 seconds.  

*All athletes must get to the finish box under 60sec. or they will receive a score of zero (0) for the entire workout.
Example of Scoring
Athlete A who performed 4 reps at 95#, 2 reps at 125#, and 2 reps at 145#, AND made it to the finish podium in under 60seconds, will receive a score of 920.
Athlete B who performs 8 reps at 95#, 2 reps at 115#, and 2 reps at 125# AND made it to the finish podium in under 60seconds, will receive a score of 1,240 and would be declared a higher ranking than athlete A (even though athlete A made it futher along and higher in weight than Athlete B).
Movement Standards:
The Clean starts with bar on the ground. This can be any type of Clean, a Power Clean, Squat Clean, Muscle Clean...so long at the bar starts on the floor at the beginning of each rep, and finishes in the rack position at the clavicle, with the athletes elbows in front of the bar at the top and their hips and knees fully extended. The bar is not permitted to stop or pause during execution of the lift. Athlete may stop, pause, rest, once the lift had been completed (bar is at clavicle) Deliberate bouncing of the barbell between reps is not allowed. Dropping the barbell after the completion of the repetition is permitted, however the barbell must be under athletes control and settle before next rep is attempted. 
Clean Ladder Weights: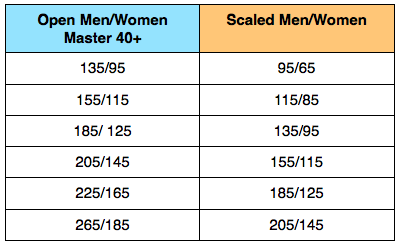 'Pick Ur Bull and Pull' Chute: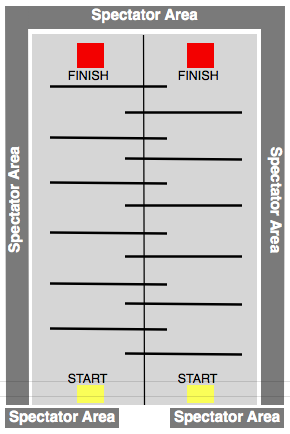 *Although the bars will be staggared, athletes will travel the same distance from start box to finish box.
Judging Goals:
Judges will be stationed at each bar to judge that particular weight reps. Judges will not be hoping over the bar with the athlete.

Separate Judges will be strategically placed next to finish box to ensure athletes feet (BOTH FEET) are on the box under the 60 second time domain.

There may be a tied scored for some athletes in this event. Overall, there will be at least 6 events throught the weekend, with a 7th event for Finalists. This should spread out the final placement for all athletes. 
WOD# 8 FINALS
TO BE ANNOUNCED FOR TOP 4 COMPETITORS & TEAMS THE DAY OF THE EVENT, AT THE TIME OF EVENT #7 AND NO EARLIER. 
TENTATIVE SCHECULE OF EVENTS WILL BE RELEASED EARLY NOVEMBER
PARKING & ATHLETE TENTS: The top parking lot will be available for athlete tents like in years past. Additional parking will be available this year down the street at Environet. Athletes will be asked to drive in, unload, and park their cars outside the upper parking lot. A detailed map will be provided.
FOOD: We will have food vendors available, but you are welcome to bring coolers and pack your own food as well. There's also pleanty of eateries within close proximity of the box.


If you're an athlete who's paid a registration fee, please know your fee directly supports the programs here at CFAS!

If you are volunteering, you are also helping to support what we do here at CFAS which includes supporting all the athletes at the competition. We could not do this event without all the dedicated volunteers and CrossFit community. We are grateful for you all!

And if you're a parent, we want to thank you for teaching your child that collaborating with others for a worthwhile cause can be something great. When children see value in contributing to their community we all have a brighter future ahead of us!

Mahalo! And stay tuned to the final details of the 2015 AllStar Round-Up to be announced!
Photos taken by AllStar Photographers Elin Kalaniopio & Aniku Chong
Attendee List
Sort by:

Date

|

First Name

|

Last Name
When & Where

CrossFit AllStar
64-1032 Mamalahoa Highway
Waimea, HI 96743


Saturday, November 14, 2015 at 7:00 AM

-

Sunday, November 15, 2015 at 5:30 PM (HST)
Add to my calendar
Organizer
Our mission: To provide the most effective method of fitness imaginable to any person, regardless of age or fitness level, in a community where every athlete is an AllStar. Location: Waimea, Hawaii