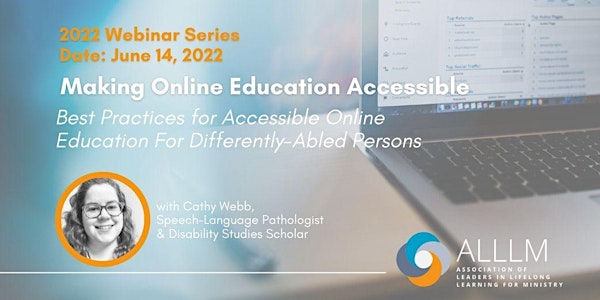 ALLLM Webinar 2022: Making Online Education Accessible
Come explore how Lifelong Learning can be made more accessible and empowering for differently-abled learners and for various learning styles
About this event
Higher education is notoriously inaccessible for disabled people. For organizations supporting the professional development of the leaders of faith communities whose traditions seek to model an inclusive, beloved community, this is especially true: While online education platforms have increased some forms of accessibility, they also often create different barriers. Providing high quality, accessible education is a challenge for all facilitators, and one for which most are not specifically trained.
During our time together we will explore some best practices for accessible online education and spend time working together to discuss concerns brought by attendees regarding making online learning more accessible to all.
Led by Cathy Webb, a speech-language pathologist and disability studies scholar who explores the intersections of disability and faith, and how disabled people find communities of belonging. As someone with multiple non-apparent disabilities, she uses her personal experiences and passion for diversity and equity to advocate for access and raise critical consciousness around disability.