Allina Health Neuroscience Nursing Symposium
Description
Your confirmation, updates, and the handout link will be sent to the email address used during registration. For this reason, it is recommended to use a PERSONAL EMAIL when registering. Many servers will block/junk large emails, especially ones coming from outside the company.
Confirmations are sent instantly, if you do not receive verify that you typed your email address correctly and check your email junk folder.
GUEST ROOMS AT THE RADISSON BLU MOA - In regards the overnight accommodations, we are pleased to offer a guestroom rate of $159+tax – Run of House Room (King or Two Double Queen). Due to the short term of the event if you need a room please email Krista.lee@allina.com.
TARGET AUDIENCE
This symposium is designed for the RN, LPN, Advanced Practice RN (NP/CNS) and allied health care professional interested in the care of neuroscience patients.
OVERVIEW
Allina Health is pleased to announce Neuroscience Nursing Symposium. This event is geared towards clinical practice and implications for the Neuroscience Nurse. This one day event will include a wide variety of neuroscience presentations by both physicians and nurses.
OBJECTIVES
At the completion of this symposium, the participants should be able to:
1. Describe two characteristics of non-epileptic events.
2. Describe how patients are selected who might benefit from stroke intervention up to 24 hours out.
3. Differentiate different types of brain tumors based on molecular findings.
4. Recognize the most common challenges faced during stroke rehabilitation, and identify ways to assist patients and their loved ones in their recovery.
5. Describe three interventions to promote sleep in the hospitalized patient.

AGENDA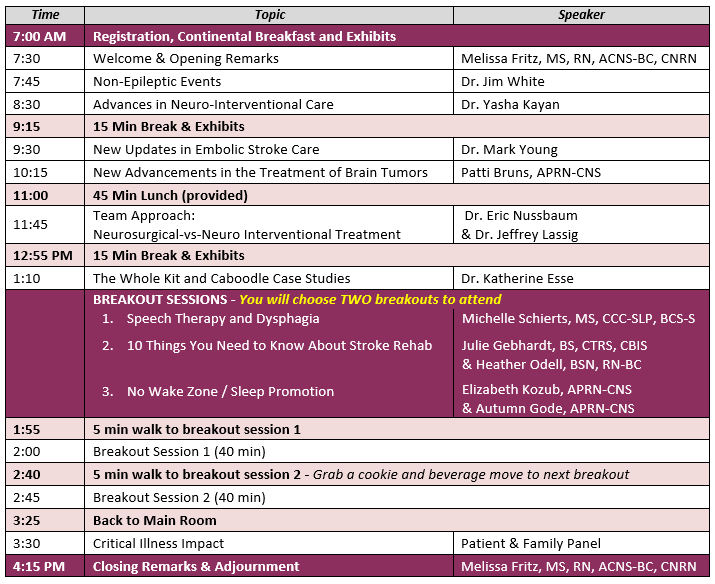 ACCREDITATION
The individual is responsible for determining whether this activity meets the requirements for acceptable continuing education for their discipline. In addition, you may be required to provide proof of attendance to the board upon request, such as a certificate and/or handout.
ANCC - This continuing nursing education activity has been submitted and is PENDING APPROVAL by the Wisconsin Nurses Association, an accredited approver by the American Nurses Credentialing Center's Commission on Accreditation. 7.3 ANNC contact hours.
OTHER - Individuals representing other professional disciplines may submit course materials to their respective professional associations for 7.3 CE units if the content is applicable to the area of license renewal.
COURSE MATERIALS
In an effort to Go Green, a link will be provided to those registered 7 business days prior to the symposium to give you an opportunity to download/print the presentations prior to the event. You will be provided with a packet/note sheets and the Wi-Fi code at sign-in should you want to follow along on your phone or tablet during the day.
REGISTRATION & CANCELLATION POLICY
Registration Deadline: Tuesday, February 26th
Tuition fee includes conference educational credits, continental breakfast and lunch. To ensure a comfortable environment, attendance may be capped; early registration is recommended.
Tuition will be refunded up to 7 days prior. For a cancellation after Fri, Feb 22 tuition is non-refundable; substitutions are accepted at any time; to complete your substitution contact Krista.lee@allina.com.
In the unlikely event the program is cancelled Allina Health will not be responsible for air fare, hotel or other costs incurred by participants.

FACULTY
Dr. Jim White, Epileptologist, Epilepsy Program Medical Director, Minnesota Epilepsy Group
Dr. Yasha Kayan, Neuro Interventional Radiologist, Consulting Radiologists, Abbott Northwestern
Dr. Mark Young, Stroke Neurologist, Stroke Program Medical Director Noran Neurology, Abbott Northwestern
Patti Bruns, APRN-CNS, Neuro-Oncology Clinical Nurse Specialist, Abbott Northwestern
Dr. Eric Nussbaum, Neurosurgeon, Medical Director Neurovascular Neurosurgery Program, United Hospital
Dr. Jeffrey Lassig, Neuro Interventional Radiologist, Director of Interventional Neuroradiology, United Hospital
Dr. Katherine Esse, Neurologist, United Hospital
Michelle Schierts, MS, CCC-SLP, BCS-S, Speech Language Pathologist, Courage Kenny Rehabilitation Institute
Julie Gebhardt, BS, CTRS, CBIS, Stroke Care Guide, Courage Kenny Rehabilitation Institute
Heather Odell, BSN, RN-BC, Stroke Rehab Nurse Care Coordinator, Courage Kenny Rehabilitation Institute
Autumn Gode, APRN-CNS, Medical-Surgical Clinical Nurse Specialist, Abbott Northwestern
Elizabeth Kozub, APRN-CNS, Neuro/Ortho/Spine Clinical Nurse Specialist, Abbott Northwestern

PLANNING COMMITTEE
Elizabeth Kozub* (Lead Nurse Planner) MS, APRN-CNS, CNRN, CCRN - Abbott Northwestern Hospital
Melissa Fritz MS, RN, ACNS-BC, CNRN - United Hospital
Ellie Madison MHA - Allina Health
Krista Lee BS - Allina Health
Zach Linde BSN, RN - Abbott Northwestern Hospital
Pam Madrid MS, APRN-CNS, CCRN - Mercy Hospital
Sherilyn Milner MS, APRN-NP, CNRN, CCRN - Abbott Northwestern Hospital
Heather O'Dell BSN, RN-BC - Courage Kenny Rehab Institute
Elizabeth Rossini RN, BSN, CCRN, CNRN, CNML - Abbott Northwestern Hospital
Michelle Stenbeck MSN, RN, CNML, NE-BC - Abbott Northwestern Hospital

Exhibiting Opportunities are available, if interested please contact Krista.lee@allina.com