Allina Health Neuroscience Nursing Symposium
Description
When registering its recommend that you use a personal email over work; many sites will block/junk large emails from outside the company. Your confirmation, communications and the handout link will be sent to the email address used during registration.
TARGET AUDIENCE
This symposium is designed for the RN, LPN, Advanced Practice RN (NP/CNS) and allied health care professional interested in the care of neuroscience patients.
OVERVIEW
AllinaHealth is pleased to announce Neuroscience Nursing Symposium. This event is geared towards clinical practice and implications for the Neuroscience Nurse. This one day event will include a wide variety of neuroscience presentations by both physicians and nurses.

OBJECTIVES
1. Describe 2 interventions for rehabilitation after a neurological event.
2. Differentiate between common metabolic, toxic/pharmacologic, and mimics of encephalopathy.
3. Distinguish between various movement disorders and current available treatments, particularly for Parkinson disease, essential tremor and dystonia.
4. Discuss the importance of early medical intervention for status epilepticus.
5. Describe symptoms of posterior and anterior circulation stroke
6. Describe 3 nursing interventions to reduce or prevent delirium in the hospitalized patient.
7. Describe the role of LINQ device in embolic stroke of undetermined source (previously called cryptogenic stroke)
8. Compare the management of SIADH, diabetes insipidus, and cerebral salt wasting.
9. Explain when surgical interventions for seizures may be an appropriate therapy for a patient with epilepsy.
10. Assess two techniques to enhance your resiliency and analyze how they may be implemented.

AGENDA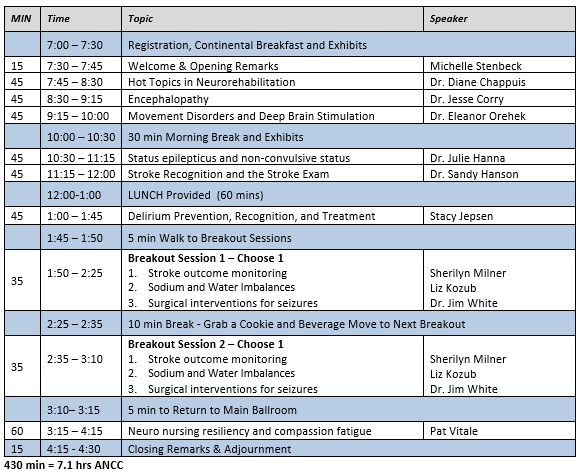 ACCREDITATION
Nurse – ANCC WNA
This continuing nursing education activity was approved by the Wisconsin Nurses Association, an accredited approver by the American Nurses Credentialing Center's Commission on Accreditation. 7.1 ANNC contact hours.

Other - Individuals representing other professional disciplines may submit course materials to their respective professional associations for 7.1 hours of continuing education credit.
COURSE MATERIALS
In an effort to Go Green, a link will be provided to those registered 7 business days prior to the symposium to give you an opportunity to download/print the presentations prior to the event.
You will be provided with a packet/note sheets and the Wi-Fi code at registration should you want to follow along on your phone or tablet during the day.

REGISTRATION & CANCELLATION POLICY
Registration Deadline: Monday, October 9th
Tuition fee includes conference educational credits, continental breakfast and lunch. To ensure a comfortable environment, attendance may be capped; early registration is recommended.
Tuition is non-refundable after Monday, October 9th. Substitutions are accepted at any time; to complete your substitution contact Krista.lee@allina.com.
In the unlikely event the program is cancelled Allina Health will not be responsible for air fare, hotel or other costs incurred by participants.

ALLINA HEALTH EMPLOYEE REIMBURSEMENT
If you are planning to use the Tuition/Education Claim Form to pay for this course, you have two Claim Types to choose from:
• Advancement (prior to course) – Submit a copy of the brochure showing price. After the class a certificate of completion should be submitted to the HR Service Center.
• Reimbursement (after course) – Submit a copy of the certificate with proof of payment. Submit these forms to the HR Service Center, MR 10700; Learning & Development is unable to process these forms.
For questions regarding reimbursement call 612-262-4688.

FACULTY
Diane Chappuis, MD, Physical Medicine and Rehabilitation, Courage Kenny Rehabilitation Institute
Jesse Corry MD, Neurologist, John Nasseff Neuroscience Specialty Clinic United Hospital
Julie Hanna MD, Epileptologist, Minnesota Epilepsy Group
Sandy Hanson MD, Medical Director, Stroke Program and Tele troke Practice, United Hospital
Stacy Jepsen MSN, APRN-CNS, CCRN, Clinical Nurse Specialist, Critical Care, Abbott Northwestern Hospital

Elizabeth Kozub MS, APRN-CNS, CNRN, CCRN, Clinical Nurse Specialist, Neurosciences, Abbott Northwestern Hospital
Sherilyn Milner MS, APRN-NP, CNRN, CCRN, Stroke Nurse Practitioner, Abbott Northwestern Hospital
Eleanor Orehek MD, Neurologist, Noran Neurological Clinical
Pat Vitale MSW, Strategy and Performance Improvement Advisor, Abbott Northwestern Hospital
James White MD, Epileptologist, Minnesota Epilepsy Group

PLANNING COMMITTEE
Elizabeth Kozub* (Lead Nurse Planner) MS, APRN-CNS, CNRN, CCRN Abbott Northwestern Hospital

Melissa Fritz MS, RN, ACNS-BC, CNRN United Hospital

Ellie Madison MHA AllinaHealth

Krista Lee BS Allina Health

Zach Linde BSN, RN Abbott Northwestern Hospital

Pam Madrid MS, APRN-CNS, CCRN Mercy Hospital

Sherilyn Milner MS, APRN-NP, CNRN, CCRN Abbott Northwestern Hospital

Heather O'Dell BSN, RN-BC Courage Kenny Rehab Institute

Elizabeth Rossini RN, BSN, CCRN, CNRN, CNML Abbott Northwestern Hospital

Michelle Stenbeck MSN, RN, CNML, NE-BC Abbott Northwestern Hospital
Exhibiting Opportunities are available, if interested please contact us!