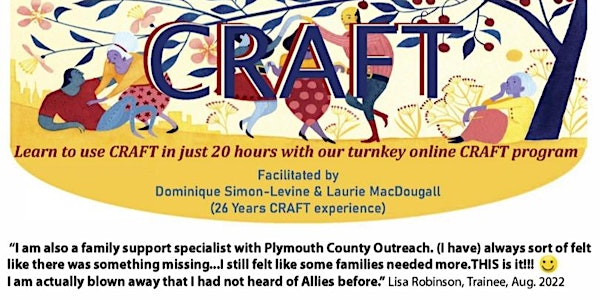 Allies in Recovery CRAFT 4-Day Training: October 26 & 27 and November 2 & 3
Allies in Recovery CRAFT 4-Day Training October 26th, & 27th and November 2nd & 3rd, 2022 | 9:00AM - 3:00 PM EDT
Refund Policy
Contact the organizer to request a refund.
Eventbrite's fee is nonrefundable.
About this event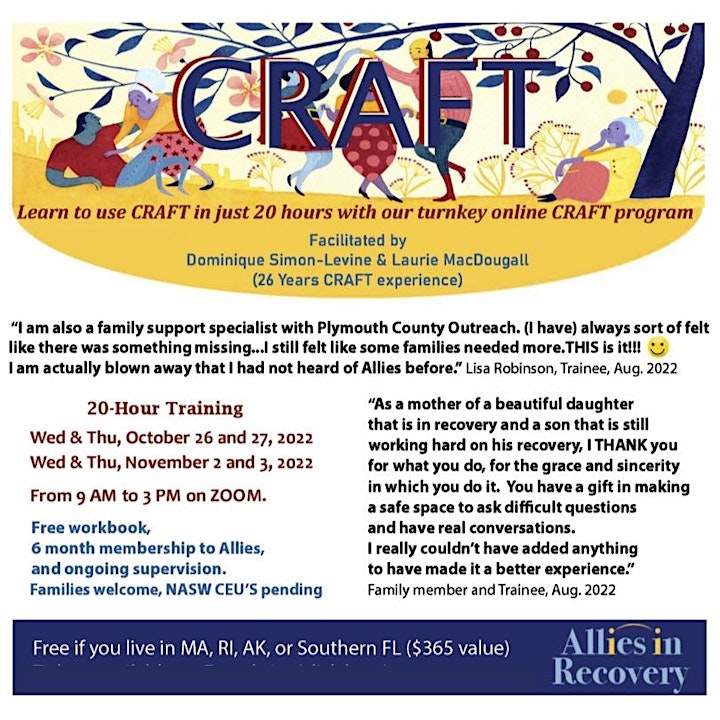 This Four-Day, 20-hour Training for CRAFT Facilitators is geared primarily to those interested in facilitating CRAFT support groups, mainly professionals and paraprofessionals (peer coaches who work with families, and those wanting to facilitate educational groups). It's also appropriate for family members whose loved one struggles with Substance Use Disorder (SUD), if you have a basic knowledge of CRAFT (for example from watching the Alliesinrecovery.net self-guided videos). All participants will come away with a deeper understanding of the family perspective and more meaningful ways to use CRAFT, the only evidence-based method designed for families affected by SUD.
Upon completion of this 20-hour training, attendees get 6 months of free access to the Allies in Recovery (alliesinrecovery.net) online platform. CRAFT Support Group facilitators will receive regular supervision follow-up from Allies staff. Workbook included.
Allies in Recovery is the leading provider of the CRAFT curriculum and guide for families. Features of the member site include:
• An eLearning center with a CRAFT-based curriculum with 8 videos and additional exercises.
• Expert-moderated Discussion Blog where members receive guidance in response to their questions.
• Weekly drop-in Zoom support and educational groups, and virtual office hours.
• Weekly podcast with original content relevant to applying CRAFT in real life.
Attendance Requirements:
Participants are expected to attend all training days and hours. A Certificate of Completion is awarded at the end of training to participants who have attended fully. Attendees will be expected to actively engage with their trainers throughout the workshop, so please come prepared to participate. Participants should keep their cameras active during the training to confirm their attendance.
This activity is pending approval for CEU's from the National Association of Social Workers.
Please check with us to see if your participation is free (sponsored by your state or organization). Send an email to leah@alliesinrecovery.net for further details.
Trainers:
Dominique Simon-Levine, Ph.D., is the Founder and CEO of AlliesinRecovery.net. She is a training facilitator and has been using CRAFT to help families for 19 years with Allies. Her work has been featured on HBO and NPR. She has worked extensively developing and evaluating federally-funded substance use programs for organizations and clinics throughout Massachusetts and New York.
Laurie MacDougall, Co-Facilitator, is a Certified Family Peer Specialist and has trained in CRAFT with Bob Meyers and Allies in Recovery. She is an Allies Podcast Host & Author and is the Rhode Island Representative for Allies in Recovery. She brings years of math teaching experience to designing and implementing the workshop. She has been applying the Allies curriculum in her own life for almost a decade, as well as 6 years running an educational group setting.
Partial sponsorship for this training is provided by the Rhode Island Department of Behavioral Health, Developmental Disabilities and Hospitals (BHDDH) for residents of Rhode Island, the Commonwealth of Massachusetts Department of Public Health and the Massachusetts Bureau of Substance Addiction Services (BSAS) for residents of Massachusetts, the Community Recovery HUB of Palm Beach County for residents of Palm Beach County, Florida and the Central Council of Tlingit & Haida Indian Tribes for members of these tribes who reside in Alaska.