Allies in a Time of Trouble: Newman on Other Christians
Description
Please join The Collegium Institute for Catholic Thought and Culture, along with the Penn Catholic Newman Community for our Third Annual John Henry Newman Lecture marking the legacy of the University of Pennsylvania as the site of the first Newman Club in America.
Blessed (and soon-to-be Saint) John Henry Newman is widely admired by both Catholics and other Christians. Anglicans have a feast day for him even though he left their communion. "The great Newman" was how the Russian Orthodox theologian Georges Florovsky referred to him. And contemporary Calvinist Carl Trueman says that despite large differences, Newman "is one of my favorite theological writers." Newman himself would have returned the favor. Though he believed the Roman Catholic Church to be Christ's "one true fold," he was a great supporter of all true Christians, corresponding with many fighting for truth in the nineteenth-century. He saw that in a time of secularization, true faith was too seldom found, and he believed that Catholics should heed Christ's words, "He that is not against us is for us." The modern world, for all its wonders, brought particular challenges to Catholic Christian faith. Though he could not say that all Churches were equal, he could and did say that other Christians were important allies in the fight against unbelief.
Reception to Follow the Lecture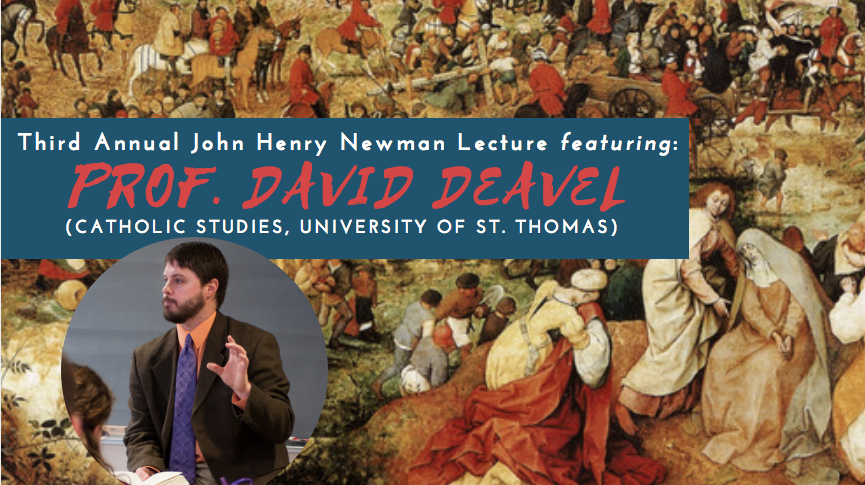 Professor David Deavel is Assistant Professor of Catholic Studies at the University of St. Thomas and also serves as the Editor of Logos: A Journal of Catholic Thought and Culture. Prof. Deavel earned a B.A. in English and Philosophy from Calvin College and a Ph.D. in historical theology from Fordham University. His areas of specialization include Blessed John Henry Newman, G. K. Chesterton and the English Catholic Revival, and political philosophy. The winner of the 2013 Novak Award from the Acton Institute, he serves on the editorial board of the Newman Studies Journal and has served on the board of the Newman Association of America. He has published in a number of books and academic journals, as well as in more popular outlets such as Commonweal, First Things, Minneapolis Star Tribune, National Review, and The Wall Street Journal. He is currently editing a volume on Solzhenitsyn.