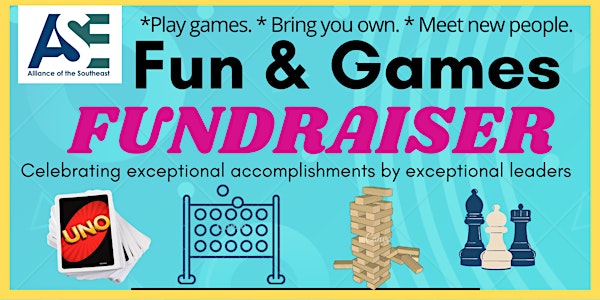 Alliance of the SouthEast (ASE) Fun & Games Fundraiser Sept. 10, 2022
Have fun & play games. Meet new people. Support our collective voice to improve southeast Chicago.
When and where
Location
Small World Bar & Grill 3325 East 106th Street Chicago, IL 60617
About this event
Have fun. Play games. Meet new people. Support local campaigns by southeast side residents. Celebrate accomplishments and support our collective voice in southeast Chicago!
We have a lot to celebrate! We are so proud of our collective win to Stop General Iron, and look forward to celebrating with leaders and partners who helped make this happen! The ASE Youth Leadership Council won citywide policy in ALL CPS schools for increased access to mental health and educational resources as alternatives to police in schools and $3.1 million in restorative justice funds. Student and adult leaders have done so much this year!
     Your investment will help residents and activists work for positive community change, from our work to stop toxic developments like General Iron, to developing & engaging youth leaders, to supporting increased access to vaccines and Covid-19 resources (masks, hand sanitizer, & more) and to ensuring developments- like Invest South/West & the CTA Assembly plant - benefits local residents via employment and training opportunities, access to affordable housing, and environmental protections and sustainability. You will help bring about improvements for our neighborhood and opportunities for residents.
EARLY Bird Tickets:  $20  for adults; $5 for teens (13-17 years old); Kids 12 & under: FREE
DAY OF tickets: $25 for adults, $10 for teens, Kids 12 & under: FREE
Consider membership: Like what we're doing? Want to support our community in a meaningful way? Become a member! For membership information, please visit www.asechicago.org/membership 
     The Alliance of the Southeast (ASE) is an exciting group on Chicago's southeast side. Now 12 years old, ASE is a group of community residents and leaders, youth, organizations, schools, and businesses, who have come together to define and address community problems as they see them. ASE is all about community members finding and developing their voice and organizing to speak with ONE, STRONG, POWERFUL, VOICE!!
     For more information, please contact Sam Corona, at ASE , at 773-234-1070 or visit our website at www.asechicago.org.