ALLEN TOUSSAINT ● Rock & Roll Hall of Fame ● New Orleans Royalty

Tuesday, October 29, 2013 at 7:30 PM (HST)
Event Details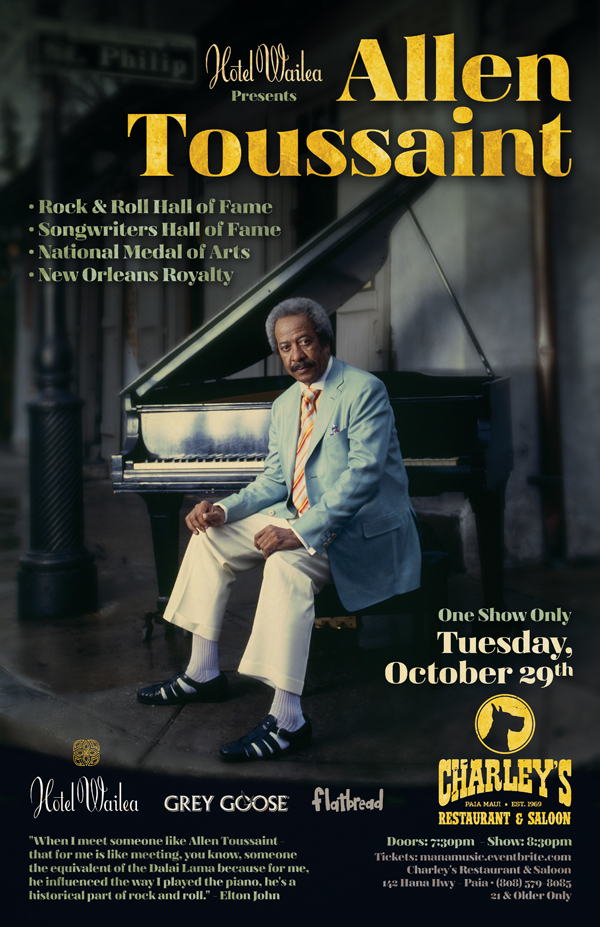 SHOW PREVIEW
Allen Toussaint - Debut Maui Performance!! A rare opportunity to see one of America's most influential, talented and uplifting artists in an intimate venue - our very own, Charley's Restaurant and Saloon, in the heart of Paia.
Rock & Roll Hall of Fame

Songwriters Hall of Fame

Blues Hall of Fame

National Medal of Arts

New Orleans Royalty
"When I meet someone like Allen Toussaint - that for me is like meeting, you know, someone the equivalent of the Dalai Lama because for me, he influenced the way I played the piano, he's a historical part of rock and roll." - Elton John  
Mahalo to our sponsors for helping bring great LIVE music to Maui!!
At the end of this month, Maui music lovers will have the rare opportunity to see a composer/pianist/singer/producer, who has reached and remains at the pinnacle of each field, perform in front of a small congregation of fans at one of the island's most intimate and beloved venues. That artist, the one and only Allen Toussaint, will make his Maui debut in classic island style, performing alone on-stage accompanied by just his piano at Charley's Restaurant and Saloon in the heart of Pa'ia.
With a rich career that stretches back to the late 1950s, Toussaint is still making vital music today in the 21st century. With 2005's "I Believe to My Soul," producer Joe Henry brought the R&B legend to record inspired sessions in Los Angeles' famous Capitol Studios with fellow legends Billy Preston, Irma Thomas, Mavis Staples and Ann Peebles. The following year, his special collaboration with Elvis Costello, "The River in Reverse," received a Grammy nomination for Best Pop Vocal Album and along with its subsequent tour, served as a beacon of New Orleans' inexhaustible spirit following Hurricane Katrina. Several years later, the well-versed Toussaint released his second jazz album ever, "The Bright Mississippi," backed by stellar musicians Brad Mehldau, Joshua Redman and Nicholas Payton. That album was also a Grammy nominee. These three projects demonstrate the utmost respect the world's best artists hold for Toussaint. Few, if any, people are more admired or loved by their peers than Toussaint. When he touches a project, all wish to be involved.
And Toussaint shows no signs of slowing down. Just last month on Sept. 24th, Toussaint released the vibrant "Songbook," a live album/DVD that was recorded over two Fall 2009 performances at Joe's Pub in New York City. Here, he performs instrumental reinterpretations of songs that he penned that put his hometown, the Big Easy, on the music map — classics like "It's Raining," "Lipstick Traces," "Freedom for the Stallion" and his trademark "Southern Nights," made famous by Glen Campbell.
Other time-honored songs that Toussaint has been responsible for include "Ruler of My Heart" (made famous by Irma Thomas and later redone by Otis Redding as "Pain in My Heart"), "A Certain Girl" and "Fortune Teller," originally recorded by Benny Spellman, covered with great success by The Rolling Stones in the early 1960s and still retaining its magic today with a 2007 version recorded and released by Robert Plant and Alison Krauss.
Someone no less than Elton John has said that "when I meet someone like Allen Toussaint, that, for me, is like meeting someone of the equivalent of the Dalai Lama because for me, he influenced the way I played the piano. He's a historical part of rock and roll."
Co-promoter Mark Tarone has been fortunate himself to meet Toussaint on several occasions and states that "meeting Allen is like meeting a king, and then having the king be the most humble and friendliest person you've ever met. His spirit, in person and on-stage, is truly uplifting."
When & Where

Charley's Restaurant and Saloon
142 Hana Highway
Paia, HI 96779


Tuesday, October 29, 2013 at 7:30 PM (HST)
Add to my calendar
Organizer
T-Rx Entertainment, LLC
T-Rx Entertainment has been producing events in Hawai'i for over 10 years.
Each year, we produce the Hallowbaloo Music + Arts Festival in Honolulu and roots concerts around the state. Past shows include Booker T. Jones, Edward Sharpe & the Magnetic Zeros, Diplo, 
Maceo Parker,
Xavier Rudd,
 Allen Toussaint, 
Big Freedia, Nahko and Medicine for the People,
Z-Trip, Steve Gadd, Cut Chemist, Greensky Bluegrass, 
Anders Osborne,
David Lindley, Gaudi, Jake Shimabukuro, Quantic, Brett Dennen, Ozomatli, Rebirth Brass Band, Warpaint, 7 Walkers (feat. Bill Kreutzmann & Papa Mali), Luther Dickinson, Iyeoka, Blitzen Trapper, Jon Cleary (with Steve Ferrone and Reggie McBride), Delta Spirit, John Cruz, The New Mastersounds, Mad Professor, Mike Love, Old Blind Dogs, Eddie Bo, Man Man, Big Chief Monk Boudreaux, Dengue Fever, Baths, The Budos Band, Paper Diamond, The Helio Sequence, Taimane, Benzi, Ursula 1000, DJ Logic, Jeremy Sole, Eric McFadden, Larry and Jenny Keel, Dj Low Down Loretta Brown (aka Erykah Badu), Charlie Hunter with Scott Amendola, and more.
ALLEN TOUSSAINT ● Rock & Roll Hall of Fame ● New Orleans Royalty