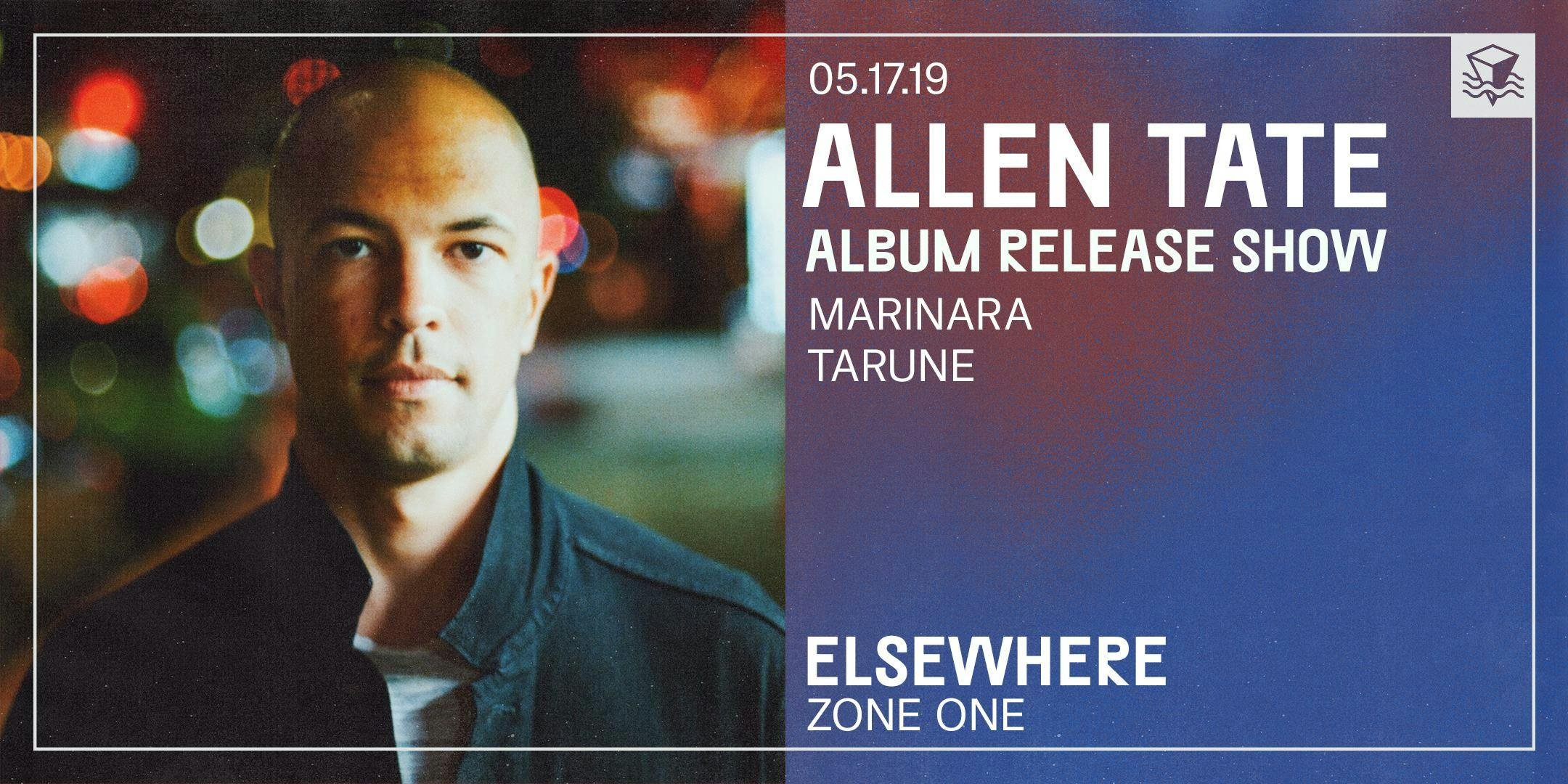 About this Event
6 - 10 PM
allen tate, initially known as one of the lead vocalists of avant-garde indie pop group san fermin started releasing some solo material in 2016. his debut album, 'sleepwalker,' explored themes of solitude and loneliness through a series of striking, yet simpler, lyrically driven compositions showcasing tate's songwriting chops. now his followup, 'in the waves,' is due out 5/3 on sleep well records.
heads up y'all: this summer season, the Elsewhere Rooftop will be open all night on weekends space-permitting, so grab a frozen drink with a view of the skyline when you need a breather! make sure to check out our rooftop schedule below. 
there's always lots else to explore too! most nights are multi-room celebrations, featuring a dynamic lineup of local and international talent in the hall and zone one. if you haven't noticed already, our loft tucked into the 2nd floor now has its own dj booth and hosts free parties throughout the week. make sure to wander!
----
☼ About Elsewhere Rooftop
Elsewhere Rooftop is a seasonal large outdoor bar and events space, offering a signature frozen drink menu, shows & parties, sunset DJ sessions, food pop-ups, film screenings, art happenings, and much more all summer. Full calendar at https://bit.ly/2UMjRb3
☼ Hours
*The Rooftop usually opens at 6PM Monday through Friday and 2PM Saturday & Sunday, but is only open when events are happening — please do make sure to check our venue calendar before stopping by here: https://bit.ly/2VHNafy
☼ Food
Food is provided every Friday through Sunday this season by our good friends at Holy Ground BBQ, Brooklyn's tastiest BBQ pop-up. You can view the full menu here: https://bit.ly/2WHCB8J
☼ Rain or Shine Policy
All shows and events on the Rooftop are rain or shine! If the weather prevents us from carrying on, we will update customers via our website, Facebook, Instagram, Twitter, Eventbrite and Resident Advisor. 
☼ Safer Space Policy
ELSEWHERE MAINTAINS A STRICT ZERO TOLERANCE POLICY FOR HARASSMENT
Elsewhere is intended to be a safe space to enjoy music, art, expression, and free play. Our staff are trained to remove individuals engaging in any form of sexual harassment, acts of aggression (including leering), racism, misogyny, transphobia, homophobia, religious bigotry, or hatred and discrimination of any kind.
If you see or experience any unwanted attention, contact, bullying, harassment, or behavior of any kind that makes you uncomfortable, please speak out and notify our staff immediately.
Please read our full policy at: https://bit.ly/2VxByad