About this Event
dLive Masterclass:
Advanced Applications in Touring & System Design
Presented by HWPco - HWPco was founded in 1970 as a Manufacturer's Representative in the Southeast, USA. Today we believe in guiding our Partners to the most valuable technology solutions in Audio, Video, Infrastructure, and Security. To achieve this goal, we've developed a brand new way of experiencing technology in the context of your world. http://www.hwpco.com
When:
Thursday, July 23rd
Where:
a2 Church
6 Greenhill Pkwy
Birmingham, AL 35242
Time:
Two identical sessions available. Register for the one that works best for you!
8:00am-noon.
1:00pm-5:00pm.
Who should attend?
Anyone interested in furthering their knowledge of the dLive ecosystem - touring FOH & monitor engineers, church production engineers, consultants, integrators, rental houses, etc.
Cost?
FREE!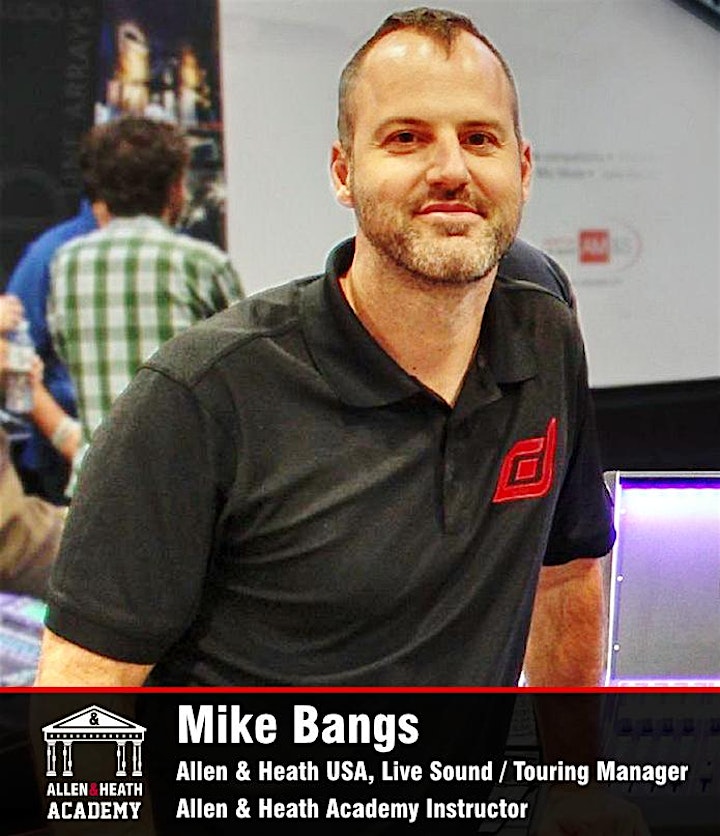 — About the Instructor —
Michael Bangs ("Bangs"): With a 20+ year career in concert production, Bangs has extensive experience as a Touring Monitor Engineer and Production Manager, mixing thousands of shows across the globe for acts like Aerosmith, Eric Clapton, Katy Perry, Tom Petty, Kid Rock, and Lynyrd Skynyrd. Bangs was an early adopter of live digital mixing, providing training and support for engineers switching from analog to the first large format live digital consoles in the early 2000s. He adopted Allen & Heath as his console of choice as a pioneer in surfaceless mixing and developed a close relationship with the manufacturer. Bangs joined the Allen & Heath team to support the unique needs of touring professionals on the groundbreaking dLive mixing system.
— About Allen & Heath —
Allen & Heath was in the vanguard of the first wave of great British mixer companies, starting life at the heart of London's swinging music scene in 1969. In those early days Allen & Heath hand built mixers for the top bands of the era, including Genesis, Pink Floyd and The Who. Fast forward to today and some the diverse artists performing with Allen & Heath desks include Billie Eilish, George Strait, Bring Me the Horizon, Fifth Harmony and Morrissey. Today's Allen & Heath range is used and loved by bands, rental companies, houses of worship, installers, clubs, broadcasters and studios in virtually every country across the globe.
— About Allen & Heath Academy —
Kicked off in 2020, Allen & Heath Academy provides formal training across a broad range of Allen & Heath products and live sound applications. Upon successful completion of in-person academy training and the online testing and certification process, academy students can earn recognition for their achievements as well as AVIXA CTS renewal units (RUs). Allen & Heath Academy courses are offered throughout the US and are presented by trained pro audio practitioners and industry veterans.