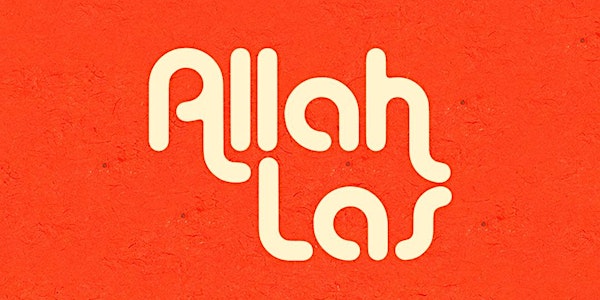 Location
The Glass House
200 West 2nd St
Pomona, CA 91766
About this event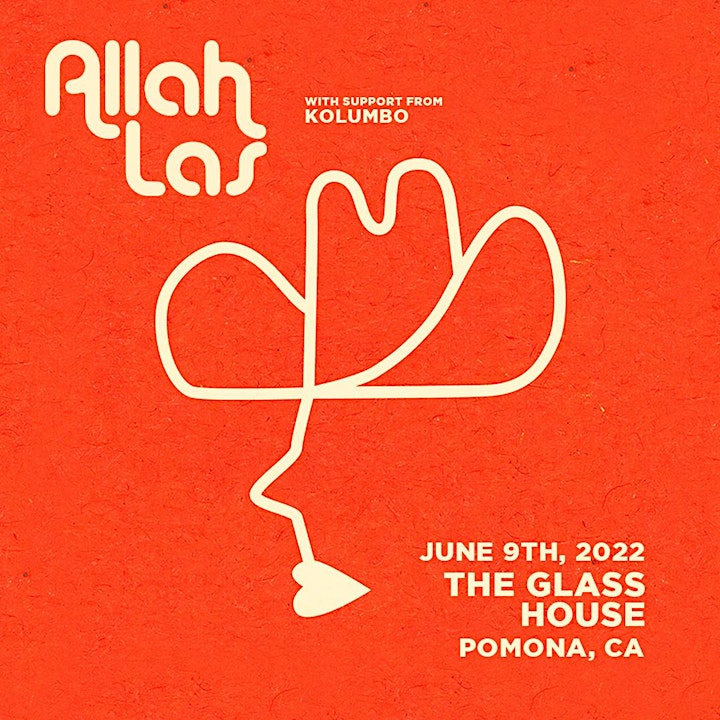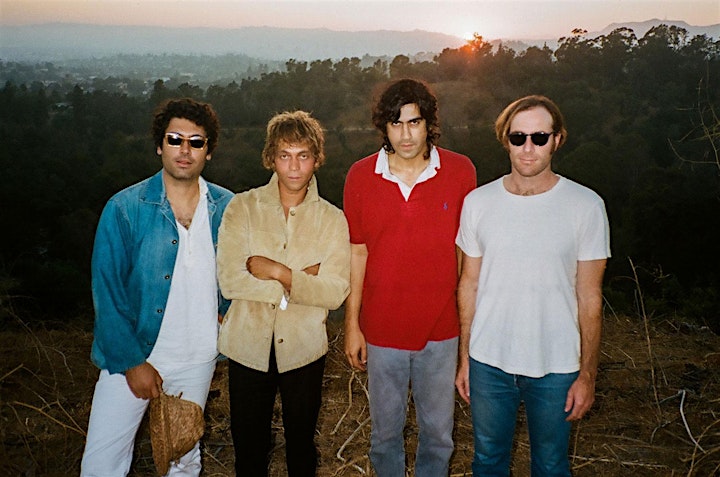 "A ship in harbor is safe, but that's not what ships are built for" the saying goes. But suppose the proverbial harbor is Los Angeles — a place not particularly known for being the origin of adventures. From the Spanish Conquistadors to the countless starry-eyed nobodies hoping to make it big, LA is usually the destination.
So it's no wonder the Allah Las became fascinated with both the carefree spirit and glitter-in-the-gutter lifestyle of their hometown. After three records mining its lore and lure (from the desert to the sea) they have become global ambassadors of not just a place but a location.
Having taken their compact California on the road across the world (making stops in North, Central, and South America, Europe, South Africa, Australia, Russia, East Asia and beyond), they couldn't help but peek through the other end of the telescope.
On their fourth LP, drummer Matt Correia, bassist Spencer Dunham, and guitarists Miles Michaud and Pedrum Siadatian turn their collective gaze outward and toward the horizon. Simply titled LAHS (a reference to a common misspelling of the band's name), their forthcoming release on Mexican Summer finds the band turning in their most cohesive and ambitious work yet.
The Allah Las seem to be transmitting from a place not found on any map. Those familiar with the band's work will recognize their skillful melding of melodies and moods, but through that lens we see them venturing into new, exciting territories. Indeed, their growth not just as songwriters, but as performers, arrangers, and producers — is clearly audible.
Correia sings in Portuguese on "Prazer Em Te Conhecer" (Nice to Meet You), which evokes George Harrison while also sounding like a rare 45 from a Brazilian flea market. The breezy sweetness of "Pleasure" could pass for a song by Spanish folk darlings Picnic, were it not for the wistful wisdom in Dunham's delivery. "Polar Onion" takes us through the inevitable lows one encounters on a long journey, as Michaud laments "drown in the sea, I fill my cup – but it's not enough"- a caricature of the lonesome cowboy seeking and occasionally glimpsing enlightenment.
One of the most notable evolutions from their previous work is a razor-sharp focus on the groove. We hear the rhythms of Krautrock influencing songs like "Houston" and "Electricity," with steady and precise drumming that create complexity from repetition. Whilst both "Roco Ono" and "Star" incorporate elements of disco and soul into Allah Las universe, highlighting an airtight rhythm section unafraid to tap their toes.
Opener "Holding Pattern" conveys what the title suggests; you've almost arrived, you can see the ground, but you're not quite there yet. Airy, ethereal harmonies chant the title, holding you in suspense- and eventually give way to an entirely different mood just before the fade- as if telling the listener "we've landed safely." The persistent shuffle of "In The Air" drives the song forward, while Siadatian's echo slapped voice bounces along on top, describing "images that can't compare to the real thing in the air." Electric guitar and mellotron trade licks, mirror each other's kinetic ascending and descending lines and calling to mind the playful jubilance of Kevin Ayers in his prime.
"We've been traveling a lot the past couple years and I think that played a role in influencing the broader variety of songs on this record" Correia explains. And this is precisely what sets LAHS apart from its predecessors — a record inspired less by time, but by place. "LAHS to me feels like a soundtrack to the past 5 years or so. A sort of audio postcard to anyone who wants to listen." This sentiment is echoed in the album's artwork — a collection of exotic postcards, postmarked from equally exotic locals (designed by Matt Correia & Robbie Simon).
Tracking was done mostly by the band at their own studio in Los Angeles, allowing them more time and space to experiment with tunes and tones. Producer/Engineer Jarvis Taveniere (Woods) was brought in to help polish it off, resulting in a sound both crisp and clear while keeping with the warmth and atmosphere the band are known for.
The Allah Las have left the harbor. The infectious wanderlust that fuels these thirteen songs continues to propel the group forward across new frontiers, as they collect and catalog all they find and return with plenty of inspiration in tow. With LAHS we not only discover what souvenirs they've brought back for us; they're inviting us aboard and taking us along for the ride.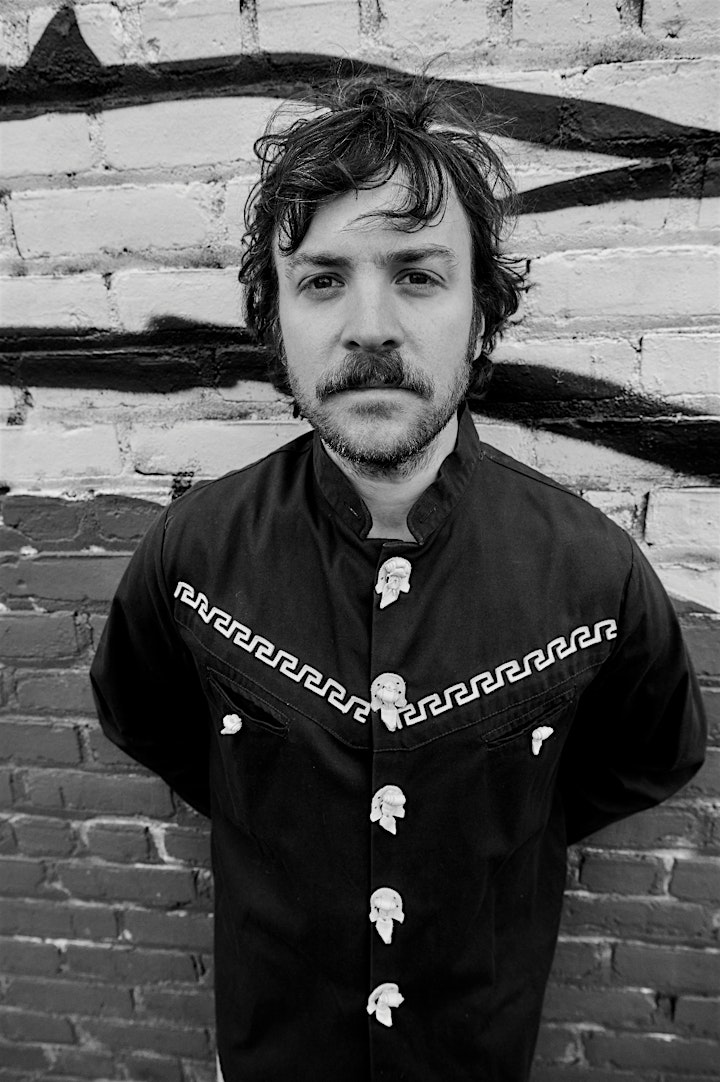 Since he was a landlocked Dallas, Texas kid, beach culture has held a tropical mystique for Kolumbo composer, arranger, keyboardist Frank LoCrasto. Family trips documented by camcorder videos, featuring slinky jazz-fusion soundtracks are etched in the Brooklyn-based artist's memory. In his mind, there will always be a fantasyland replete with wicker furniture, pristine beaches, swaying palm trees, the smell of vanilla-scented suntan lotion, and breathtaking aqua water expanses.
These days, LoCrasto uses his imagination, evocative musicality, prodigious chops, and eclectic sonic palette to create dreamy musical locales with the Brooklyn-based, Tropically-minded Kolumbo. The tiki-jazz torchbearers are releasing their debut full length, Gung-Ho, out June TK 2022, on the Allah-Las record label, Calico Discos, a boutique imprint now a part of Innovative Leisure. The 8-song album conjures the lush sounds of symphonic 1950s and 1960s exotica, and the jazz-pop orchestral albums recorded in Capitol Records' famed studios. The album title speaks to the herculean task of producing an exotica album averaging 11 musicians per track during a pandemic.
"Several different things inspire the transporting feeling of this music. These days, it can come from something I read, a movie, or a photo I saw. The cover art on the front of old LP's definitely transports you. It's an artifact made in a different time that's basically a window into the past—time travel into a different time I'll never know. Those types of visual elements I find hugely romantic. That, and the sound of tape," LoCrasto shares.
Previously, the Texas-born, Brooklyn-based artist has released four solo albums (When You're There 2006, El Dorado 2011, LoCrasto 2015, and Lost Dispatch 2019). He has composed and recorded music for three feature length films (Sandbar 2012, Union Furnace 2015, Stranger in the Dunes 2016), and has had songs placed in the 2014 movie, Obvious Child, and the 2020 HBO series, How to With Jon Wilson. In addition, LoCrasto has recorded and toured with Cass McCombs, Pat Martino, Jeremy Pelt, James Iha, Parquet Courts, Fruit Bats, Nicholas Payton, Greg Osby, Okkervil River, and Wallace Roney. He has also appeared as a sideman on over 70 albums. Prior to the pandemic, LoCrasto was actively touring with his band, Cass McCombs, Fruit Bats, and Grateful Shred.
Kolumbo features a fluid cast of musicians led by LoCrasto. The band is named after a volcanic underwater island submerged in the Aegean sea. "It doesn't get more tiki than that," LoCrasto says laughing. Kolumbo has shapeshifted throughout the years, but it officially began in 2015 as an informal duo project with LoCrasto and his buddy, drummer/percussionist, Robin MacMillan. The project was an outlet to perform classic exotica arrangements by Arthur Lyman, Roger Roger, Esquivel, Martin Denny, and others. However, the band didn't play many shows as its founders were too busy on the road working with other bands.
During the pandemic, LoCrasto rebooted Kolumbo as his own band, of course, getting blessings from MacMillan and the revolving cast of past musicians. The revamped Kolumbo quickly became a buzzed-about live band performing a handful of shows in New York and LA before getting signed by Calico Discos. During this time, LoCrasto was inspired to write new music that fit with classic exotica flair, but also furthered the genre through adventurously integrating outside influences, and even some non-period-specific instrumental touches.
The resulting album, Gung-Ho, offers a variety of transporting vibes, including Iranian musicality, Brazilian samba moments, and songs that sound like they were pulled from 1960s French New Wave films. Initially, LoCrasto demoed the entire record himself in his apartment studio, replete with the album's orchestral elements. "I was almost done with it when I realized it needed more humanness—it needed that imperfection and feel of live instruments," he says. LoCrasto then had bassist Jacob Silver and drummer Robin MacMillan lay down rhythm section tracks under his lavish demos. Next, he set out on the daunting task to recreate his highly-layered orchestral album vision with live musicians during lockdown. Along the way, LoCrasto learned how to capture the grandeur of 18-piece string orchestras with just two string players.
From there, the album swelled to include flute, oboe, bassoon, clarinet, French horn, cello, viola, keyboards, drums, percussion, and mallets, with each composition averaging 11 musicians per track. "The record title definitely speaks to the ambition of going all out on a big record like this during a time of social distancing and lockdowns," LoCrasto says with a good-natured laugh.
The curtains part on the album with "Felicia," a cinematic track that oozes 1960s French new wave film, evoking images of fancy cigarettes, flowing coats, and stunning romantic intrigue. "Lost Paraiso" wafts a sensuality that recalls Jobim's 1960s run of hits with CTI Records. Yet, here LoCrasto cleverly sneaks in outside elements such as synths and elements of psychedelia to achieve mind-melting balminess. On "Imperial Bikers MC," LoCrasto injects some space funk into a composition that could have been off Lalo Schifrin's Bullitt Soundtrack. Here, the musicians in Kolumbo play with funky restraint, allowing for each instrument to carve out its own real estate in a thoughtfully-orchestrated arrangement. The album closes with the warmly engaging piano ballad, "Evening Time." "At night, during the height of the pandemic, people would be hanging out on their stoops, and at 7pm you would hear all this banging on pots and pans as communities showed their appreciation for the first responders. This song is an ode to togetherness during a rough time," LoCrasto details.
As the world reopens, LoCrasto and Kolumbo are ready to bring them the soothing sounds of modern vintage exotica. Right now, Kolumbo has a California tour scheduled in June with dates opening for Sugar Candy Mountain, the Allah-Las, and a scheduled performance at the Huichica Music Festival in Sonoma. "It's all so exciting—this is perfect summer music, and I can't wait to get out and play it," LoCrasto says.