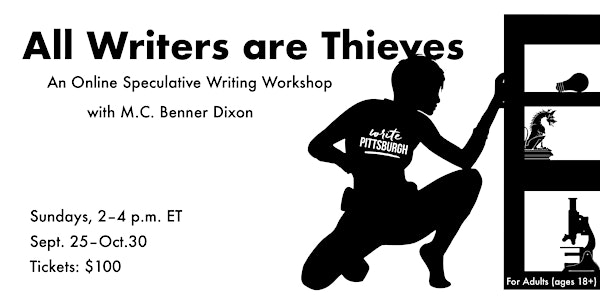 All Writers are Thieves: Speculative Writing Workshop
Learn how to lift ideas from the headlines, fairy tales, or the annals of history and make them your own.
Refund Policy
Contact the organizer to request a refund.
Eventbrite's fee is nonrefundable.
About this event
This six-week online workshop for adults (ages 18+) will run on Sunday afternoons, 2-4 p.m. ET, from September 25 to October 30. Join from anywhere! Tickets: $100. Ask about our need-based discounts: info@WritePittsburgh.com.
It is often said that good writers borrow and great writers steal, but no one ever tells you where to steal from or how to get away with it. This speculative writing workshop from Write Pittsburgh sets out to rectify that little oversight. We'll be exploring various sources of inspiration for speculative writers (scientific discoveries, fairy tales, and more) as well as the techniques for ethical (i.e., non-plagiaristic) thieving such as changing perspective or synthesizing disparate sources.
Dig into the techniques of lawful literary larceny and build your skills as a writer. Generate new material with inventive, stimulating prompts and readings. Submit a story to be workshopped by your peers. The workshop is open to prose and poetry writers. Join a supportive community of writers and see where a little thieving will take you.
Workshop facilitator: Christine Benner Dixon (M. C. Benner Dixon, she/her) is a writer, editor, and educator who has been living and teaching in Pittsburgh off and on since 2004. Her speculative fiction and poetry have appeared in places such as Fusion Fragment, The Los Angeles Review, Funicular, the Growth anthology, and The Storyteller Series podcast. With co-author Sharon Fagan McDermott, she has written a book of hybrid essays on the craft of writing, due out in 2023 from the University of Michigan Press. Learn more at www.bennerdixon.com.
Guest facilitator: Sravani Hotha (she/her) writes contemporary South Asian fiction for children and adults as well as science fiction and fantasy based on Indian mythology. Her writing has appeared in Duende Literary, Dragon Poet Review, and Fuss Class News. She juggles many universes in her brain and enjoys the sound they make when they hit the floor.