Choose to challenge by participating in our All-Women Hackathon
About this event
This virtual hackathon for women  from across the globe will take you through the process of pitching an idea, creating a team, collaborating and communicating, to building your product, managing your project,and to marketing and pitching your final product in a welcoming, safe and supportive community.
👉 You do not need to have a coding background to participate
👉 You do not need to have a team to register for the hackathon. We will help our participants form teams with each other
👉 You do not have to be online and available 24/7 from April 29th to May 10th . Your team and you can work out a schedule and tasks that work for all of you.
Since 2016 The Expat Woman has been hosting successful all-women hackathons where are participants with coding and little to no coding experience and ranging in age from 18 to 65+ have worked in teams to develop solutions to challenges faced by women and minorities.
Last year because of COVID we hosted our first virtual hackathon - "Women Hack the Crisis" where over 100 women from across the globe worked on solutions to various challenges brought on by the pandemic.
To continue to make the hackathon accessible to women everywhere, our 2021 hackathon will also be virtual.
Who should participate
Our All-Women Hackathon is open to women across the globe. Work in teams online in the comfort of your home. No coding experience is required to participate in this hackathon. We will have mentors who can assist you with your projects virtually.
Rookie: You have never participated in a hackathon and are curious to see what all the hype is about. You may not have a tech or coding background but are open to getting out of your comfort zone to share your skills and gain experience as a hackathon participant.
Aspiring Entrepreneur: You have an idea for a business/app/service and want to create an MVP at a hackathon and looking for potential cofounders amongst the attendees.
Previous Participants: You have participated in our previous hackathons or other hackathons and you love hackathons because of the amazing connections you make, the skills you are constantly honing or acquiring and experiences and ideas you are exposed to.
Why you should participate
- Hackathons are a gateway to entrepreneurship. They expose you to the process of turning a business idea into reality, working in teams to develop the idea and pitching the innovation.
- Opportunity to use your coding, design, product expertise, ideas or creativity to find solutions to challenges faced by women
- Network with other professional women and mentors from diverse industries and share knowledge and expertise
- Learn new skills by participating in a hackathon that you can add to your bio, resume, LinkedIn profile
- Access to workshops on topics that will help with your hackathon project and also with your work as a creator, innovator, entrepeneur
- Free tickets to our Start Yours One-Day Conference on May 12th
This year's International Women's Day theme and theme for our All-Women Hackathon is Choose To Challenge
We can choose to challenge and call out gender bias and inequality
We can choose to seek out and celebrate women's achievements
Collectively, we can all help create an inclusive world
Change won't happen without choosing to challenge it
Listed below are the themes/challenges for this hackathon
HACKATHON CHALLENGES
Hackathon Challenge 1: Find solutions to end gender bias and discrimination in the hiring process and at the workplace so women thrive in their careers and their achievements are celebrated
Hackathon Challenge 2: Find solutions to encourage more girls and women to step into STEM fields of studies and work
Hackathon Challenge 3: Find solutions to create gender equality in entrepreneurship so women have access to funding, resources and mentors
Hackathon Challenge 4: Find solutions to encourage and empower women to reach their goals, achieve their full potential and become leaders in their area of expertise
Hackathon Challenge 5:  Find solutions to help immigrant or refugee women who are new to a country get access to resources, supportive networks, and opportunities
Hackathon Challenge 6: Find solutions to help women in unsafe home or work environments get access to support and resources.
Hackathon Challenge 7: Other - a hack project related to our theme "Choose to Challenge"
SCHEDULE
The entire event is virtual and because of the different time zones flexible in terms of participation.
April 29th : Hackathon kickoff, Pitch your idea, Speed Networking with other participants, mentors and sponsors
April 30th - May 2nd : Team formation ( 6 - 8 persons per team)
May 3rd - May 10th : Build Period + Workshops
May 10th : Projects due and pitch practice
May 12th : 3 min pitch to panel of judges + 2 mins Q&A from judges at Start Yours Conference
May 12th - May 21st : Judging period
May 22nd : Results announced
Virtual Workshops ( all workshops will be recorded and also livestreamed in our Hackathon Facebook Group)
May 3rd @ 5pm PST - Intro to Github and How to Use it to Collaborate at a Hackathon with Reshma Sekar, Lead Applications Engineer & Senior Consultant at Deloitte
May 4th @ 10am PST - How to use iOS Apps (Swift) to build an app with Claudia Maciel, iOS Developer
May 5th @ 10am PST - Intro to HTML/CSS by Melody Serra, Tech Instructor at Year Up
May 6th at 10am PST - Intro to UX/UI Design with Vedashree Bankar, Senior Product Designer at Tally
May 7th @ 10am PST - How to Leverage LinkedIn to Promote your Brand, Project, Expertise by Nyna Caputi, Creator of All-Women Hackathon and Founder of The Expat Woman
Judging categories
1. Originality: How unique and innovative is your idea
2. User experience: Is the design user-centric, easy to navigate, and intuitive?
3. Business Model: Can the application be transformed into an MVP ( Minimum Viable Product), be profitable, and scalable
4. Solution to problem: Is the application addressing real issues the users are facing?
Project Options:
1. Build a functioning MVP ready for immediate use.
OR
2. Develop a prototype concept for an application that can later become a functioning product.
"This was one of my favorite working experiences of my life and acted as validation and a huge confidence boost for me; as a non-tech person, I could lead a project and a team on a tech project, and my idea had merit - in fact, we're working on developing our hackathon project Linqua right now, along with another app idea, so the hackathon really was the starting point for my career pivot. The support we got from mentors and Nyna Caputi and the organizing team at The Expat Woman All-Women hackathon was fantastic - they went above and beyond to accommodate remote teams from all over the world." - Susan Proctor, Woman Hack the Crisis 2020 participant and Founder at Linqua
"What an incredible day. Thanks to The Expat Woman team for all you did to pull it off - it was by far the BEST hackathon I've ever attended. So well-organized, and tons of talented, impressive women to connect with." - Ginny, Software Engineer and participant at one of our previous hackathons.
For sponsorships, please e-mail us at info@theexpatwoman.com
If you have coding/ux-ui/website or app building experience and are interested in volunteering as a mentor, please register here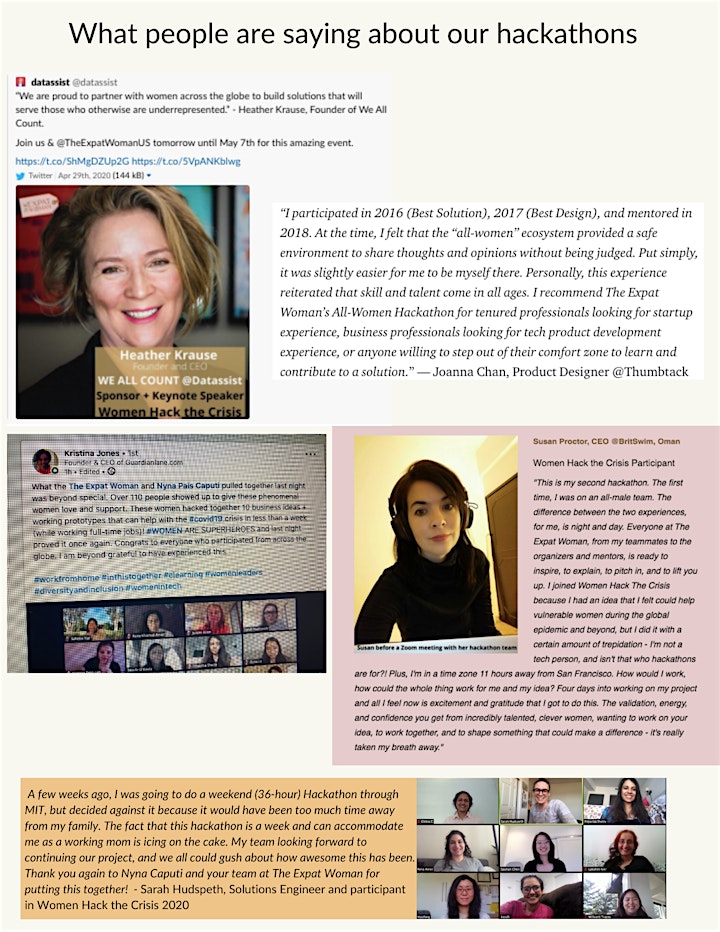 FAQ
1. Who can participate?
The hackathon is open to women and anyone who identifies as a woman from anywhere in the world.
2. How many people can participate on a team?
A minimum of six and a maximum of nine team members.
3. Can I bring my own team?
Yes. You have to have a minimum of 6 and a maximum of 9 members. Each of them will have to purchase a ticket.
4. I do not have a coding background and have never participated in a hackathon. Can I still participate?
You do not need a coding background or hackathon experience to participate. Projects also often need people with diverse backgrounds including designers, project managers, business backgrounds and more. We will also have talks, workshops, and mentors to help you with your project. You need to have the interest, the enthusiasm and willing to put in the hard work and collaborate with your team to build your project.
5. When can I start working on my project?
After participants pitch their ideas on April 29th, the next two days are spent building teams . To keep the playing field fair, we ask teams not to begin building until May 3rd when all the teams are created. If your project is an upgrade to an existing project, please check with us beforehand.
Terms of Participation Agreement:
You agree that you are responsible for any accidents or damages that you cause. You also agree to not hold The Expat Woman, or any of the event supporters liable for any loss, damage, injury, or any other unforeseeable incident.
By Participating at the event, you grant The Expat Woman permission to capture photo/video of the event.
By registering for this event, you also consent to receive email communication from The Expat Woman and its programs about events and updates that may interest you.
Tickets to this event are non-refundable. If you are unable to attend, you have the option of giving it to a friend or team member to attend in your place.
Date and time
Location
Refund policy