Description
Join us July 21st at 9pm at the historical Apache Cafe as Nelson Trimble and the F.U.S.I.O.N Movement presents it's All White Benefit Concert and Party hosted by Nelson Trimble (aka The General Sparatic) and Victor Stringer.
Doors - Drinks - 9P
$15 online | $20 at the door
*Cash only, day of entry, at the door. There is an ATM inside the door for your convenience. The bar/restaurant takes VISA/MC/American Express/DISCOVER/Cash.
There is a $10 per person minimum for table seating.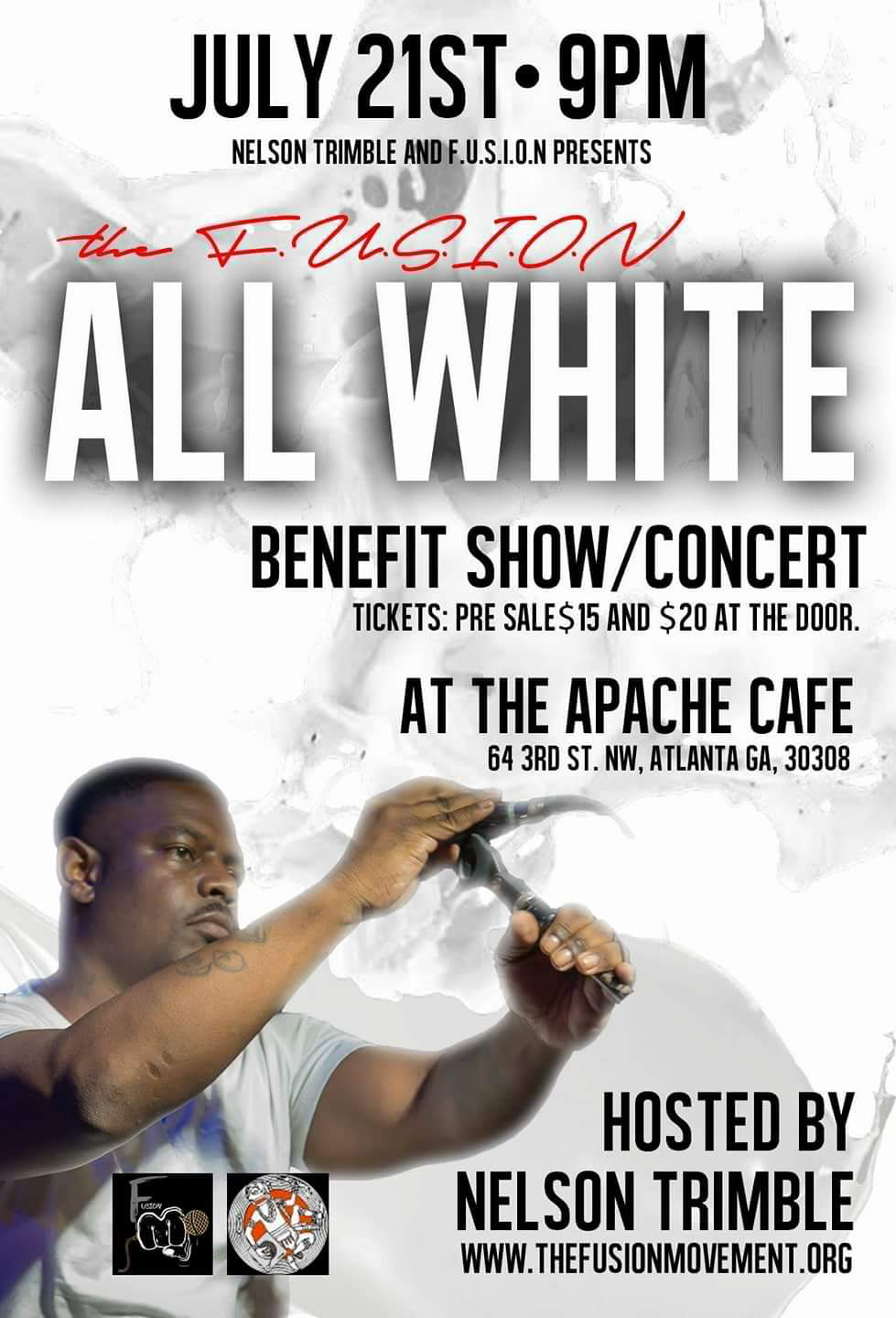 The All White Benefit Concert and Party will be benefiting 3 different causes that F.U.S.I.O.N is sponsoring:
1. The first is "Open House." The play will be opening at Cafe Instabul in New Orleans, Louisiana on July 23rd at 6pm. "Open House" is the story about how absent parents leaves the kids that live in the home vulnerable.
2. Boss Finesse' Back To School Party at Mark Trail Park on July 28th. This event is open to the public...we will be giving out book bags, haircuts, and school supplies.
3. U-Path Back To School Jamboree, which will be held at Midway Recreation Center August 6th from 12pm.
What is F.U.S.I.O.N?
F.U.S.I.O.N is a grassroot company founded by Nelson Trimble in 2013. F.U.S.I.O.N stands for Families Unified Strength In One Number.
Their mission: F.U.S.I.O.N believes in reaching back to move forward, and being responsible for our future. Through the arts our goal is to bridge the gap between adults and youth, while inspiring and encouraging better choices beyond what is given.
Who is Nelson Trimble?
Nelson Trimble is a author, playwright, producer, director, and spoken word artist from Atlanta's Westside. Trimble authored the book "Prison, Prayer & Poetry," and also wrote, produced, and directed the the play adaption of the book entitled "Open House." He has many credits to his name, including acting as the premiere poet at the Shawty Lo's, the King of Bankhead, funeral. Check out his/their work at www.thefusionmovement.org
Parking - 4 options:
1) on-street in a marked pay meter space. Most on-street is free after 10p Read signs!
2) Big lot between Apache Cafe and the Varisty. Self-pay at the pay kiosk on Spring St or get booted (n
ot us!)
3) GA Tech Hotel and Conference center one block north of us at 4th & Spring, usually $1.50/hr Read hours of operation!
----------------------------------------------------------------
REGARDING TABLE RESERVATIONS!!!:
(1) Table reservations are generally held until one (1) hour after doors open but make sure to refer to the event's specific ticket rules on Ticketweb; if you have not redeemed your table reservation by the specified time, you will lose your reservation and your table will be made available to others without refund.
(2) Table tickets are not required to attend, but they are recommended for guaranteed table seating. Try arriving early to be seated at an open an free table.
(3) All reserved and walk-up tables have a $10 minimum per person
(4) A table ticket entitles you to the entire table with the described number of chairs. Do not purchase a table ticket for each person sitting with you at this table.
(5) General admission ticket is required per person to enter venue. Purchasing a table reservation does not include the price of admission. Admission may be purchased by selecting General Admission tickets or at the venue upon arrival.
(6) Table reservation fees do not go towards food or beverage, admission or gratuity.
(7) There are no refunds on table reservations (except event cancellations) additionally, seating/table arrangements or changes to them are non negotiable and provide no cause for refund.
(8) When you enter the venue, please see the Hostess to be seated and be prepared to show your reservation purchase credit card and picture ID before you are seated.
Should you have any further questions or concerns please feel free to call the Apache Cafe @ 404.876.5436 or visit www.apachecafe.info