All Things Go, Listen Local First and DC to BC Present: Body Language (Live), BRETT (Live) and more
When and where
Location
Submerge 700 H Street NE Washington, DC 20002
Description
ADVANCED SALES HAVE ENDED.

TICKETS WILL BE AVAILABLE FOR PURCHASE AT THE DOOR.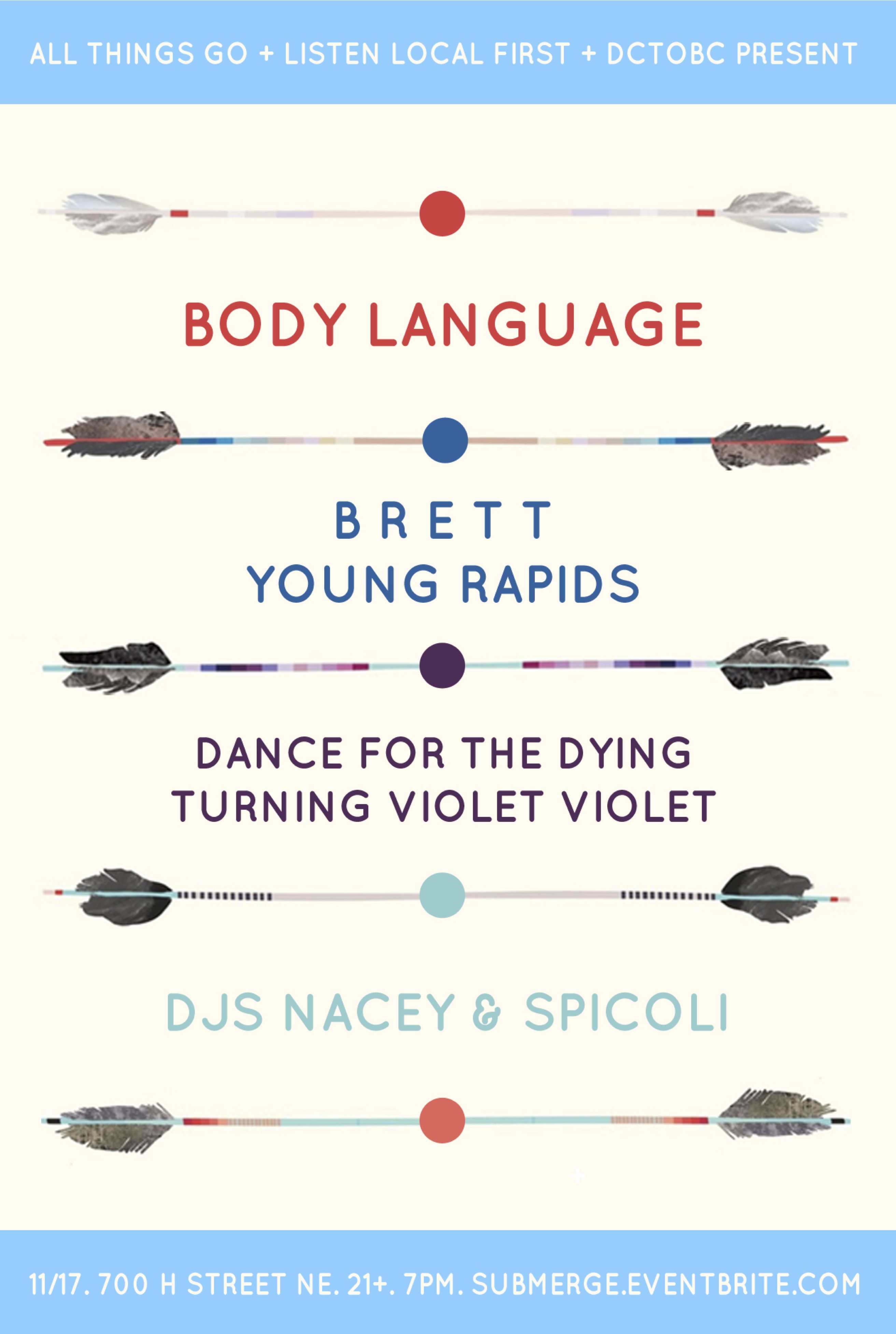 All Things Go is excited to be working with the fine people of Listen Local First and DC to BC to curate a night of amazing music during Submerge. Submerge is a nine day flash 'art happening' that will be taking place from November 10th – 16th at a pop-up space in DC's historic H Street Neighborhood. The event is an art exhibition and creative art space that will pay homage to the the District. Learn more about the space and artists that will be featured at Submerge's official website.
We'll be taking over the space on Saturday, November 17th for a night of programming which will feature live sets from proven party starters Body Language along with Brett, Young Rapids, Dance For The Dying, and Turning Violet Violet. We'll also hear DJ sets from Nacey (Nouveau Riche) and DJ Spicoli. The event goes from 7PM – 2AM. Tickets are $12. We're expecting them to go pretty fast so get yours now!
This event is strictly 21+ and there will be a bar.
BODY LANGUAGE (LIVE)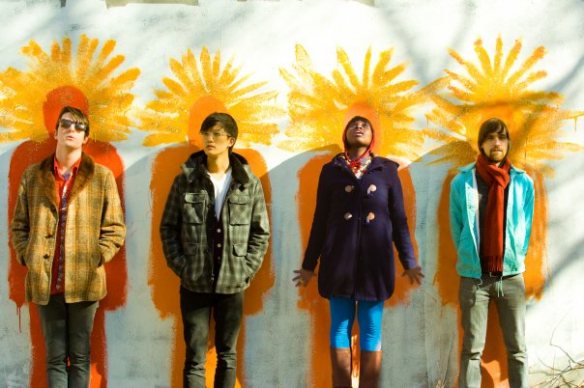 Busy saving the city from the brick wall arm crossing and the casual head nods, Brooklyn's own Body Language has risen from the DIY venue basements armed with the kinetic dynamite you would expect from the name. Their original music was born from weekly dance party remixes crafted by Grant Wheeler and Matt Young, and graced by the soul stylings of Ms. Angelica Bess. Their efforts, which illustrate...d their arrival into Brooklyn, were delivered in a five track EP called "Speaks".

Since the EP release, Body Language has been touring with Zero 7, Sia and burning holes in New York City dance floors appearing with the likes of Passion Pit, Little Boots, La Roux, School of Seven Bells, Theophilus London and Jimmy Edgar. This beat-driven crusade continued with an highly anticipated appearance at SXSW 2010. Listeners should also expect some wonderful contributions from the trio with the hit, "Work this City", appearing on Ghostly International's Nocturnal Suite, a free four-part 'Influences' DJ Set, as well as a "Speaks" Remix Compilation, featuring the likes of Toro y Moi, Yes Giantess and Shuttle.
BRETT (LIVE)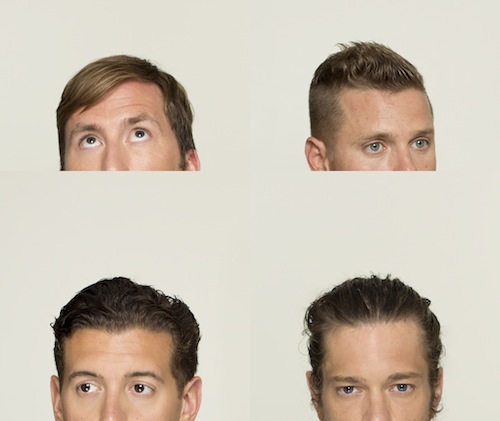 Brett is a band from Washington, D.C. that throws in dance beats, synths, old drum machines and hazy gazy guitars to make a yummy batch of pop songs.
YOUNG RAPIDS (LIVE)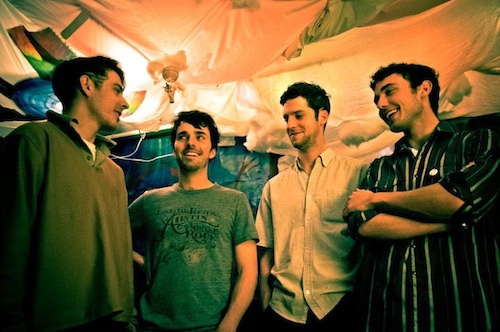 Exhaustion is part of what inspired Young Rapids to get together. Bentley and lead singer and keyboardist Dan Gleason held office jobs for several years before burning out. After quitting their gigs and taking time off from the D.C. area, the pair regrouped with lead guitarist Nick Martin to write songs and search for "something a little bit more meaningful than the quest for money," says Bentley. Bassist and drummer Colin Kelly joined the group about a year later. Today, Young Rapids seems to have found a more fulfilling way of life. "I don't make a lot of money, but I'm so much happier now that I've reorganized my priorities," Bentley says. The band's gathering swell of melodic guitar lines and forceful drumming channels The Walkmen. (via City Paper)
Dance For The Dying (LIVE)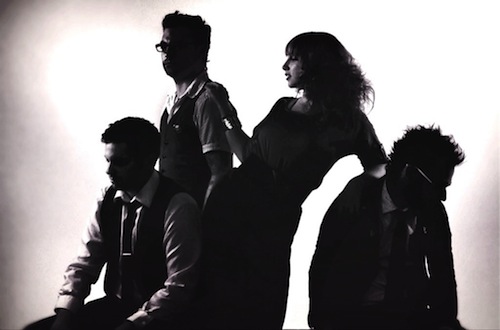 Dance for the Dying is a synth-driven dance-rock quartet that effortlessly fuses the joyful with the melancholy to craft infectiously catchy tunes. Based in Washington, DC, the group was formed after drummer Chris Link found inspiration on a trip to India that set him on a musical mission. Through the power of the internet and mutual acquaintance, he recruited guitarist Joshua Hunter and vocalist M.C. Wolfe in 2009 and the three began crafting original songs while searching for a fourth member to solidify their sound. The band found their man when guitarist-turned-bassist Brad Cantor joined the group in 2010. Now the band has a distinct sound of 80's and 90's goth and pop with fast paced rock rhythms. Dance for the Dying creates songs you could roller skate to on laser night.
Turning Violet Violet (LIVE)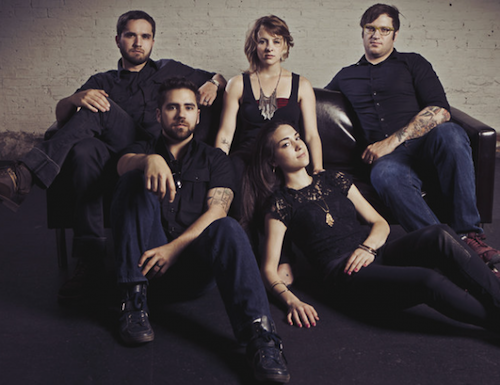 Turning Violet Violet has graduated from an emerging pop rock outfit into a fixture in the Philadelphia indie music scene. It's been a busy year for the band. They sharpened their live edge playing with Glasvegas, East Hundred, Oh Land, Mr. Dream, and many others all over the east coast. When home, TVV has been furiously working on new material for their 2012 release DOUBLE CURE.