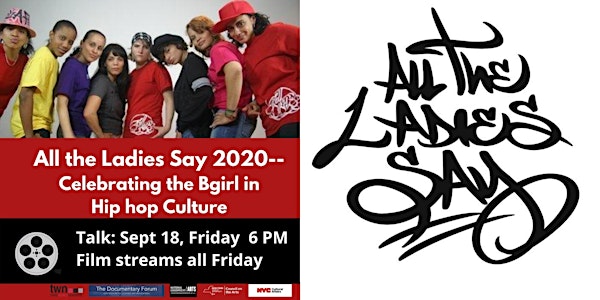 All the Ladies Say Film & Talk: Celebrating the B-Girl in Hip-Hop Culture
Screen the film and join a talk with the filmmaking team and two of the B-Girl dancers Aiko and Lady Champ in this groundbreaking film.
About this event
All the Ladies Say Film & Talk: Celebrating the B-Girl in Hip-Hop Culture
Screen the documentary film All the Ladies Say and join a talk with the filmmaking team and two of the B-Girl dancers Aiko and Lady Champ in this groundbreaking film.
Join us Friday, September 18 for the all-day streaming of the film, plus the talk at 6 PM with Rokafella, Melissa, Aiko, and Lady Champ.
All the Ladies Say is a groundbreaking documentary about B-Girls in Hip-Hop—made by the filmmaker, breakdancer, enterpreneur, educator, and activist, Rokafella.
Shot in the late 2000s, All the Ladies Say highlights the lives of six iconic female breakdancers or B-Girls and the challenges and triumphs of carving a niche in a male-dominated genre. Dancers from the global scene make cameos as well as female Graffiti writers, MC's and the late DJ Pam The Funkstress (RIP).
Stream the film on Friday and then join us for a discussion about the making of the film, how the issues for women in the Hip Hop world have/or have not changed, hear from two of the featured dancers - Aiko Shirakawa and Lady Champ on their lives now- and the plans for a Part Two of the film.
When you RSVP, you will receive a link to view the film from 9 AM to 6 PM Friday. The talk at 6 PM will be livestreamed to the All The Ladies Say Facebook page and to youtube.com/thirdworldnewsreel (Third World Newsreel's Youtube page).
Questions to workshop@twn.org, IG @alltheladiessay
A presentation of Third World Newsreel, the Documentary Forum at CCNY, and Full Circle Productions and media partner Family Pictures USA.
Tune in for more! The celebration will continue on Saturday with a reunion of the entire cast via Zoom at 2 pm. Link TBA.
About the filmmaking team:
Ana "Rokafella" Garcia
In addition to directing this film, Ana "Rokafella" Garcia is a NYC native who has represented women in Hip-Hop dance professionally over the past two decades. She co founded Full Circle Prod Inc- NYC's only non-profit Break Dance Theater company with her husband veteran Bboy Kwikstep generating theater pieces, original poetry, and NYC based dance-related events. She performs music based on her experiences growing up in Hip-hop's Mecca and has had her poetry published in a Bronx Poets anthology. She is hired internationally to judge Break dance competitions based on her mastery of the classic Hip-Hop dance style and she teaches unique workshops aimed at celebrating its roots and history. She has worked within the NYC public school system exposing young students to the possibility of a career in dance.
Presently she is an adjunct professor at The New School and a Classic Hip hop dance instructor at Peridance Capezio Studio. In May 2017, she launched "Shiroka"– a T-shirt fashion line with Shiro a Japanese graffiti writer. She has been featured in pivotal Rap music videos, tours, film, and commercials as well as choreographed for diverse festivals/ concerts such as Lincoln Center Out of Doors, Momma's Hip-Hop Kitchen, and the Oregon Shakespeare Festival. Rokafella is a multi-faceted Hip-hop artist who references street and Latino culture as her foundation. For more information, visit www.alltheladiessay.com.
Melissa Ulto
Melissa has had an extensive career in Hip Hop documentary filmmaking, as an editor, animator, cinematographer, and producer. She is a digital content specialist for long and short-form content, and lends her skills to nonprofit and activist groups. She works with luxury brand clients like Versace and Diesel, and is currently the creative director for two cookbooks, (photography/design/video content). She has designed and created lighting/LED effects, tech directed livestream events and designs and manages social media. Melissa's own video art piece, unMade Movie, became part of the permanent video art archive at the Getty Research Institute in 2017, as part of the Joanie4Jackie collection.