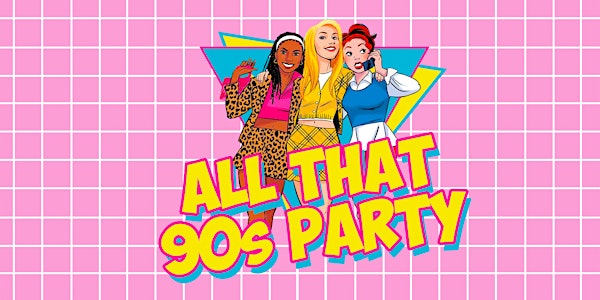 Location
Resident DTLA
428 South Hewitt Street
Los Angeles, CA 90013
Gather your squad and meet us at Resident on Sat September 10th for a trip back to the 90s!
About this event
"Music doesn't make you forget all your problems, but it lets you dance all over them."
Gather your squad and meet us at Resident on Saturday, September 10th for a trip back to the 90s! R&B, New Jack Swing, House, Grunge, Alternative, Electronic, Rap and Pop music with DJ Dave Paul (San Francisco). Whether you were born in the 90's, raised in the 90's or just love 90's music, this party is going to be all that and a bag of chips.
These are the type of 90s artists DJ Dave Paul likes to play: TLC, No Doubt, Nirvana, Backstreet Boys, NSYNC, Spice Girls, Mariah Carey, DJ Jazzy Jeff & The Fresh Prince, Madonna, Janet Jackson, George Michael, Lenny Kravitz, Boyz II Men, Aaliyah, Paula Abdul, Hanson, Brandy, Monica, Red Hot Chili Peppers, Green Day, Pulp, Beck, Garbage, Alanis Morissette, Fiona Apple, The Notorious B.I.G., Puff Daddy, Jay-Z, Christina Aguilera, Britney Spears, BLACKstreet, C+C Music Factory, Black Box, Prince, Michael Jackson, Color Me Badd, En Vogue, The Fugees, A Tribe Called Quest, Naughty by Nature, Deee-Lite, Jamiroquai, Bell Biv DeVoe, Arrested Development, Vanilla Ice, Kris Kross, Beastie Boys, Digital Underground, Montell Jordan and many more...
Facbook I Instagram I Event Photos
ABOUT DJ DAVE PAUL: For over 20 years, DJ Dave Paul has been an integral part of hip-hop and DJ culture. In the early 90s, he launched the now legendary publication, The Bomb Hip-Hop Magazine, and in 1995, Paul transformed the magazine into a record label. The company was named "one of the fifteen independent labels that matter," according to Rolling Stone, and the label's Return of the DJ series was ranked by Spin Magazine as #25 in their "The 90 Greatest Albums of the 90's" (Sept. 1999 issue), receiving a higher rating than Gold & Platinum albums by Lauryn Hill, Pearl Jam, Metallica, Green Day, and Fatboy Slim. Dave Paul has appeared on the front cover of Billboard magazine and is featured in the motion picture Scratch. Mr. Paul has DJ'ed throughout the US, toured Europe, released over 100 projects on his record label, and currently produces theme parties, including All That 90s Party.
Resident
428 S Hewitt St, Downtown L.A.
9pm / $10 - $20 / 21+
All ticket sales final. No refunds or exchanges for any reason.