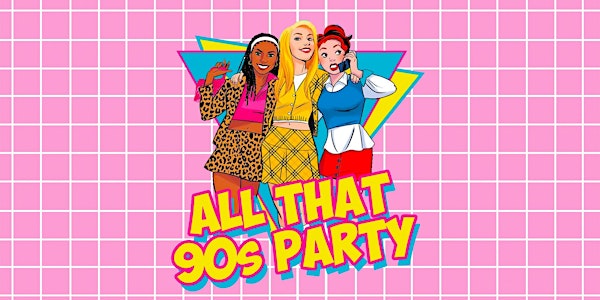 All That 90s Party : Oct 15th - San Francisco
this 90s party is all that and a bag of chips
When and where
Location
Public Works 161 Erie Street San Francisco, CA 94103
About this event
All That 90s Party: Gather your squad and meet us inside The Loft at Public Works on Saturday, October 15th for a trip back to the 90s decade! R&B, New Jack Swing, House, Grunge, Alternative, Electronic, Rap and Pop music with DJ Dave Paul. Whether you were born in the 90s, raised in the 90s or just love 90s music, this party is going to be all that and a bag of chips.
Public Works (inside The Loft) - 161 Erie Street
off Mission between 14th & Duboce
San Francisco, CA 94103
9pm - 2am / 21+ / Facebook Event Page
$12-$15 Advance / $20 at the Door
All ticket sales final. No Refunds, no exchanges.
These are the type of 90s artists DJ Dave Paul likes to play: TLC, Mariah Carey, No Doubt, Nirvana, Backstreet Boys, NSYNC, Spice Girls, DJ Jazzy Jeff & The Fresh Prince, Madonna, Janet Jackson, George Michael, Lenny Kravitz, Boyz II Men, Aaliyah, Paula Abdul, Hanson, Brandy, Monica, Red Hot Chili Peppers, Green Day, Pulp, Beck, Garbage, Alanis Morissette, Fiona Apple, The Notorious B.I.G., Puff Daddy, Jay-Z, Christina Aguilera, Britney Spears, BLACKstreet, C+C Music Factory, Black Box, Prince, Michael Jackson, Color Me Badd, En Vogue, The Fugees, A Tribe Called Quest, Naughty by Nature, Deee-Lite, Jamiroquai, Bell Biv DeVoe, Arrested Development, Vanilla Ice, Kris Kross, Beastie Boys, Digital Underground, Montell Jordan and many more...
ABOUT YOUR DJ: DJ Dave Paul began his music career in 1984, starting as a mobile dj and evolving into a prominent college radio dj, club dj, and remixer in San Francisco. One of his 45 minute reel-to-reel megamixes was featured on commercial radio station KMEL. During the late 80s and early 90s his weekly radio show "Beat Box Fridays" on college radio station KCSF was instrumental in breaking many hip-hop records in the Bay Area market. In the early 90s, he launched the now legendary publication, The Bomb Hip-Hop Magazine, and in 1995, Paul transformed the magazine into a record label. The company was named "one of the fifteen independent labels that matter," according to Rolling Stone, and the label's Return of the DJ series was ranked by Spin Magazine as #25 in their "The 90 Greatest Albums of the 90's" (Sept. 1999 issue), receiving a higher rating than Gold & Platinum albums by Lauryn Hill, Pearl Jam, Metallica, Green Day, and Fatboy Slim. Dave Paul has appeared on the front cover of Billboard magazine and is featured in the motion picture Scratch. Mr. Paul has DJ'ed throughout the US, toured Europe, released over 100 projects on his record label, and currently produces retro theme parties, including All That 90s Party.
Instagram I Facebook I Website
Be careful, there are a lot of spammers & scammers in the comment sections on social media. ONLY purchase tickets from our Eventbrite link for this event (our exclusive ticketing partner). Ticket purchases from any other third party are not guaranteed to be authentic and subsequently do not guarantee entry. We do not have relationships with any other ticket vendor so if problems arise, we will not be able to assist or verify your account information.
All sales are final, unless the event is cancelled or the venue is closed due to unforeseen circumstances. If the event is cancelled, you will receive a refund for the face value of the ticket, fees are non-refundable.