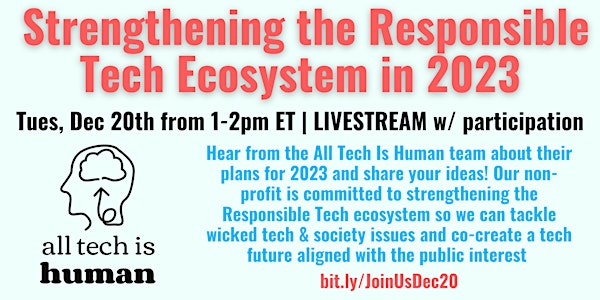 All Tech Is Human: Strengthening the Responsible Tech Ecosystem in 2023
Hear from the All Tech Is Human team about their 2023 plans & share your ideas! We're strengthening the ecosystem to tackle wicked problems!
About this event
Hear from the All Tech Is Human team about their plans for 2023 and share your ideas! Our non-profit is committed to strengthening the Responsible Tech ecosystem so we can tackle wicked tech & society issues and co-create a tech future aligned with the public interest.
Read about our current 2023 plans here. For this livestream, team members from All Tech Is Human will be discussing some of our expanded activities such as in-person gatherings (NYC, SF, DC, London), mentorship program, job board, talent pool, Slack community, university ambassadors, summits, and more. We will be reading off questions and comments submitted through this sign-up form, along with comments posted during the livestream (select comments will be brought on screen).
All Tech Is Human has been growing the Responsible Tech ecosystem since 2018, creating an interconnected hub across civil society, government, industry, and academia. We are multi-stakeholder, multidisciplinary, and weaves together multiple perspectives in order to tackle thorny tech & society issues and understand a wide range of resources, community values, and trade-offs so we can co-create a tech future aligned with the public interest. We have a unique "grassroots-power" approach that actively distributes power and ideas across multiple levers of change while moving at the speed of tech.
We have a wide variety of activities that are aimed at both understanding and influencing the larger ecosystem. Our activities include a global community Slack group of over 4k members, open working groups that release reports (4 released in 2022), in-person summits & mixers (12 in-person gatherings in 2022), our Responsible Tech Guide, Responsible Tech Job Board, curated list of Responsible Tech Orgs (over 500), mentorship program, university ambassadors, livestreams & online mixers, and more. Our activities fall into three categories: multi-stakeholder convening & community-building, multidisciplinary education, and diversifying the traditional tech pipeline with more backgrounds, disciplines, and lived experiences. You can see all of our projects here.
UPCOMING:
Tech Stewardship Practice Program, All Tech Is Human cohort (Jan 2023 start, 12-week free online program with virtual check-ins).
Mentorship program (join waiting list)
Release of our Tech & Democracy report on Feb 28
Tech & Democracy: A Better Tech Future Summit (March 1, NYC, more info TBA)
All Tech Is Human gathering in London in early April (interest form)
Open Slack group from the Responsible Tech community (sign up)
+ check our our expanded Responsible Tech Job Board, 500+ Responsible Tech Org List, and 400+ previous interviewees in our projects. Freely download our latest report (Co-Creating a Better Tech Future) + our flagship resource (Responsible Tech Guide) and join our Responsible Tech Talent Pool.