Description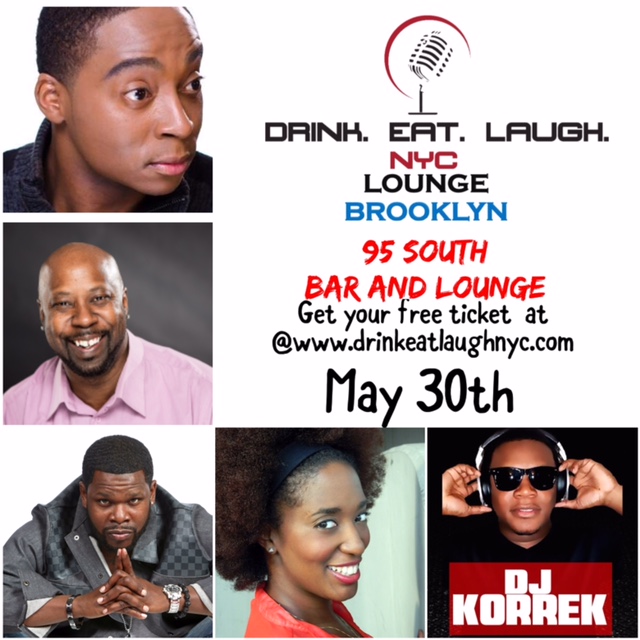 Join us Tuesday MAY. 30th, 2017
Dre & J Entertainment
present
DRINK. EAT. LAUGH. NYC @drinkeatlaughnyc
THE ULTIMATE COMEDY EXPERIENCE
network*drink*food*hookah*music*dance*laughs
All-Star Comedy #AllstarComedy and After-Party #afterparty
BIRTHDAY CELEBRATION FOR THE CEO OF DRE & J ENTERTAINMENT
ANDRE "DRE" RILEY
@ the DRINK. EAT. LAUGH NYC LOUNGE @95southlounge
95 SOUTH
778 Franklin Avenue b/w Lincoln PL and St.Johns PL
Brooklyn, NY 11238
Doors Open 5pm-UNTIL
$10 TOP SHELF DRINKS FOOD Specials,
$6 Wines/Moscato , and $20 Bucket of Beers
from 5pm-8pm
DRINK. EAT. LAUGH NYC PACKAGES
50 % NON-REFUNDABLE DEPOSIT REQUIRED FOR ALL PACKAGES
guarantees a Table spaces are limited
PACAKAGES ARE ALL NIGHT BUT STRONGLY ADVISED TO GET A DEPOSIT IN
DRINK. EAT. LAUGH NYC PACKAGES
INCLUDES
95 SOUTH FULL SAMPLER FOOD PLATTER
1 HOOKAH
PACKAGE A: PITCHER OF SANGRIA_$100
PACKAGE B: BOTTLE OF MOSCATO_$120
PACKAGE C: 1 BOTTLE OF CIROC OR HENESSEY_$200
Show Starts @ 8pm

Featuring
KENNY WILLIAMS
HASSAN OLIVER
CHLOE HILLIARD
hosted by Jamie Roberts
@comedianjamie
Music by DJ KORREK
Admission: Get Your FREE Ticket HERE.....
YOUR PRINT OUT IS YOUR TICKET or you can Show your Ticket from Your SMARTPHONE
CLICK LINK IN BIO or go to www.DRINKEATLAUGHNYC.com
Dre: 646.281.0819 @andreriley2016
J: 917.951.6849 @ j_the_lifestylepromoter @gei_dare2bgr8
Sponsored by Great Entertainment Inc. #GEI and Hip Hop Film Festival #HHFF2017
@gei_events #geievents @hiphopfilmfestnyc #HHFF2017 @1151clothing #1151clothing and @kopngo #kopngo
#drinkeatlaughnyc #drenjnightlifenyc
#nycomedy #comedynyc
Directions
2,3, and 4 trains to Franklin Avenue