Location
Savanna Rooftop
11-01 43rd Ave
12th Floor
Long Island City, Queens, NY 11101
EXPERIENCE SAVANNA ROOFTOP WITH PANORAMIC NYC SKYLINE VIEWS INSIDE OF OUR VIP "SKY SUITES" + OUTDOOR SEATING, MUSIC, COCKTAILS & BITES!
About this event
*SCROLL DOWN TO SEE MENU'S & BIRTHDAY PACKAGES!
*SATURDAYS: 12:00PM-11PM*
Questions? SEND A TEXT MESSAGE TO: 917.862.1181
GUESTS WILL BE SEATED INSIDE OF PRIVATE ENCLOSED "SKY SUITES" OR OPT FOR OUTDOOR SEATING!
YOU CAN RESERVE YOUR SKY SUITE FOR GUARANTEED VIP SEATING UPON ARRIVAL OR JUST WALK IN TO SEE IF ONE IS AVAILABLE, FREE OF CHARGE.
MUSIC EVERY WEEK PLAYING A MIX OF YOUR FAVORITES!
BRUNCH MENU AVAILABLE 12-4PM - FULL MENU AVAILABLE ALL DAY LONG
-JUMBO CARAFES + GROUP & BIRTHDAY PACKAGES AVAILABLE!
GUESTS MUST BE 21+ OR ACCOMPANIED BY AN ADULT 21+ TO ENTER, KIDS WELCOME.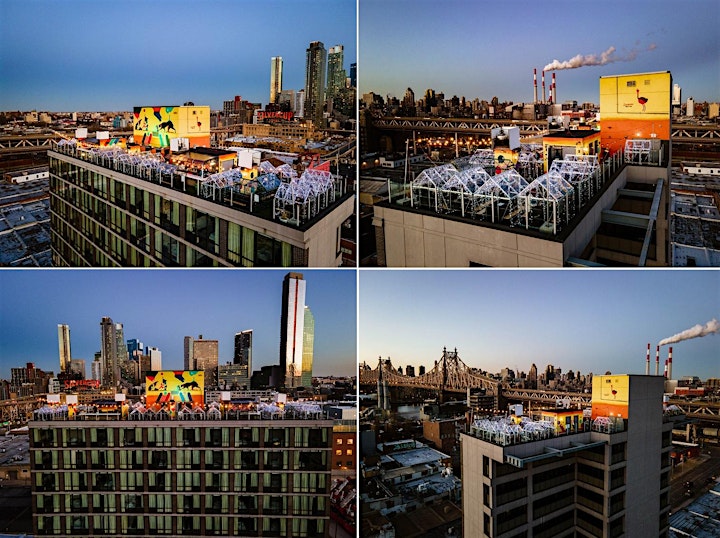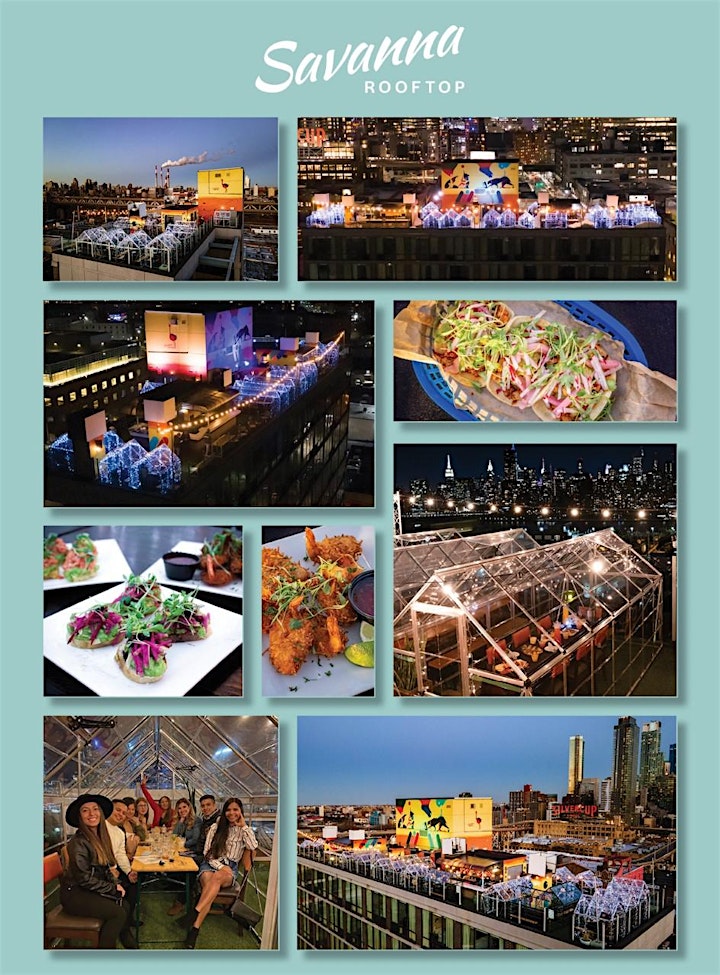 HOW IT WORKS:
PICK A DATE
PICK AN AVAILABLE TIME & RESERVE A SKY SUITE (PRICE INCLUDES RENTAL ONLY)
THEN SHOW UP & ORDER ALA CARTE, OR PICK A PACKAGE UPON ARRIVAL. WE HAVE A CHEFS TASTING PACKAGE, JUMBO COCKTAIL CARAFES & (MOST POPULAR) BIRTHDAY / GROUP PACKAGE! (SCROLL DOWN TO SEE THE MENUS).
Questions? SEND A TEXT MESSAGE ONLY: 917.862.1181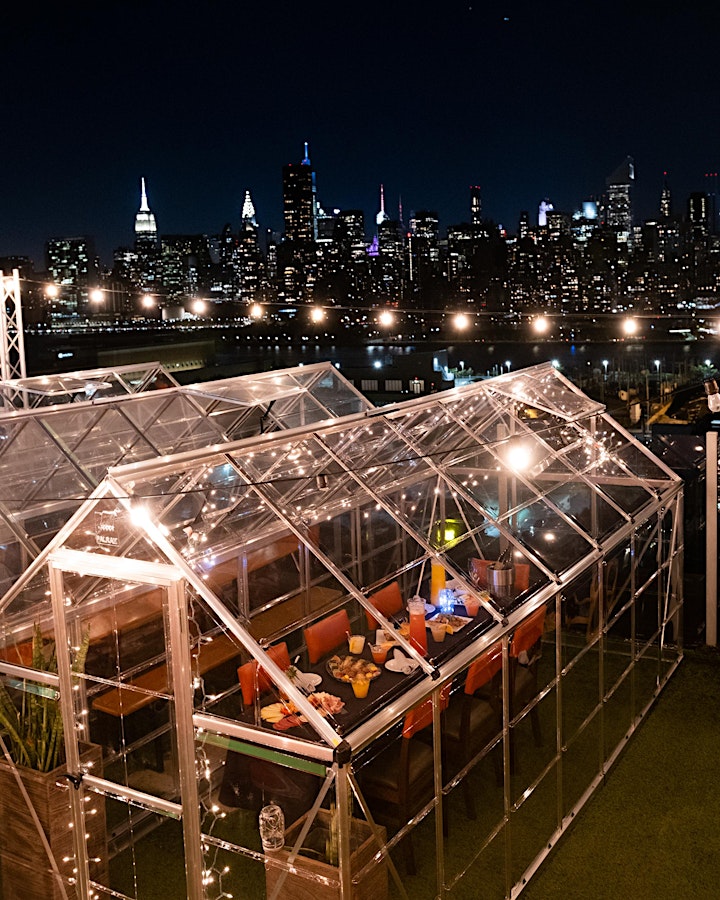 -BIRTHDAY & GROUP PACKAGE INCLUDES:
(MINIMUM OF 2 GUESTS) - CAN BE ENJOYED BY ALL GROUP SIZES FOR ANY OCCASION.
CHEFS TASTING MENU FOR ALL TO SHARE FAMILY STYLE
JUMBO COCKTAIL CARAFES FOR EVERYONE TO SAMPLE & SHARE!
COMPLIMENTARY BOTTLE OF BUBBLY TO CELEBRATE YOUR SPECIAL OCCASION OR NIGHT OUT!
PRICE: $75/Per Person & CAN BE REQUESTED UPON ARRIVAL AT THE VENUE, NO NEED TO PREBOOK!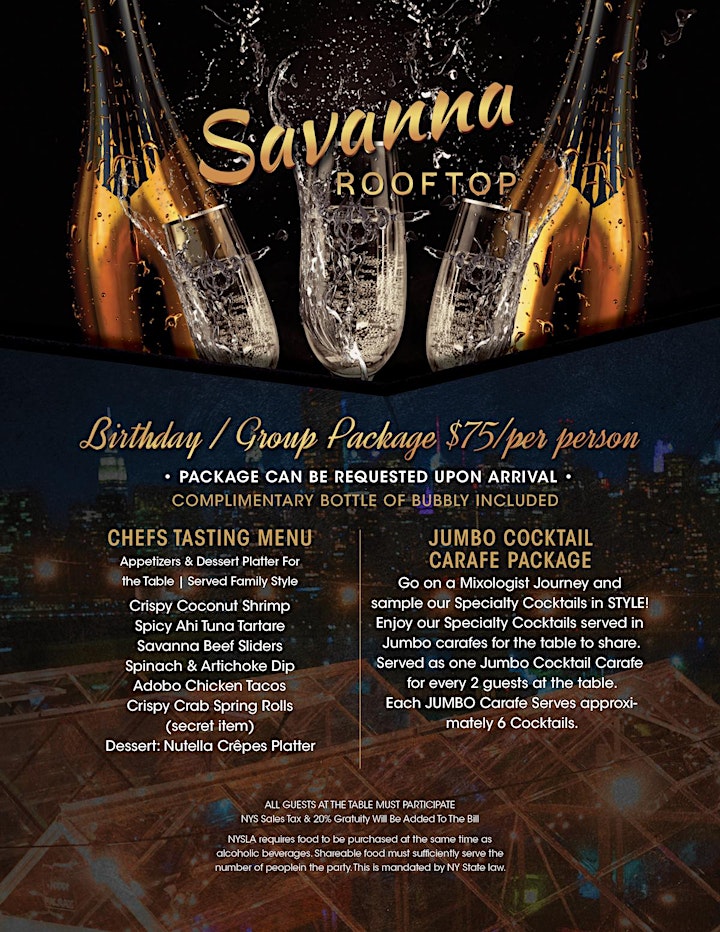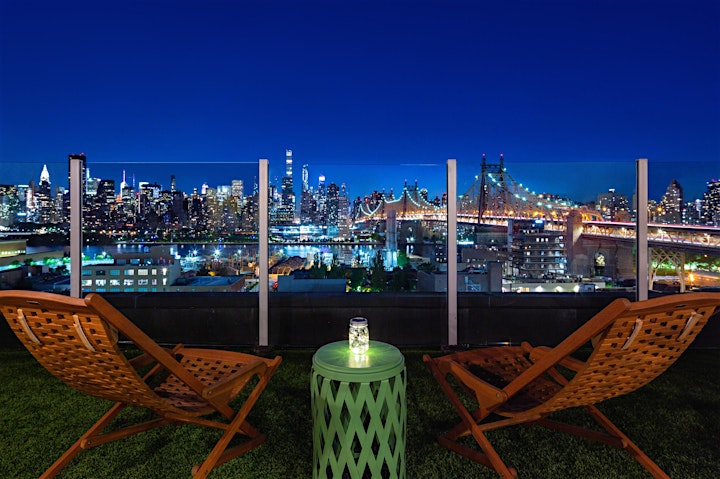 -BRING YOUR APPETITE & ENJOY OUR DELICIOUS BRUNCH MENU WHILE SOAKING IN THE VIEWS OF THE EAST RIVER, QUEENSBOROUGH BRIDGE & THE NYC SKYLINE. 
-TRY ONE OF OUR HAND CRAFTED COCKTAILS, BOTTLE SERVICE or JUMBO CARAFES!