Description
HUMBLE PIE ENTERTAINMENT in association with STER-KINEKOR ENTERTAINMENT cordially invites you to a PRIVATE SCREENING EVENT for the movie ALL SAINTS

ADMIT 2 PERSONS (No children under the age of 13 allowed)
Strictly Only Leaders or Representatives from organisations and churches allowed.
Two tickets per organisation /church allowed.

NON TRANSFERABLE – LIMITED SEATS AVAILABLE.
Right of Admission Reserved Humble Pie Entertainment.
Time: 19:45 for 20:00
ADMISSION: FREE
DRESS: CASUAL

- CITY – VENUE – DATE -
Cape Town - Ster-Kinekor Tygervalley Centre Cine 2 – 2 November 2017

Watch the trailer:

https://youtu.be/IaMfIvCTY-o
http://www.imdb.com/title/tt4663548/?ref_=nv_sr_2
https://www.youtube.com/watch?v=iXv6h8avzFM
---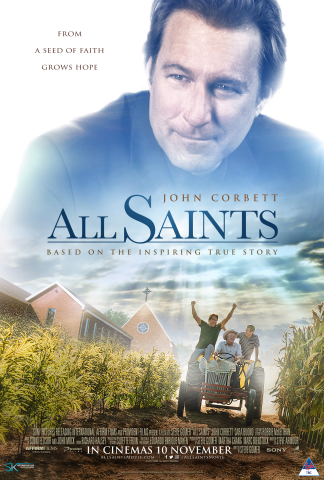 'ALL SAINTS' - IN CINEMAS 10 NOVEMBER 2017
From a seed of faith grows hope
ALL SAINTS is based on the inspiring true story of salesman-turned-pastor Michael Spurlock (John Corbett), the tiny church he was ordered to shut down, and a group of refugees from Southeast Asia. Together, they risked everything to plant seeds for a future that might just save them all.
After trading in his corporate sales career to become a pastor, Michael's first assignment is All Saints, a quaint country church with a dozen members. It comes with a catch: he has to close the church doors for good and sell the prime piece of land on which it sits. While developers eagerly eye the property and the congregation mourns the inevitable, Michael and his family look forward to moving on to an established church where they can put down roots.
But when the church hesitantly begins welcoming Karen (kuh-REN) refugees from Burma— former farmers striving for a fresh start in America—Michael feels called to an improbable new mission. Toiling alongside the Karen people, the congregation attempts to turn their fertile land into a working farm to pay the church's bills and feed its newest people.
Jeopardizing his family's future by ignoring his superiors, Michael must choose between completing what he was assigned to do—close the church and sell the property—or listening to a still, small voice challenging the people of All Saints to risk it all and provide much-needed hope to their new community.
Cast: John Corbett, Cara Buono, Barry Corbin and David Keith
Directed by: Steve Gomer
Writen by: Steve Armour
Produced by: Marc Bienstock
Running Time: 108 min
Age Restriction: PG
Genre: Drama
---