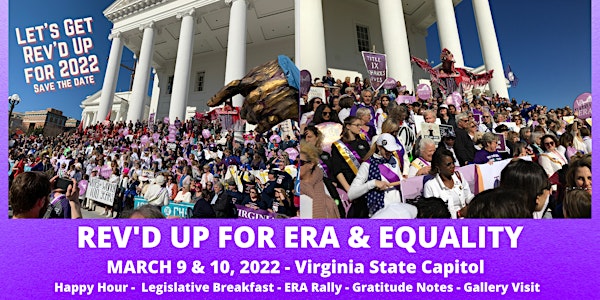 All Rev'd Up For Equality
The fight for equality is not over! Let's gather in Richmond to socialize, legislate, advocate & give thanks to our equality supporters.
When and where
Location
Bell Tower 101 North 9th Street Richmond, VA 23219
About this event
Rev'd Up 4 Equality - Join us for the EVENING SOCIAL OR the MORNING ERA Rally & Gallery OR BOTH!
You can attend any part of the program - we made a menu of events for varying schedules! Many of our ERA warriors live hours away - so a 2 event allows for social time and a morning of action - then drive home!
Wednesday, March 9, 2022: Let's Get Social for the ERA - 5pm to 8pm - Sine' Irish Pub - 1327 E Cary St, Richmond, VA 23219
Thursday, March 10, 2022: Breakfast, Rally, Gratitude & Gallery
8:00 AM - 9:15 AM - Legislative Breakfast Buffet - Truist Building (formerly Sun Trust) Cafeteria. We will organize the Gratitude Notes and get ready to rally!
Speakers: Senator Barbara Favola - Delegate Elizabeth Guzman
9:30 AM - 10:30 AM - Rev'd Up for Equality Rally - Bell Tower (Senators and Delegates invited) Speakers to date.
Elected:
Senator Jennifer McClellan: Chief Parton ERA
Senator Ghazala Hashmi: ERA/Equality Champion
Senator Jennifer Boysko: ERA/Equality Champion
Senator Scott Surovell: ERA Champion
Delegate Dan Helmer: ERA Champion
Delegate Danica Roem: Equality/ERA Champion
Advocates - Activists - Champions:
Michelle Kallen: Former Virginia Solicitor General- ERA Advocate
Honorable Jennifer Carroll Foy: Chief Patron ERA
Eileen Davis: Co-founder of Women Matter - VA Ratify ERA
Andrea Miller: Vote Equality
Honorable Hala Ayala: Chief co-Patron ERA
Councilwoman Andria McClellan: Norfolk City Council
Lisa A Sales: ERA Advisory Council
10:30 AM - 1 PM - Gratitude Groups Deliver Notes of Thanks - Equality advocates deliver yellow roses, U.S. Constitution with 28th Amendment, with notes of thanks to elected.
11:00 AM or 12 PM - Gallery in the General Assembly - Equality Advocates gather in the House and/or Senate gallery to witness lawmaking and show our power. We will be recognized from the floor.
1:00 PM - Late Lunch at the Mantu in Carytown, 10 S. Thompson St. Richmond, VA (804) 716-6760 - Optional: Join us at the Mantu restaurant is a fantastic spot to eat lunch before we depart. Chef Noori advocates for Afghan refugees & support women's equality.
ERA activists will be staying at the Commonwealth Hotel on March 9th.