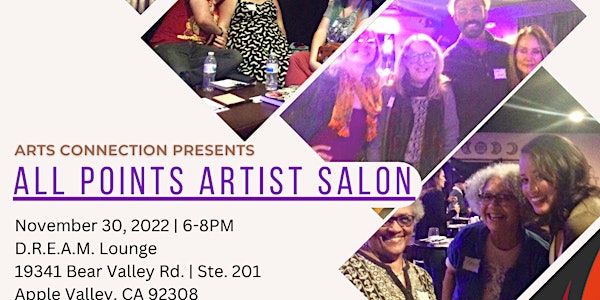 All Points Artist Salon -Where High Desert Creatives Converge
A free, inclusive salon where visual, literary, and performing artists in the High Desert converge for community, expression, and dialogue.
When and where
Location
D.R.E.A.M. Lounge @The Wine Seller 19341 Bear Valley Rd. Ste. 201 Apple Valley, CA 92308
About this event
Calling all visual, literary, and performing artists who live, work, or create in the High Desert! Come for a relaxed evening of expression and dialogue with fellow creatives. Join in the effort to elevate arts and culture in our region.
Seating is limited. Please reserve your spot today.
Arts Connection is dedicated to stimulating creative and economic vitality and enriching lives of artists and arts organizations throughout the communities where you live, work, and create by providing support, promotion, education, and advocacy for the arts.
Interested in sharing your artistic expression with your fellow creatives for feedback, gentle critique, or just for a bit of fun? Submit your request with your medium or discipline to: tfaye@artsconnectionnetwork.org . Due to time constraints we cannot guarantee a spot at this particular gathering. But every effort will be made to grant your request.
#Adelanto #Apple Valley #Barstow #Hesperia #Lucerne #OakHills #Phelan #Victorville