Description
We are pleased to bring you All Out Strongfest, a weight-class free, gender-class free, strongman competition for all!


OUR MISSION
Strongman is one of the most welcoming and inclusive sports around, but we recognize that there are always barriers to participation. The mission of All Out Strongfest is to eliminate some of those barriers and provide a fun, inclusive, judgement-free opportunity to participate in the sport.
Proceeds from the event will support The Attic Youth Center, Philadelphia's only independent LGBTQ youth center. You can learn more about The Attic here: www.atticyouthcenter.org


COMPETITION LOGISTICS
In order to create the most inclusive experience possible, All Out Strongfest eliminates weight and gender classes in registration. That means we will not ask you to weigh in or to specify a gender identity to compete. That said, we acknowledge that there is a broad range of strength and experience, so we are offering 5 Groups to choose from to compete. Competitors will self-select into a Group based on the guidelines below. We trust that you will choose the Group that best matches your current abilities, and we are happy to help if you need some guidance.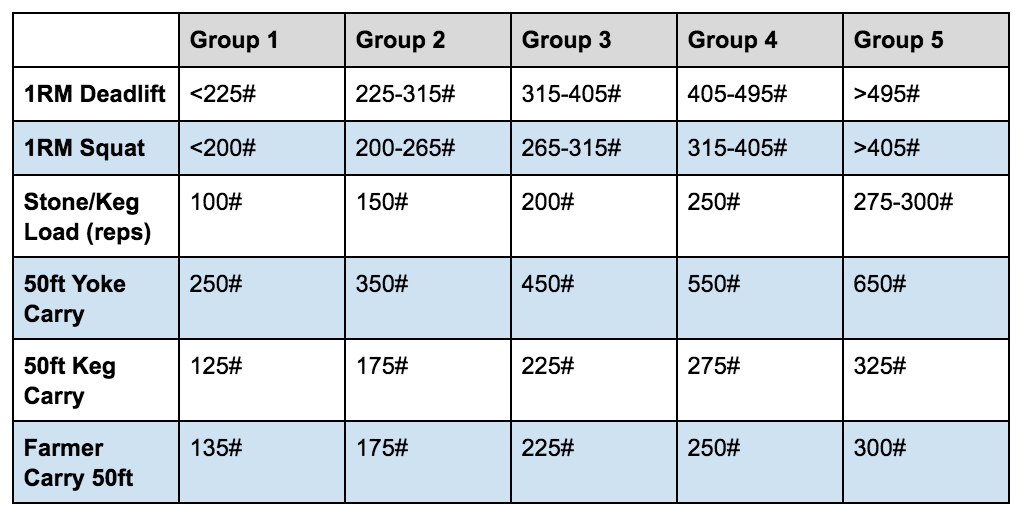 Again, if you need help deciding which Group is best for you, just shoot us an email and we'll be happy to help!
COMPETITION EVENTS
This year's All Out Strongfest features 3 iconic strongman events that are guaranteed to make you feel like a total bada$$... and make for some really great social media pix :) A complete listing of rules and event descriptions will be posted at a later date. The events are...
1) Wagon Wheel Axle Deadlift: for reps in 60 seconds, 13" pick height, straps allowed, no suits/briefs
2) Keg Carry & Load: 3 kegs of increasing weights set at varying distances from a bar, carry and load over bar for time
3) Harness Truck Pull: yup, we're pulling a truck - you can do it!
Contest weights will be...

REGISTRATION DETAILS
- Your registration fee covers your entry and a t-shirt, and helps us pay for incidentals related to running the competition. Proceeds from the event will be donated to The Attic Youth Center in Philadelphia, an independent resrouce for LGBTQ youth. We are also offering a limited number of scholarship-based entries on an as-needed basis. Email us directly for details (katie@thepowerplantgym.com).
- Registration fee: $45
- The event is capped at 75 competitors with no waitlist.
- This event is *not* affiliated with a sanctioning federation, so competitors do *not* need a membership to any federation to participate.
OTHER FUN STUFF
- Spectators are FREE. There will be an opportunity at the entry to donate to The Attic Youth Center.
- There will be vendors and food trucks - stay tuned!


We are in uncharted territory here, and if you've come this far THANK YOU! Creating something new is not easy and often uncomfortable. But here we are... being new and uncomfortable together!
QUESTIONS?
Email Katie at katie@thepowerplantgym.com with "Strongfest" in the subject line.
FAQs
Are there ID or minimum age requirements to compete or spectate?
Anyone under the age of 18 must have a parent or guardian signature to compete. All ages are welcome to spectate.
Is there a charge for spectators?
No. But there will be an opportunity to make a donation to a local non-profit if you choose.
What are my transportation/parking options for getting to and from the event?
There is a large parking lot available at Power Plant Gym.
What can I bring into the event?
Food and non-alcoholic beverages are welcome. We recommed spectators bring chairs as none will be provided.
How can I contact the organizer with any questions?
Email us at info@thepowerplantgym.com with "Strongfest" in the subject line.
What's the refund policy?
Refunds are available until 30 days out from competition. After that you may transfer your registration to SOMEONE IN THE SAME GROUP ONLY and with written permission from the event organizer.
Do I have to bring my printed ticket to the event?
Nope.
Can I update my registration information?
Yes. Email info@thepowerplantgym.com with "Strongfest" in the subject line.