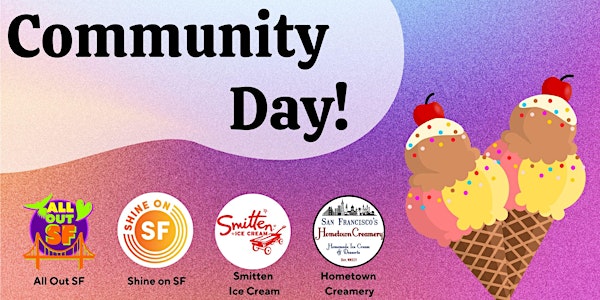 All Out SF Day 7: Citywide Ice Cream Socials
For the final day of #AllOutSF partnering ice cream shops will have pre-made ice cream social kits for you to enjoy with your neighbors!
Refund Policy
Contact the organizer to request a refund.
About this event
SF Ice Cream Sundays invites you to become a part of the community spirit that makes San Francisco special - sign up to host an ice cream social with 10-12 of your neighbors!
As part of All Out SF, we're issuing a city wide call for hosts to help create 49 pop-up ice cream socials in neighborhoods across San Francisco. Anyone who wants to meet and connect with their neighbors is invited to participate. You don't need any special skills or know how - we'll provide you with invites, instructions, and a handy kit containing everything you need to make your ice cream social a success, including ice cream from much-loved local shops​ Smitten Ice Cream and SF Hometown Creamery!
To host, just think of a suitable location near your home, work or business - be it a front stoop, driveway, or small yard - and register here to gain access to an SF Ice Cream Social kit and invite graphics. We hope you'll get sign up to host and get involved in the All Out SF week-long campaign to celebrate San Francisco and get people involved in making it even better. ​All proceeds from the sale of ice cream kits will go to our non-profit partner Refuse Refuse to fund cleaning supplies for local schools.
There will be 49 ice cream kits available. Each kit will include: a stack of 20 invite slips to pass out, 3 pints of ice cream, a scooper, tablecloth, conversation prompts, buttons,​ nametags and sharpies, compostable spoons and cups, and sprinkles, all packaged in a freezer bag. After you register, you'll get a confirmation email from Eventbrite. Show this email to any participating store to redeem your ice cream kit Oct 15-23.
Got questions? Reach out to Angelina at Angelina@welcometomannys.com
About All Out SF:
Amidst all the doom and gloom we can sometimes forget what an incredible place San Francisco is, why we moved here, or what was special about growing up here.
This place, our place, remains one of the gems of our country on the best coast and it's time we celebrate it some more, celebrate all of its awesomeness, together. That's why a group of individuals and organizations have spent the last six months planning All Out SF - a week long festival to celebrate our city and get involved in making it even better. Each day is themed along a different aspect of what makes San Francisco great. For more information visit: alloutsf.com