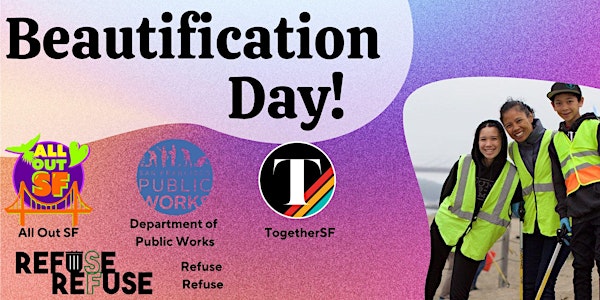 All Out SF Day 6: Clean all of San Francisco Together!
Join one of 12 neighborhood trash pick ups being organized around San Francisco and help pick up all of the trash in the City in one day!
About this event
Have you been wanting to get involved in making SF better?
Looking for a fun and social way to keep your neighborhood clean?
Feel like you want to do more but not sure how?
Join us for the final stretch of #AllOutSF as we spend day 6 cleaning up the city!
We will be spending the day cleaning up trash across San Francisco streets and even doing some painting and chalk art. To make it even better, we have partnered with local bars across San Francisco to provide the first round of drinks on us for all your amazing work! Don't forget to take pictures and tag #AllOutSF!
Register for the specific trash pick up of your choice in the tickets section. Here are the locations:
North Beach: ****Please note this one is on Friday***
Where: Filbert &Stockton
Time: 4-5:30P
Lower Polk:
Where: California Jack's (1548 California St.)
When: 5-6:30P
Mission (Dolores to Van Ness):
Where: Manny's (3092 16th St)
When: 4-5P
Great Highway & Balboa:
Where: Ocean Beach Cafe (734 La Playa St)
When: 5-6:30P
West Portal:
Where: 80 W Portal Ave
When: 10A-12P
Inner Sunset:
Where: 840 Irving St, San Francisco, CA 94122 (10th Ave and Irving)
When: 10A-12P
Mission (Mission St.):
Where: Teeth (2323 Mission St)
When: 5-6:30P
Richmond:
Where: Clement and Funston
When: 10A-12P
Bayview:
Where: 3rd St and Caroll St
When: 10A-12:30P
Potrero Hill :
Where: 610 San Bruno Ave (Benches Garden)
When: 10-11:30A
Eureka Valley:
Where: 3978 22nd St
When: 9A-12P
Dogpatch:
Where: 19th St and Minnesota
When: 12-1:30P
Got questions? Please reach out to Angelina at Angelina@welcometomannys.com
About All Out SF:
Amidst all the doom and gloom we can sometimes forget what an incredible place San Francisco is, why we moved here, or what was special about growing up here.
This place, our place, remains one of the gems of our country on the best coast and it's time we celebrate it some more, celebrate all of its awesomeness, together. That's why a group of individuals and organizations have spent the last six months planning All Out SF - a week long festival to celebrate our city and get involved in making it even better. Each day is themed along a different aspect of what makes San Francisco great. For more information visit: alloutsf.com