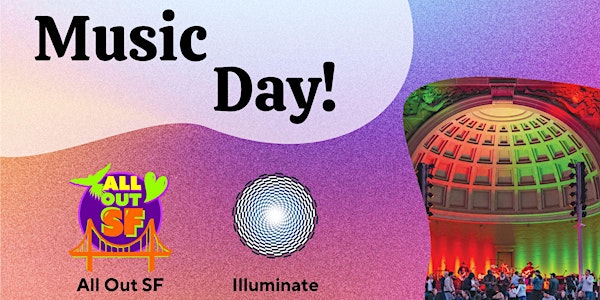 All Out SF Day 5: Free Concert at the Bandshell!
It's day 5 of #AllOutSF and to celebrate the music in SF please join us for buskers on JFK Dr then to the GGP bandshell for a free concert
When and where
Location
Music Concourse 75 Hagiwara Tea Garden Dr San Francisco, CA 94118
About this event
Ready to start the weekend festivities?
Looking to discover some new music?
Do you love Golden Gate Park and the new JFK Promenade?
Join us for day 6 of #AllOutSF as we celebrate the wonderful music of San Francisco. There will be a special (and free!) concert happening at the bandshell located in Golden Gate Park.
12-4 PM: Buskers will be performing on JFK Promenade
4-7 PM Free concerts in the bandshell
(See full schedule below)
This is an opportunity to close the computer, spend some time outside, and discover a new band! San Francisco is known for its music scene, so its only right we start the weekend with it.
You are encouraged to explore all the live music happening that day in the city and don't forget to tage #AllOutSF!
Got questions? Please reach out to Angelina at angelina@welcometomannys.com
Special Event:
Illuminate and Big Leap Collective Presents: FriGay Fight Night
When: Friday, October 21, 4P-6P
Where: 75 Hagiwara Tea Garden Dr, San Francisco, CA 94118
4:00 to 4:25 PM--Louie Elser
4:30 to 5:00 PM--Gorgeous Dykes
5:15 to 5:45 PM--Pleeay
6:00 to 6:45 PM--Telepathic Children
When: Friday, October 21, 12P-4:30P
Where: 100 John F Kennedy Dr, San Francisco, CA 94118
12:00 to 12:45 PM Band #1 Ulises
1:00 to 1:45 PM Band #2 TOKEVA
2:00 to 2:45 PM Band #3 Roo Harrigan
3:00 to 3:45 PM Band #4 Kevin North
Golden Stage (by Nancy Pelosi Drive)
12:30 to 1:15 PM Band #1 Blair Nishio
1:30 to 2:15 PM Band #2 Austin Dean Ashford
2:30 to 3:15 PM Band #3 CarnyMusic
3:30 to 4:15 PM Band #4 Steven Pitsenbarger
About All Out SF:
Amidst all the doom and gloom we can sometimes forget what an incredible place San Francisco is, why we moved here, or what was special about growing up here.
This place, our place, remains one of the gems of our country on the best coast and it's time we celebrate it some more, celebrate all of its awesomeness, together. That's why a group of individuals and organizations have spent the last six months planning All Out SF - a week long festival to celebrate our city and get involved in making it even better. Each day is themed along a different aspect of what makes San Francisco great. For more information visit: alloutsf.com