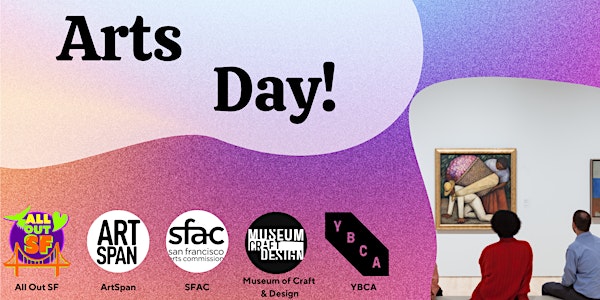 All Out SF Day 4: Arts Night Out!
On Day 4 of #AllOutSF we're sending out an map of the art galleries in your neighborhood to visit then we'll be going to night art events!
About this event
Craving some inspiration?
Want to explore some new exhibitions?
Well we have the perfect thing for you! For day 5 of All Out SF, we have partnered with the amazing arts & culture organizations across the city to provide you a list of all the new exhibitions and performances happening across the City.
Below are some of the highlighted events happening this evening that we'll be attending. Before the events we're encourage everyone to go out to their local galleries and celebrate San Francisco's amazing art scene! Anyone who signs up will get a special map of the galleries so they can visit and look at and buy some art.
Remember, don't forget to tag #AllOutSF :)
Got questions? Reach out to Angelina at angelina@welcometomannys.com
Special Events:
ArtSpan Art Launch: SFOS Exhibition Opening Celebration,
Where: SOMArts Cultural Center
When: October 20, 6-9P
Where: 151 3rd St, San Francisco, CA 94103
When: 1-8P
Museum of Craft & Design: MAKE: Halloween
Where: 2569 3rd Street, San Francisco
When: 5:30-9P
YBCA: Brett Cook & Liz Lerman: Reflection & Action
Alex Strada and Tali Keren: Proposal for a 28th Amendment? Is it Possible to Amend an Unequal System?
Where: 701 Mission St, San Francisco 94103
When: 12-8P
Where: 1981 Sutter Street SF, 94115
When: 1-8P
Map of participating galleries
About All Out SF:
Amidst all the doom and gloom we can sometimes forget what an incredible place San Francisco is, why we moved here, or what was special about growing up here.
This place, our place, remains one of the gems of our country on the best coast and it's time we celebrate it some more, celebrate all of its awesomeness, together. That's why a group of individuals and organizations have spent the last six months planning All Out SF - a week long festival to celebrate our city and get involved in making it even better. Each day is themed along a different aspect of what makes San Francisco great. For more information visit: alloutsf.com
San Francisco Arts Commission Survey:
The San Francisco Arts Commission is collecting community input about San Francisco monuments and statues across the city and they would love to hear from you!
Take the Monuments and Memorials survey, available now through October 31. Send your comments via email to monumentsandmemorials@sfgov.org
Leave a voicemail by calling 415-252-2214
Join a virtual public feedback session via Zoom on: SAT October 15, 10am-12pm or WED October 19, 5:30pm-7:30pm.