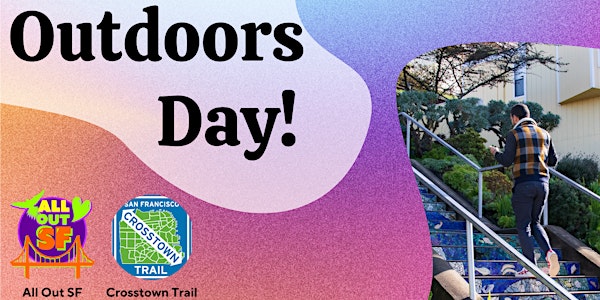 All Out SF Day 1: Walk the SF Crosstown Trail + Lands End Picnic!
It's day 1 of #AllOutSF and we are going outdoors! Join us for a walk across San Francisco on the crosstown trail with new and old friends!
When and where
Location
Cross Town Trail 500 Hunters Point Expy San Francisco, 94124
About this event
Been wanting to explore San Francisco?
Looking to meet new people?
Interested in a deluxe beautiful picnic at Lands End with possibly the best cheese plate of all time?
For day 2 of All Out SF, we will be walking the newly christened SF crosstown trail! We will have special snacks, refreshing drinks, and some fun surprises along the route for everyone.
There are five sections of the trail.
You can either walk any section on your own time (and take a photo of yourself and tag @all.out.of / @alloutsf ) or join us at the appointed time and place below to walk it as a group.
We will end the day at Lands End at 6pm for a sunset picnic. The total trail length is 17 miles, but don't worry you won't have to walk the whole trail. The trail is split into the following sections:
Section 1 @ 7am: Sunrise Point/Candlestick Point State Recreation Area to Glen Park BART. 5.3 Miles
Section 2 @ 10:30am: Glen Park BART Station to Forest Hill MUNI Metro Station. 3.1 Miles
Section 3 @ 12:30pm: Forest Hill MUNI Metro Station to Intersection of Judah and 16th Avenue. 2.1 Miles
Section 4 @ 2pm: Judah and 16th Avenue to Geary and Presidio Parkway. 2.3 Miles
SPECIAL GUEST LEADERS: Nick Bastone & Megan Rose Dickey from Axios San Francisco
Section 5 @ 3:30pm: Geary and Park Presidio to Lands End Lookout Visitor Center. 3.9 Miles
SPECIAL GUEST LEADERS: Heather Knight & Peter Hartlaub from San Francisco Chronicle
Got questions? Email Angelina at angelina@welcometomannys.com
About All Out SF:
All Out SF is a dedicated week to celebrate San Francisco and get involved to make it better. Citywide events will span the week ranging from beautification projects, civic conversations & advocacy, arts, culture, and community. It's time we pour some love back into San Francisco.
All Out SF is a truly group endeavor with partner organizations across the city that are bonding together to make this week possible. Check out Alloutsf.com for more information on the magical week of events. For more information visit: alloutsf.com