a safe space for passionate Christian women to talk about sex & purpose
About this event
God Wants All Of You, But Are You Holding Back Your Sexuality?
If you're like me you know it's hard to admit this, but sometimes it feels like God's design for sexuality will stop you from getting what you want in life–that relationship you've always wanted, that pleasure that helps you forget your stress, or that reassurance that you're worthy and loved.
In the moment, yielding to lust may FEEL like a "Yes" to all those things…but have you stopped to consider how yielding to sexual enticement holds you back from:
Being comfortable in your God-given skin and identity?
Connecting with God from a place of peace and confidence?
Unveiling your beauty in a way that points others to Christ?
Breaking from the pain, shame, and guilt of your sexual past.
Finding your purpose?
God wants you to give Him all of You so that you can experience the FULFILLED life He created you to have in Christ.
A life filled with intimacy💗, beauty💄, passion😍, & purpose🙌.
Are you up for this?
I thought so. 😉
You're invited to All of You Con 2022!
A One-Day Conference for Christian Women Surrendering Their Souls & Sexuality to God.
Register today for this FREE, intimate event. Only 50 spots are available!
Wondering if this event is for you?
It's a Perfect for You If:
Your desires for sex make you feel rejected by God.
You've been trying to quit [insert your sexual struggle here], but you're stumbling.
You're trying to honor God with your sexuality, but being single is super hard.
You know that God's design for sexuality is good, but you're not convinced that surrendering your sexuality to Him will make you happy.
You need a practical framework for surrendering your soul & sexuality to God.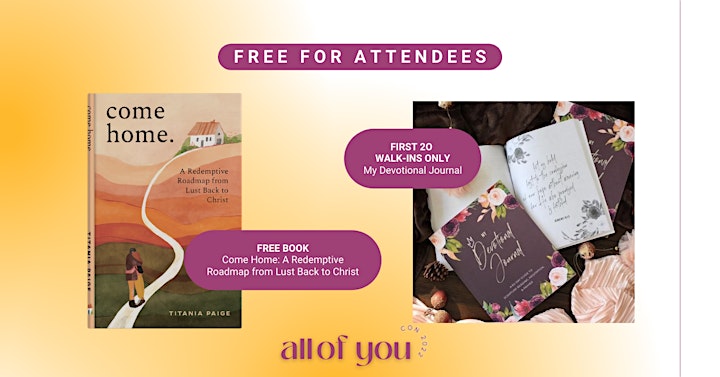 This is What You Can Expect When You Show Up
During Our Time Together You'll:
Hear TED-Talk Styled, Biblical Messages that help you understand how your sexual expression impacts your ability to connect with God, live out your purpose, unveil your beauty, and cultivate healthy relationships.
Confess your struggles and receive prayer with one of our trusted prayer warriors (voluntary).
Ask your questions (anonymously) and engage in real, grace-centered conversations about God's design for sexuality and how to practically live it out–virgin or not–during our panel discussions.
Create your custom strategy for overcoming sexual strongholds, using exclusive insights from author & YouTuber Titania Paige, host of the Purpose in Purity Podcast. Your FREE copy of Come Home: A Redemptive Roadmap from Lust Back to Christ will walk you through the process step-by-step.
Worship, Eat and fellowship with the speakers and attendees.
There are only 50 spots available for this FREE conference so register today.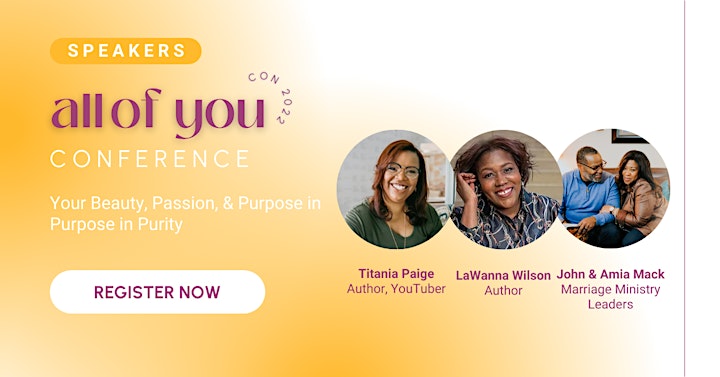 ABOUT THE HOST
TITANIA PAIGE is the founder of the Purpose in Purity Podcast. There, she hosts grace-filled conversations on surrendering our soul and sexuality to God. You can find her writing platforms such as Well-Watered Women, Proverb 31 Ministry's First 5 App, and YouVersion. When she's not doing ministry, she's chasing down her daughter, Gabrielle, and learning Japanese with her best friend and husband, Gerald. Connect with her on YouTube (https://2ojv.short.gy/pinpyt) or IG (@purposeinpuritypodcast).