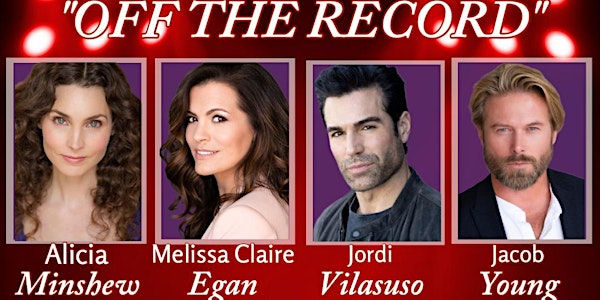 All My Children "Off The Record" Live on Zoom - Sunday, May 7
Coastal Entertainment presents LIVE on the Zoom stage: All My Children "Off The Record" Live on Zoom!
Date and time
Sunday, May 7 · 4 - 6pm PDT
Refund Policy
Contact the organizer to request a refund.
About this event
Join us LIVE ON ZOOM, Sunday, May 7 with Alicia Minshew, Melissa Claire Egan, Jordi Vilasuso and Jacob Young!
Our Coastal Entertainment virtual event will run for 75 minutes.
All My Children fan favorites - LIVE on zoom for a special event with Alicia, Melissa, Jordi and Jacob! Good friends off camera and ex-lovers on camera- they'll share some funny moments, backstage stories, and lots more as they reconnect in this very personal zoom event!
General Admission tickets are $25 plus tax and are limited to 50 people who will be off screen but able to ask questions via the chat feature. 75 minute event
Zoomie tickets- $40 plus tax and limited to just 15 tickets available- you will appear on screen with the actors on zoom. 75 minute event
Super Zoom tickets - $99 plus tax and limited to just 30 tickets- appear on screen for 75 minutes with the actors, PLUS participate in an additional 30 minute post zoom event with lots of interaction AND a VIDEO from the actors to you (limited to two minutes long and not personalized, sent to you via email within 7 days of the event)
Super zoom event will begin at 8:30 p.m. EST
Tickets are non refundable. No video taping of the events, and must have a working knowledge of zoom. We are not responsible for any technical difficulty joining the zoom event- please arrive on zoom 20 minutes prior to the event for check in.