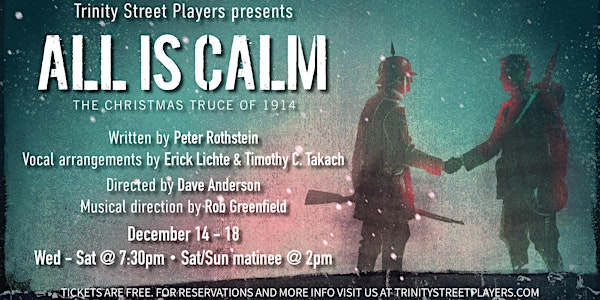 All Is Calm, produced by Trinity Street Players
All is Calm: The Christmas Truce of 1914 by Peter Rothstein
When and where
Location
Trinity Street Playhouse 901 Trinity St Austin, TX 78701
About this event
All is Calm: The Christmas Truce of 1914 by Peter Rothstein
All is Calm relives a poignant moment in history when Allied and German forces laid down their arms to celebrate the Christmas holiday together in WW1. The dramatic, historical production presents traditional patriotic and holiday songs of 1914 from both sides of the Western front and is interspersed with text read from letters, journals, and interviews from the soldiers who lived it. This production is not glorifying war…it shows the power of peace!
This production is appropriate for ages 13+.
All performances are free, but reservations are strongly encouraged due to limited seating. If any date appears to be sold out, please email reservations.tsp@gmail.com and ask to be put on the "Hold Over Show" list. If over 50 people are interested, this extra show will be on Tues, Dec. 20th.
Performances are in the Trinity Street Playhouse on the 4th floor of First Baptist Church of Austin, 901 Trinity Street, Austin TX
SPECIAL EVENTS:
ASL interpreted performance on Thur. Dec. 15th at 7:30pm.
Free childcare for newborns up to age twelve on Sat.Dec. 17th at the 2pm matinee. Email us at fbcaustinchildcare@gmail.com to reserve a spot for your child(ren).
Talkback following the Sat. 7:30pm evening performance on Dec. 17 with cast and Special guest: "Women at War," with Dr. Barba Mann Wall, Professor Emerita at University of Virginia, Historian of Nursing
Talkback following the Sun. 2pm matinee on Dec. 18: "Women at War," with Special guest Dr. Barba Mann Wall, Professor Emerita at University of Virginia, Historian of Nursing
More info available at www.trinitystreetplayers.com