Description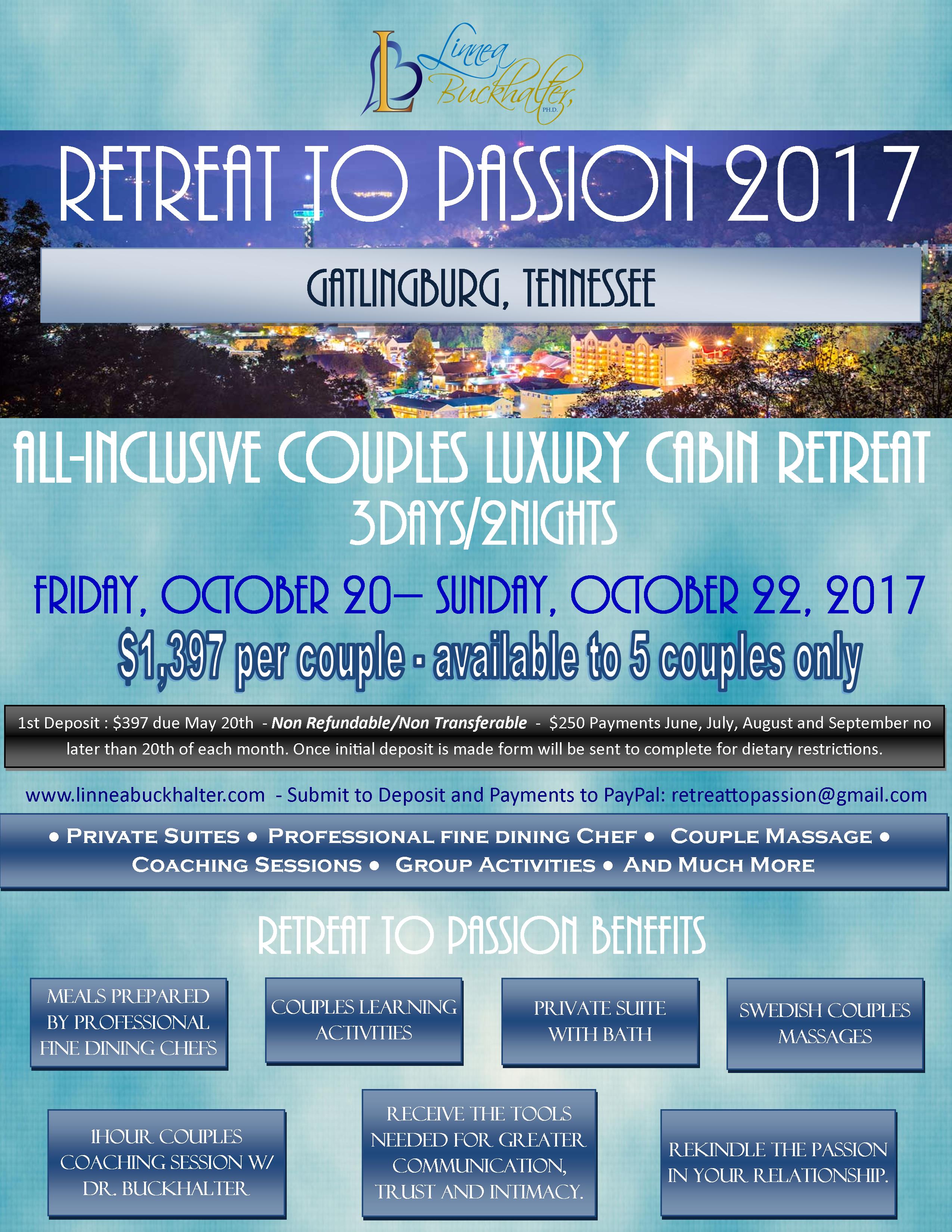 I am so excited about Retreat To Passion 2017, this has been a long time coming. My vision is to give couples the opportunity to RETREAT. This retreat is all about bringing the passion back into your relationship. As married couples we tend not to take time out for ourselves. We allow work, kids and other outside concerns that take us away from what is most important in your marriage.
Retreat to Passion is an All-Inclusive 3day/2night Luxury Cabin Retreat Includes:
• 3 days/2nights stay in Luxury Cabin
• Private Room with Bathroom
• All Meals prepared by professional fine dining chefs
• Couples Learning Activities
• 1 hour Couples Massages
• 1 hour Private Coaching Session
• Specailzed Couples Rekindle The Passion Basket
Total Retreat Cost: $1,397
Receive $100 discounts if Paid In Full : $1,297
Intial Deposit of $397 is due May 20th , Followed by monthly payments of $250 per month for June, July, August and September by the 20th of the month.
To reserve visit : http://www.linneabuckhalter.com/retreat-to-passion-2017.html to submit your deposit and payment selections.
You may submit your $397 deposit via PayPal at : retreatopassion@gmail.com or Eventbrite
Terms and Conditions: Deposits are non-refundable after 7 days of receipt, no exceptions. Deposit reserves your reservation to attend Retreat to Passion 2017 from Friday, October 20 to Sunday, October 22, 2017. There are three options for payment: Option 1: PAY IN FULL receive $100 discount: $1297, Option 2: Pay monthly after initial deposit of $397, pay from June to July at $250 each no later than 20th of each month till paid in full. Option 3: After initial paid deposit of $397, set up recurring payments of $250 set up through PayPal. If two consecutive payments are not made by the 30th of the month, your monies and reservation will be forfeited no refunds will be given. All deposits and payments must be paid through PayPal : retreattopassion@gmail.com . For your convenience you may visit: http://www.linneabuckhalter.com/retreat-to-passion-2017.html and select the appropriate BUY NOW or Subscribe PayPal button.
Cancellation Policy: We understand things may happen which will prevent you from attending Retreat To Passion 2017, however your payments and deposits are used for your reservation to create the best Retreat To Passion experience. Your only option to get out of your reservation is to transfer to another couple. If you do not have another couple to transfer, Retreat To Passion will make every attempt to help find another couple to take over your reservation. If no couple is able to attend understand all monies will be forfeited and no refunds will be given. You may transfer your reservation to another couple by providing notice to retreattopassion@gmail.com , providing first and last name of couple and contact information. Once Retreat To Passion approves transfer, the new couple resumes payments. Only 5 couples will be accepted into Retreat To Passion 2017. Final determination of couple acceptance will be decided after all forms and dietary restrictions are completed, signed and returned to retreattopassion@gmail.com . Retreat To Passion reserves the right to refuse any couple to attend, if this shall happen all monies paid WILL BE refunded to the couple within 5 - 7 business days of denial. By making a deposit and payments you agree to these terms and conditions noted above and you understand this only secures your attendance to Retreat To Passion 2017. You also agree to the terms you will not receive a refund of any kind after 7 days of receipt of your initial deposit, reservations are only transferrable with approval of Retreat To Passion 2017. A separate term and condition form will be provided following receipt of deposit for stay in the Retreat To Passion Luxury Cabin.