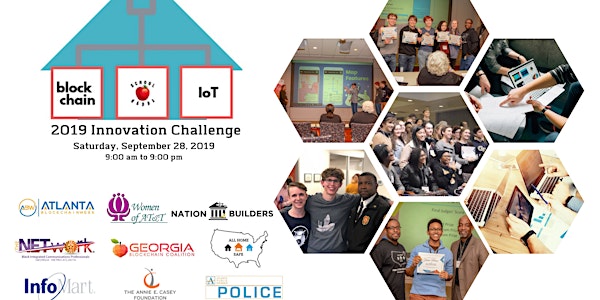 All Home Safe Innovation Challenge
When and where
Location
InfoMart 1582 Terrell Mill Road Southeast Marietta, GA 30067
Description
THE ALL HOME SAFE INNOVATION CHALLENGE IS A FIRST-OF-ITS-KIND FOR HIGH SCHOOLERS. ITS A CHALLENGE FOR HIGH SCHOOLS TO PARTICIPATE AND USE INTERNET OF THINGS AND BLOCKCHAIN TECHNOLOGY TO DEVELOP A CONCEPT FOR THE SCHOOLDAPPS PLATFORM. WE ARE GIVING PARTICIPANTS THE OPPORTUNITY TO ASSIST SCHOOL FACULTY AND STAFF & FIRST RESPONDERS IMPROVE SCHOOL EFFICIENCIES AND PUBLIC SAFETY AND QUALITY OF LIFE FOR PEOPLE IN THE COMMUNITIES IN WHICH THEY LIVE. STUDENTS DO NOT HAVE TO CODE. WE JUST NEED THEIR IMAGINATION, CREATIVITY AND INNOVATION.

WE ARE LOOKING FOR ADDITIONAL SCHOOL FACULTY, STAFF, TECHNOLOGY EXPERTS, LAW ENFORCEMENT, FIRE & RESCUE, EMS & ECC EXPERTS TO HELP MENTOR THE STUDENTS THROUGHOUT OUR EVENTS.


FAQ
SchooldApps is a school management system which uses smart contracts and cryptographic hashing to create a safe, fast, affordable method of record storage. The SchooldApps system will be used for academic progress, health records, educational program data, essential curriculum materials, childcare systems, and
more. https://schooldapps.com
What is Blockchain Technology?
Blockchain Technology is an open, distributed ledger that can record transactions between two parties efficiently and in a verifiable and permanent way. It is a growing list of records, called blocks, which are linked using cryptography. Read more.
The Internet of things (IoT) is the network of physical devices, vehicles, home appliances, and other items embedded with electronics, software, sensors, actuators, and connectivity which enables these things to connect, collect and exchange data. Read more.
Can I start working on my project before the challenge?
No. Pre-existing projects will not be considered for prizes. You may, however, build a new feature for an existing project that is unique and standalone. Judges will make the final decision on whether a project will qualify for prize consideration.
Are there resources to help me start researching ideas and uses cases for the design challenge?
The organizers will have use cases accessible for students to study as they prepare for the challenge. Details forthcoming.
What should I bring into the event?
It is suggested that you bring your laptop, phones, chargers, etc. but not required to win or compete. You should also bring any specialty food items you may require.
How many students can be on a team?
Up to 5 students can be on a team. Each team member must register and fill out a waiver form in order to participate.
What if I don't have at team?
Register as an individual and the organizers of the challenge will work to introduce you to a team of four that will benefit from your skillset.
Judges will score your project based on three categories:
Utility – is it useful? is it novel? does it actually need blockchain or IoT?
Design – is it practical? is it intuitive?
Quality – does it work? is it secure?
What are the prizes?
All Home Safe Innovative Challenge is offering College Scholarships to the winning teams.
Do I need to sign a Media Release Waiver to participate?
Yes, a media release waiver is required to be signed and filled out at the event before participating as a student or volunteer.
*Students 17 years of age or younger must have a parent or legal guardian sign the media release waiver in order to participate.
Meals throughout the course of the day will be catered and free of charge to participants.
What are my parking and transportation options at the event?
There is free parking at InfoMart. It is recommended that teams carpool to ensure all members are present.
Can parents stay with their students?
Most parents drop off, but parents who want to are welcome to stay for any portion or the duration of the event. Those who choose to remain on site are encouraged to sign up as volunteers. Note: For safety and security of all participants, any children/students not registered to participate in the challenge must remain with their parent or guardian at all times.