Description
Fort Washington Medical Center (FWMC) will honor leaders from Prince George's County and the State of Maryland for their trailblazing work in advancing the health and vitality of its residents at their inaugural gala on Saturday, October 29, 2016. With the theme "All Hands on Deck: Collaborating for a Healthier Community," the black-tie event will celebrate the outstanding achievements, commitment and dedication of health professionals, community and civic leaders, politicians and various organizations throughout the state. The inaugural gala, which will bring light to the health disparities in Maryland, will be held at the Gaylord National Resort & Convention Center.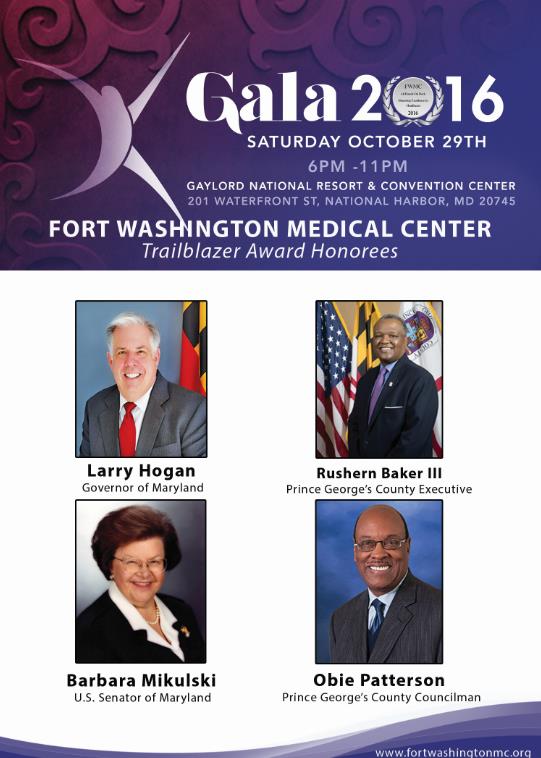 More information about this year's honorees, as well as ticket and event information for the gala can be found at www.fortwashingtonmc.org. Organizations and companies who share a commitment to addressing health and wellness in Prince George's County and the State of Maryland may contact Dr. Sharon Ottey at drsdao@msn.com regarding partnerships and sponsorship opportunities to join with others and expand the footprint and impact of your organization.
Call for Nominations:
http://www.fortwashingtonmc.org/All-Hands-on-Deck-Gala/Nominations.aspx
Other honorees to be selected after the open nomination process.
About Fort Washington Medical Center
Fort Washington Medical Center (FMWC) is an expanding hospital in the Maryland system, founded through grassroots community fundraising by Fort Washington residents in 1991. Owned by Nexus Health, a not-for-profit healthcare organization. FMWC operates an acute care hospital 11711 Livingston Rd. Fort Washington MD 20744 You can learn more about FMWC at www.fortwashingtonmc.org or find us on Facebook, YouTube and Twitter.
Donate Now! https://nexushealth.kindful.com/