Description
WE ARE BACK AFTER SUCCESSFUL CAMPS, YEAR AFTER YEAR !!!!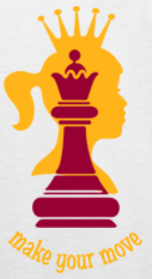 About the Camp:
FREE for all K-12 Girls!
Its an all-day, all-girls camp! Empowering the young minds of girls and giving them an opportunity to explore their interest in chess.Camp also providers opportunities to make friends/expanding the female population in chess.
Goal:
Encourage girls to play chess. Girls need as much motivation and support as boys are getting to play and excel in chess. Girls are as good as boys and are doing great in various areas. Girls are equal and deserve equal opportunities and privileges. This camp is an attempt to address this imbalance and offer our girls a platform to excel.
Teach basic rules of the game, how to play, strategies and tactics; but most importantly spread the love of chess, instill passion for competitive games in them and mold the children into the path for future chess masters.
Please Note:
Lunch and Snack Breaks

Please bring your own lunch.

Snacks and Water shall be provided free.

Camp is FREE.

Any girl in K -12 category is welcome to attend.

All girls must pre-register for the camp. PLEASE REGISTER IN PARTICIPANT'S NAME. Groups will be formed based on Beginners, Intermediate and Advanced levels.

Limited seats - Repeat Campers are allowed as this camp caters refresher and new topics, subject to seat availability; There is always something new to learn! (However you would appreciate that the first time attendees would be given an opportunity first and the balance seats would be assigned to repeat campers on first come first served basis)
After registering here, please email us the following information of the camp participant (in case you have not provided this information during registration):
Age, Grade, T-shirt size and whether the participant is new to chess or has intermediate knowledge or knows chess reasonably well. This will help us group the participants accordingly.
Email: agchesscnj@gmail.com
Visit https://chessgirlsnj.weebly.com/
Early drop-off available from 9.00 am EST.
---
Thanks to Aruna Srinivasan, Financial Services Professional, Cell: 732-397-2324 and Usha Krishnakumar, Senior Partner, Tel: 732-762- 8826 New York Life Insurance Company, 379 Thornall Street, 8th Floor, Edison, NJ 08837 for their generous support in sponsoring camp T-shirts.