Sales Have Ended
Registrations are closed
If you have questions, please contact Jessica Torres at jtorres@familiesinschools.org. Thank you!
Sales Have Ended
Registrations are closed
If you have questions, please contact Jessica Torres at jtorres@familiesinschools.org. Thank you!
Description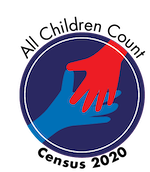 All Children Count: Census 2020
This one-day training (March 14, 2020, from 8:30am - 4:30pm) is open to early-childhood education and preschool providers. The All Children Count Toolkit engages families, caregivers, children, early care, and preschool providers in the importance of understanding their community and the critical role the Census plays. The toolkit includes three lessons for children 0-5, as well as a lesson and informational brochure for parents and/or caregivers. Training participants will increase their skills to strengthen families' knowledge about the 2020 Census and the importance of accurately counting everyone. This training is offered for FREE of Charge thanks to the support of the Los Angeles Partnership for Early Childhood Investment.
Participants will receive a one-day training to successfully facilitate the Census 2020 Toolkit's lessons for children and their families and/or caregivers.
Participants must:
Be staff at an early childhood center/preschool/elementary which provides services to families with children 0-5 years old.

Provide direct services to children and their parents with children ages 0-5.

Have approval from their direct supervisor to deliver the

All Children Count Census 2020

lessons as a part of their job duties.

Engage the childrent they serve, as well as their families, in the four toolkit lessons by no later than April 1, 2020.
Participants will receive the following materials:
Three easy-to-use children's lesson plans aligned to the Desired Results Development Profile, Head Start Learning Outcomes and Kindergarten Common Core Standard
One Parent /Caregiver Lesson
Lesson handouts and informational brochure (available in English, Spanish, Korean, Chinese, Vietnamese, Arabic, and Tagalog)
One copy of the three children's books incorporated into the workshop
Outreach/implementation emplates including sign-in sheets, flyers, etc.
---
Parking Information
Parking can be found in half circle drive in front of the school, street parking, or at courthouse next door.
Meals
Meals and refreshments will be provided for participants.
---
Cancelation Policy
Families In Schools (FIS) strives to provide the necessary tools and materials needed for all institute participants to receive the quality services they need. Due to preparation and reservation policies with external vendors, we ask that you please provide a 48-hour notice if you need to cancel. In the event you must cancel with 48 hours or less, FIS will charge 50% of the value of the institute ($350).
No Show Policy
A "no-show," is a participant who misses an institute without written cancelation.