Hennessy Black, Leo Birthdays, djs, R&B-Old School, Live Performance...All Black Affair.
About this event
Soulful Saturdays
LEO BIRTHDAYS/HENNESSY BLACK AFFAIR
*BIRTHDAYS/SPECIAL OCCASION PARTIES ACCEPTED.
*30 & OLDER W/DRESS CODE
(All Black Attire)
*VIP COUCH SEATING WITH BOTTLE SERVICE.
*ALL YOUR FAVORITE R&B-OLD SCHOOL DJ'S IN ROTATION. SPECIAL LIVE PERFORMANCES ADDED.
*APPETIZER PLATTERS $45.00 Plus Tax & Service (Serves Six)
*FREE PARKING (Back Of lounge)
*VIP CARDS VALID (Newly Annual Cards Will Be Assigned)
ADMISSION $20.00 & UP, DEPENDING ON ENTERTAINMENT.
Reservations Please Text
JENA 714-342-1619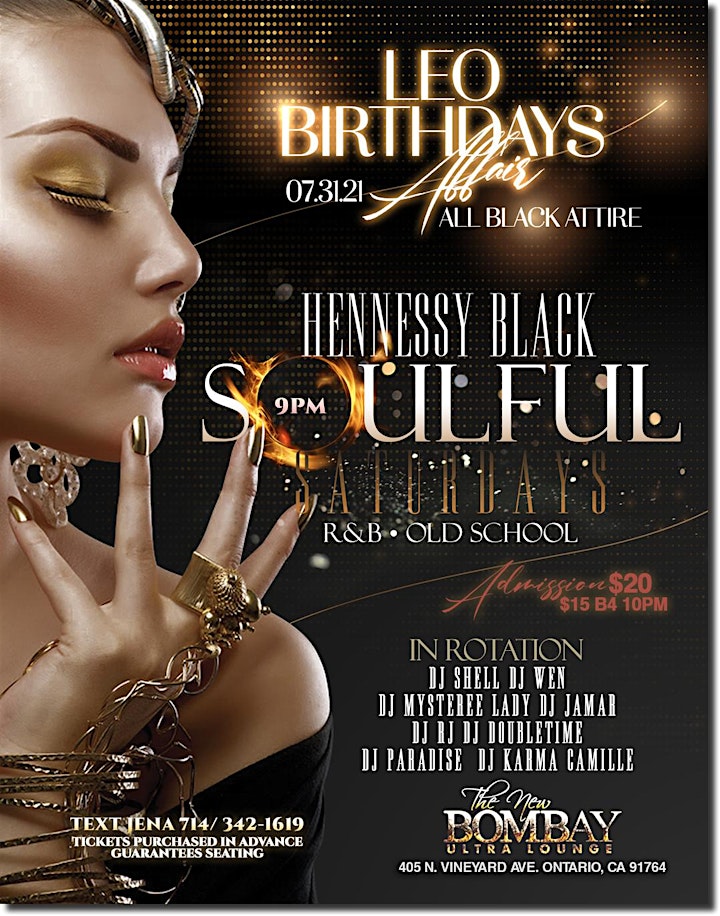 Organizer of All Black Affair, BOMBAY Ultra Lounge