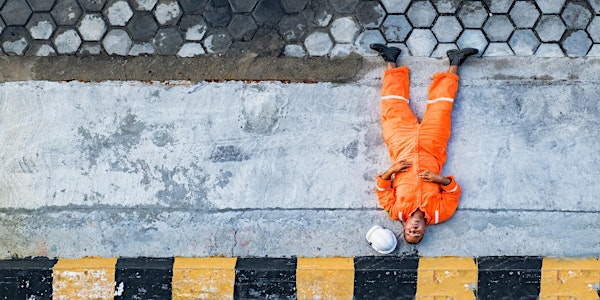 All at Sea -Seafarer Wellbeing and Mental Health; Past, Present and Future
Free, online conference exploring seafarer wellbeing and mental health past, present and future.
About this event
The covid pandemic and the crew change crisis has highlighted and exacerbated the challenges faced by seafarers globally.
The conference explores the history, present and future of seafarer health and wellbeing including mental health. There is now a perfect opportunity to learn from the past to inform the future.
At the National Maritime Museum in partnership with The Mission to Seafarers we are committed to raising awareness of the valuable role played by seafarers, this commitment has been further strengthened due to the current crew change crisis.
The conference has three sessions: Historical Perspectives, Experiences during the Pandemic & What Next? Rebuilding Better.
Programme Highlights
Conference Moderator - Paddy Rodgers, Director of Royal Museums Greenwich (including the National Maritime Museum) and former CEO of EuroNav.
Session 1 -Historical Perspectives
The wellbeing of Seafarers has always been at the heart of maritime success and failure. Experts from the National Maritime Museum and seafarer charities will offer historical perspectives on seafarer wellbeing and mental health.
Session 2- Experiences during the Covid-19 Pandemic.
Keynote presentation – Julian Clark, Global Senior Partner, Ince
This session will explore the varied experiences of seafarers, ship owners and seafaring charities during the Covid Pandemic.
Session 3- What next? Rebuilding better.
Keynote presentation- Esben Poulsson, Chairman of The International Chamber of Shipping.
As the maritime industry looks to an uncertain future, with decarbonisation and the lasting impacts of the crew change crisis dominating outlooks how can we ensure that seafarers wellbeing and mental health are prioritised and build on the aims of the Neptune Declaration on seafarer wellbeing?
This conference is a partnership between the National Maritime Museum , Greenwich and Mission to Seafarers. It is supported by the Lloyd's Register Foundation through their support of the Lloyd's Register Foundation Public Curator: Contemporary Maritime at the National Maritime Museum.
Programme
Session 1 – Historical Perspectives
10.30-12.10
Welcome & Introduction - Paddy Rodgers, Director Royal Museums Greenwich.
Cutty Sark's Hell-ship voyage- a case study. Dr Hannah Stockton, National Maritime Museum
200 years of Seafarers' Welfare – An overview of the maritime welfare sector. Andrew Wright, Sec Gen and Chairman of ICMA
On the Record: Oral Histories of Seafaring in the Twentieth and Twenty-first Centuries. Lucy Dale, National Maritime Museum
Bridging the gap – how can research be applied? Professor Helen Sampson, University of Cardiff
12.10-1.30
Lunch time Drop-in sharing sessions from;
Seafarers Hospital Society
Mission to Seafarers
UK Maritime
National Maritime Museum
1.30-2.50
Session 2 - The impact of Covid
Keynote - Reflection on the crew change crisis. Julian Clarke, Senior Partner Ince
Case Study - Mission to Seafarer, has responded to the ongoing crew change crisis globally in a variety of ways from feeding programmes to international advocacy. Ben Bailey, Director of Advocacy, Mission to Seafarers
Case study- The impact of the crew change crisis on shipping operations and crew management. Captain Fradi Faouzi, Group Director Crewing and Training Columbia Shipmanagement.
Helping seafarers when companies go under. Alex Campbell, CEO QVSR (Queen Victoria's Seamans Rest), Tilbury
Session 3- What next? Rebuilding Better
3.20-5.00
Keynote – Following the crew change crisis how do we move forward? Esben Poulsson, Chairman International Chamber of Shipping.
Together in Safety uniting the industry to enact change. Graham Westgarth, Vice-President of UK Chamber of Shipping, Chairman V group
Working towards a sustainable shipping programme post pandemic, Andrew Stephens, Executive Director, Sustainable Shipping Initiative
Turning research recommendations into action: how to support seafarers' psychological wellbeing in the long-term. Oliver Swift, Programme Manager Lloyd's Register Foundation.
Managing Traumatic Stress of Seafarers. Professor Neil Greenberg, King's College London professor of Defence Mental health and Managing Director of March on Stress
Group discussion, questions & reflection. Chaired by Paddy Rodgers.
The banner image 'Fallen' by Cezar Gabriel is featured in the National Maritime Museum's latest exhibition 'Exposure: Lives at Sea'. Cezar is a photographer who charts his life aboard as a chief engineer.